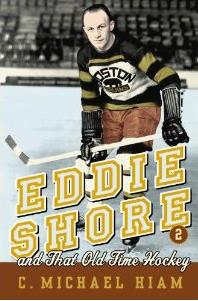 To many, particularly those outside the "Original Six" metropolitan areas, references to Eddie Shore are met with either quizzical looks or vague references to Slap Shot, where Reggie Dunlop urges his team to abandon  brutality and play it clean — "Old time hockey . . . like Eddie Shore!", comes the reply from the Hansen Brothers.  Beyond that, most can provide little insight as to who Eddie Shore was.
C. Michael Hiam attempts to rectify this situation in his biography — Eddie Shore and That Old Time Hockey [Published by McClelland & Stewart –2010].  A thoroughly researched effort, the book takes us from the Saskatchewan plains of Shore's birth and youth, through the rough and tumble world of professional hockey in his prime, to the travails of minor league ownership and management up to his 1985 death.  Along the way, the reader is provided with some admirable detail of Shore's on-ice escapades, tantalizing glimpses of his essential character, and some startling insights into the world of professional hockey in its fledgling years.
Make no mistake — this is not an objective exposition of facts from which the reader is expected to draw his or her own conclusions.  This is made abundantly clear at the conclusion of the author's introduction, where he states:
. . . most hockey books mention Shore only in passing, if they bother to mention him at all.  This is unfortunate, because the man indisputably deserves the full historical recognition that is his due, and in the pages that follow I attempt to address this wrong by telling the Eddie Shore story in its entirety.  It is nothing less than the story of one of the best and most courageous hockey players ever to lace up a pair of skates.
Now, there can be little doubt that Shore deserves far more attention than he has received in hockey historiography.  Hiam has done an admirable job of retrieving game accounts from contemporary newspaper reports, supplemented by discussions with those who played with and against Shore, and the picture of a quick, skilled, aggressive and tough player clearly emerges.  As the stories will reveal, "tough" is a classic instance of understatement.  Suffice it to say that Reggie Dunlop had it precisely wrong — "old time hockey" in Eddie Shore's time was far closer to the Hanson  Brothers' techniques than to anything else.
While thorough in his research, Hiam appears so intent upon his vindication of Shore in the pantheon of hockey that he loses a bit of perspective along the way.  The strings of superlatives attached to virtually every on-ice exploit are more a distraction than informative, and come at the expense of some of the "whys" and "wherefores" that would provide depth and context to the portrayal.   While the ubiquitous violence of the time is well represented, it consumes too much of the book's real estate and also serves more to deflect understanding of Shore as a person or a player than to enhance our knowledge.
For the most part, Shore the person remains an enigma throughout the book.  Although Hiam had substantial access to Shore's son, Ted, there is a surprising lack of personal insight presented. While virtues of toughness and hard work shine through, as well as a characterization as a loner, we learn little of what made the man tick.  His wife and son are given only cursory treatment, and the most insight is ironically gleaned from the portions of the book that precede and follow Shore's active playing career.
Paradoxically, Hiam is actually at his best when he is not discussing Shore.  His portrayals of the challenges involved in early professional hockey are intricate and textured.  One can feel the heat, humidity and smoke of the early  Boston Arena and can similarly visualize the struggles of players eluding holes in the ice as the games wore on.   Conn Smythe, Art Ross, Frank Calder, Jack Adams, the Patrick brothers and others are shown in their pioneering roles, complete with the passions and prejudices of the time –and some surprising shenanigans that seem at odds with the consecration of these names on the trophies of today.
Whether by design or coincidence, Hiam's writing style has a slightly archaic tinge that is appropriate to the era he is describing.  Though slightly uneven in pace, it is not overly out of balance, and proves an easy and interesting read.
Though Eddie Shore and That Old Time Hockey, falls short in providing a truly comprehensive portrayal of a hockey legend, it does succeed in bringing Eddie Shore more firmly into public consciousness and provides enough to make the reader seek more.  His portrayals of the formative years of the NHL, and the personalities that shaped it, are in many respects the best aspects of  book.  While likely not destined to be appreciated by the casual fan, hockey aficionados will find it informative and entertaining, if incomplete.
Fan of hockey at all levels, with focus on the Blue Jackets, Miami RedHawks and the business side of the game. I try to bring a rational, even-handed analysis to my writing, wtih just a touch of snark. I use my legal background to bring some more insight on the business side. Love family, travel, hockey, golf and curling.