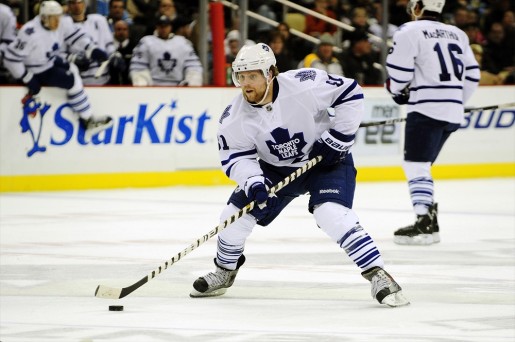 Hot sports take: Phil Kessel was going to score against the Boston Bruins at some point in his career.
Kessel Scores, Toronto Explodes
As a member of the Toronto Maple Leafs, Phil Kessel has scored 119 regular season goals on 1078 shots, good for a shooting percentage of 11%. Going into this series with the Bruins, Kessel had scored 3 goals (all PPG) on 71 shots against Boston, or a 4% shooting percentage.
So, by all measures of math, reason, and not-so fancy stats, everyone HAD to know that it was only a matter of time before Kessel began to fill the net versus the Bruins.
Unfortunately for the Bruins and their fans, it happened at a critical point in Game 2 of their Conference quarterfinal series, causing this reaction in Toronto:
From a Boston point of view, this goal was caused (in part) by the Leafs ability to get Kessel away from Zdeno Chara, a feat accomplished by some wonky line management that kept Julien and the Bruins guessing all night (broken down expertly here by Cam Charron of The Leafs Nation.)
This is something that could be problematic for Boston as the series moves North (where the Leafs will get last change), and the infusion of confidence from this goal may indicate that Kessel could be on the verge of really breaking out against the Bruins if they don't clamp down defensively.
His shooting percentage has a way to go in terms of leveling out with his league-wide average, and Boston can ill afford to allow Kessel to go on one of his famous streaks during this series.
To Suspend Phaneuf, Or Not To Suspend Phaneuf
Another noteworthy event from Game 2 was this elbow from Dion Phaneuf on Daniel Paille, which will NOT be reviewed by the NHL:
Many, of course, drew a comparison between the Phaneuf hit and this one from Andrew Ference, which was deemed suspension-worthy by Brendan Shanahan and Co.
Right after the game, a member of the Rogers-owned Sportsnet hockey media contingent was urging folks to quickly move on:
https://twitter.com/RealKyper/status/330859905693143040
The whole situation reminded me of a tweet sent out earlier this season, sent out by a member of the Maple Leafs:
If someone can explain the decisions on what warrants a suspension and what doesn't, please let me and the rest of guys know..

— Joffrey Lupul (@JLupul) March 22, 2013
I'm no expert, and certainly (?) the NHL has some sort of formula for assessing which incidents should be reviewed and which one are acceptable. But based on the fact that Andrew Ference was suspended for a similar hit in Game 1, there doesn't appear to be a good reason why Phaneuf's hit should not at least have been reviewed by the league.
According to Joe Haggerty, Paille believes that he was hit in the head, and had this to say about the incident:
There were similarities [to the Ference hit], but slight differences as well. It's not something we have to think about it. The league will decide about it. It was unfortunate that it happened, but it's something we can't really control as players. (via CSNNE)
Even if this hit wasn't suspendable (very much up for debate, Kyper's tweet notwithstanding), it can be argued that Phaneuf deserved at least a fine here, if only to signal that these types of hits are dangerous will not go unpunished in some manner.
But, move on me must all do, and the stage is now set for Game 3 in Toronto.
Many (including myself) pegged the Bruins to win this series in 6, meaning Toronto had to win 2 games at some point. But by not holding serve at home, the pressure is now on the Bruins to make good on the road, so as to not allow the Leafs to gain increased confidence from another strong performance in front of their jacked up fans.
The series remains "very, very winnable" for the Bruins, but a 2-1 hole at the ACC is not what they want.
Look for Ference to be back in the lineup on Monday, and hope that the Bruins come out firing on all cylinders.
Follow Ian on Twitter for more Bruins updates and commentary.