It's a busy time of year as all 31 NHL clubs try to evaluate and re-tool their teams for next season. Predicting AHL rosters is speculation at this point, but that's what makes the offseason fun. The Bruins have already signed some players that will most likely be P-Bruins. One P-Bruin leader was a hot commodity on the free-agent market and will be jumping at a new opportunity. There's little doubt, the flurry of activity on July 1 paints a better picture of the season to come in Providence.
Providence Additions Paired with Big Loss
First the bad news, Austin Czarnik generated a lot of interest on the free agent market. It doesn't come as a surprise after the season he put together and finding a role in Boston would've been difficult. The organization's interest in Ilya Kovalchuk and John Tavares showed a desire to upgrade up front and add to a young core where Czarnik is a smaller playmaker whose game isn't suited for a fourth line role.
He can play center but had a dominant season in the AHL playing mostly on the wing. Ryan Donato is sure to find a spot in the lineup with the big club, and Anders Bjork should be a factor next season. The B's may have lost out on Tavares, but their desire to add another top-six forward didn't bode well for Czarnik. A significant number of teams reportedly showed interest in the Michigan native. It's a safe bet that he will be a better fit and have more opportunity in Calgary and the appeal of a fresh start ultimately won out.
Tons of interest in Michigan native Austin Czarnik. 24 teams called. Sounds like he's got it pretty narrowed down. Expect a 2-year deal with a team in the West.

— Craig Custance (@CraigCustance) June 30, 2018
In early June, the Bruins signed Slovakian winger Martin Bakos to a one-year, two-way contract. Bakos, 28, took part in the Bruins' recent development camp. Although the oldest player at the camp, he has never played in North America. However, the transition could be easy given his skillset.
Reports out of development camp have described Bakos as a player who can anticipate the play well and make quick decisions. From a small sample size at the Olympics with Slovakia we've seen that he can control the puck and maneuvers well in tight spaces. These are qualities that could translate well to the smaller ice surface.
If he is sent to Providence, Bakos should be able to fill one of the top-six forward positions left vacant by Czarnik and Kenny Agostino. He has two seasons in the KHL under his belt and as a member of Kunlun Red Star in 2016-17, he tallied 11-11-22 in 47 games for a team that struggled to score goals.
Bakos could even see some time in Boston. It will be an interesting story for hockey fans to follow him as he and German star Dominik Kahun are players who benefited from an NHL-free Olympics. Kahun signed his first deal in North America with the Chicago Blackhawks.
P-Bruins Add Talent on Defense
The organization targeted depth on the blue line to start free agency and adding Urho Vaakanainen to the mix in Providence should make them one the league's top defensive groups.  That's not to say a young guy won't win a spot with the big club, but the John Moore signing implies that Vaakanainen will join a solid stable of defense prospects in Providence. The Finnish, 2017 first-rounder joins prospects Jakub Zboril and Jeremy Lauzon on the P-Bruins' blue line.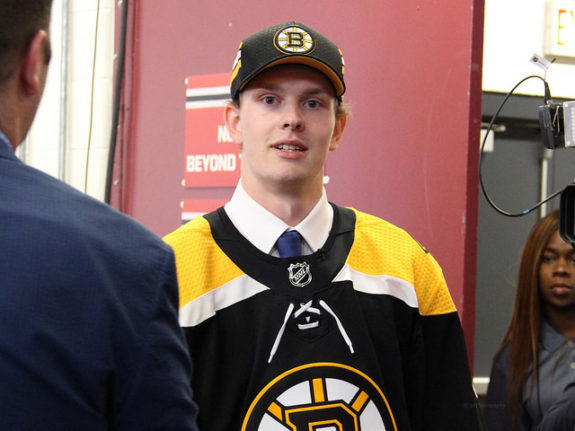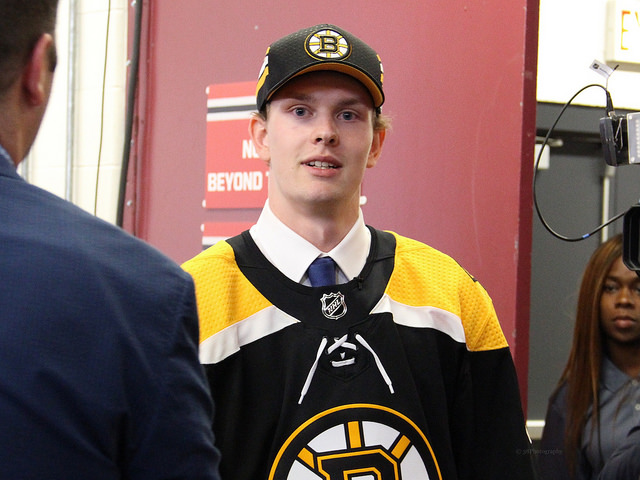 The P-Bruins have also added to their group by exchanging veteran AHL defensemen. Long-time P-Bruin and team captain Tommy Cross has departed for Columbus but the Bruins signed Cody Goloubef on July 1. Goloubef is a former second-round pick, selected by the Blue Jackets in 2008.
With the signing, Goloubef brings 129 games of NHL experience to what's expected to be a young but talented blue line. More importantly, he produces at the AHL level. The veteran defenseman tallied 8 goals and 12 assists for 20 points in 46 games with Stockton last season. He also represented Canada in the 2018 Olympics and appeared in the 2014 AHL All-Star game.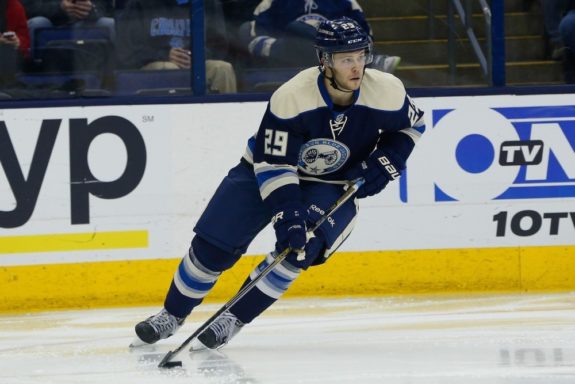 In addition to Bakos, the Bruins have begun re-tooling the Providence forward group. Mark McNeill was signed to a one-year, two-way contract as free-agency started. New additions to the forward group are needed after losing the pair of top-six forwards.
McNeill was a first-round pick of the Blackhawks in 2011, before highlighting a deal that sent Johnny Oduya to Chicago in exchange for the first-round pick in 2017. The center may not provide the elite offensive talent at the AHL level that Czarnik and Agostino provided, but he has a pair of 20-goal seasons under his belt. Although he hasn't lived up to the first-round hype, the P-Bruins are adding a big-bodied forward with solid production with McNeill.
The offseason moves relating to Providence look good. It won't be easy to recover from losing two top forwards. However, there's a wealth of developing young talent returning. Jakob Forsbacka-Karlsson and Ryan Fitzgerald will be entering their second full season in the pro ranks. Early reports state that free-agent signing Karson Kuhlman out of Minnesota-Duluth has been impressive. The 2016 first-round pick Trent Frederic looks like he may be a steal at pick 29. He should be an impact player in 2018-19 with the potential to progress quickly.
A life-long follower of the game of hockey. Communications experience with the AHL'S Portland Pirates, and a former coach at the college club level. Covering the Providence Bruins and prospects.