It is not beyond the realm of possibility that Boston Bruins prospect Ryan Donato, in a span of two months, plays hockey at the collegiate, Olympic and NHL levels.
Should he play just one game at the end of this season for the Bruins (much like Jacob Forsbacka-Karlsson last season) he would be the first player in history to accomplish the feat.
Let me repeat that. He would accomplish something that none of Chris Chelios, Brian Leetch, Mike Richter, Keith Tkachuk and countless other veterans of both the NCAA and the United States Olympic Program were able to. And now that the NHL will not be sending its players to the Olympics for the first time since 1994, the door has opened for Donato to make history.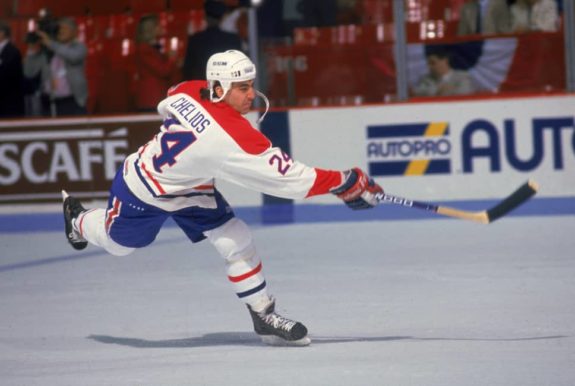 But before we get too far ahead of ourselves, we can still marvel at the tremendous season and the whirlwind week Donato is in the midst of.
Heroics at Harvard
To this point, the Harvard Crimson have struggled to replicate last season's success. The 2016-17 squad rode outstanding veteran leadership and depth to their first Beanpot and regular season conference championships in more than 20 years. The team also made its first Frozen Four appearance in over 20 years, with Donato's 40 points in 36 games contributing significantly to the success.
With numerous departures over the summer (including that of Alex Kerfoot, currently making waves with the Colorado Avalanche), the Crimson have sputtered out of the gate, posting a 10-9-4 record as of this writing.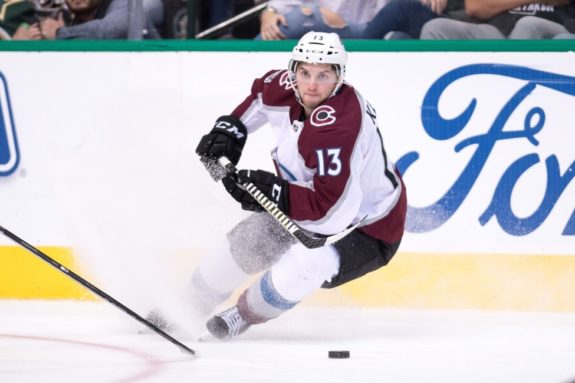 Donato himself, however, is on an absolute tear; one that has lasted the entire season.
December's NCAA Player of the Month  has already matched his goal total from last season, doing so in 13 fewer games. His 21 goals in just 23 games currently leads the nation and represents nearly one-third of all goals scored by Harvard this season.
His team may not be as strong as it was last year, but Donato himself is better than ever.
A Whirlwind Week
On Monday night, Donato came out on the wrong end of a crushing 3-2 overtime defeat to Boston University in the opening game of the Beanpot Tournament. With Harvard unable to defend its title this upcoming weekend, at least Donato can jet-set to Pyeongchang with a clear conscience.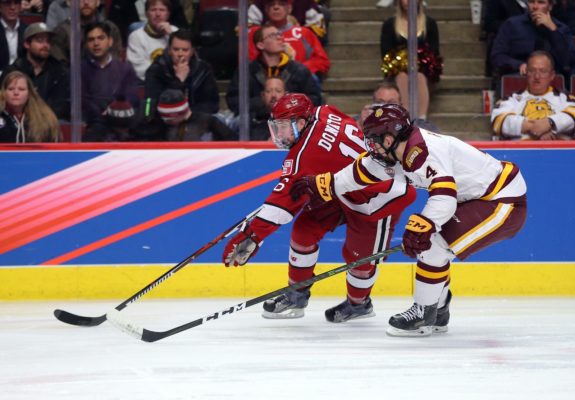 Four days after participating in Boston hockey's annual bragging rights tourney, he will represent his country while marching in the Olympic Opening Ceremony.
That's a pretty heavy week for a 21-year-old college student.
The now second-generation Olympian seems to be taking everything in stride, perhaps unsurprisingly given the spotlight he has always played under with the name recognition and local legacy left behind by his father (and coach) Ted:
Obviously, the timing is kind of crazy but it perfectly works. I'm at my junior year at Harvard so I'm at the peak of my college career. I didn't really want to focus too much on it, to be honest, but now that it's actually here and coming closer it's very exciting.

-Ryan Donato (Sean Leahy,NBCSports) January 1, 2018
When the dust and any nerves finally settle, it'll be business as usual for Donato and his teammates, as he (as one of just four collegians on roster) attempts to bring home Gold in ice hockey for the first time since 1980.
Cameo with Bruins Forthcoming?
Back in October, NBC hockey analyst Pierre McGuire raised eyebrows and piqued interest by telling The Sporting News that Ryan Donato would play for the Bruins after the Olympics.
Pierre McGuire on @TSN690 just told @HunterZThompson that #NHLBruins prospect Ryan Donato will play for B's at NHL level after Olympics

— MurphysLaw74 (@MurphysLaw74) October 20, 2017
Some took that as literally as possible, believing that Donato intended to jump ship on his team, father and brother immediately following the Olympics. Personally, I couldn't possibly imagine that occuring.
Nevertheless, given Harvard's middle-of-the-road standing as of this writing, it's not a stretch to assume that the Crimson's season likely won't extend beyond the NCAA Tournament Regionals set to take place March 23-25, if it doesn't come to an end even sooner.
At that time, the Bruins will have eight regular season games left on the docket.
Given the sheer volume of talented, impactful youngsters on Boston's roster, it's no secret that ideally the B's wouldn't sign Donato to his entry-level contract (or would at least keep him off their NHL roster) until this season's slate of games had already transpired.
Matt Grzelcyk, Sean Kuraly and Austin Czarnik will be restricted free agents following this season. Charlie McAvoy, Brandon Carlo, Danton Heinen and Jacob Forsbacka-Karlsson will be RFA the following year.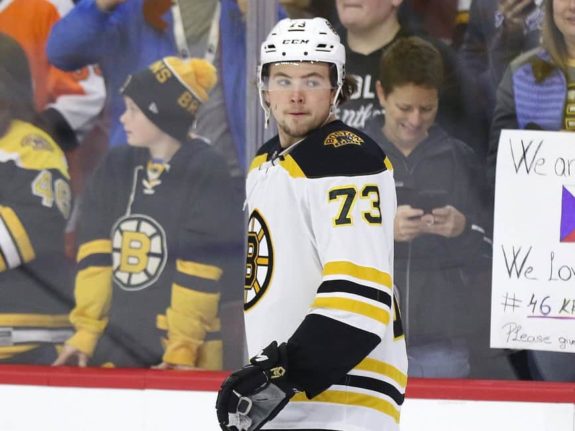 That figures to be a whole lot of money spent extending those players once their ELC's expire. Not burning a year of Donato's contract for what amounts to a handful (at most) of games this year could be a massive help to the club shortly down the line.
Ultimately, however, that may not be up to the Bruins. I'm sure they would've preferred to not dress "JFK" for his cameo, but doing so was requisite to convince him to forego the remaining two years of his collegiate career.
Moreover, with more and more players opting to play a full-four years in college and then choose their own destination in free agency (like Donato's college teammate Kerfoot), burning one year off the ELC is becoming a necessary evil to lock up drafted talent.
Given Donato's ties to the city and the organization, it's probably not likely that he would spurn the Bruins, right?
Nerve-Wracking Track Record
Less than two years ago, Donato's Harvard teammate Jimmy Vesey spurned his hometown Bruins, who also employed his Boston-born father for four games during the 1991-92 Season, by signing with the New York Rangers.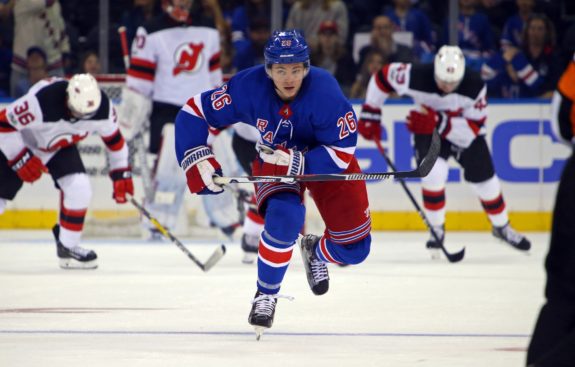 Playing in Boston as a local kid can be a meat grinder (as Jimmy Hayes can attest), especially when attempting to live up to the legacy set forth by your father, who donned the Black and Gold for 577 regular season and postseason games. Plus, there are worse things than grabbing a free degree from Harvard University and then signing with the highest-bidder, right?
That sounds nice. Why didn't I do that?
If burning one year off his ELC is requisite to prevent this from happening then so be it.
Late-Season Boost
Should the team bring Donato into the fold at season's end, there's a chance he could provide a spark or fill a void down the stretch and into the playoffs.
With the team's plans for the trade deadline hardly set in stone, he could be precisely the kind of "internal acquisition" teams look for should prices at the deadline be deemed too steep.
With a slew of Bruins already missing considerble time this season due to injury, various medical ailments and suspensions, a player like Donato could be a tremendous blessing down the stretch for a team that either stood-pat and held on to its prized picks and prospects or started hemorrhaging bodies down the stretch as these Bruins did just last season.
Think of the impact Charlie McAvoy had on the team last year. Or the impact Torey Krug had in 2013. Ryan Donato could very well continue that legacy this season.
Until then, he should merely enjoy what figures to be a wild ride.
Despite being New England's Son (hailing from the Great State of Connecticut), Joe currently resides in Los Angeles, California. One of his earliest memories is of the Bruins losing in the 1990 Stanley Cup Finals, setting up a lifetime of crushing disappointments. He feels genuine sadness for those without a passion to rival his unwavering love for the greatest game on earth.