Not every player that comes into the NHL can make the jump from Juniors or college hockey without adding some seasoning to their game. There are always exceptions to the rule (see: Sidney Crosby, Alexander Ovechkin, Steven Stamkos), but for a good number of players the AHL may be one of the best routes to take for development; and not just as a player. "Realistically I think everyone should be down there (in the AHL) for at least a year; it just teaches you so many life lessons," Washington Capitals goaltender Braden Holtby told The Hockey Writers. "It's a very challenging league — travel is tough, games are tough; it…makes you stronger. I was very fortunate to spend some time there."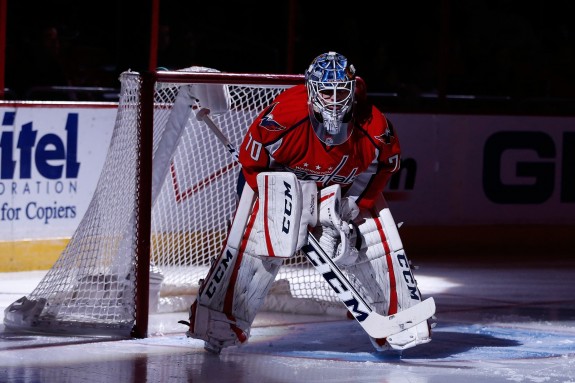 Holtby is 25-years-old currently, and was drafted by the Caps in the 4th round of the 2008 NHL Draft. After a brief stint in the ECHL he spent 2009-2012 seeing action in at least thirty games a season for the Hershey Bears (Washington's AHL affiliate). He really burst onto the NHL scene in the 2012 playoffs where he suited up for all 14 games in back-to-back seven-game series, winning one and losing one. "I think it helps any player to be in those opportunities," said Holtby of his crucial time in the AHL. "Obviously you don't want to be there, at the time, but it makes you grow a lot as a player, as a person. It makes you appreciate it when you're up here (in the NHL)." He put his head down for a second before lifting it quickly with a smile as he stroked his beard and added, "it's nice to be here, but I enjoy looking back on my time there."
Braden Holtby out duels Henrik Lundqvist in a shootout at MSG:
Hershey has only been the Caps affiliate since the 2005-06 season, but the franchise is the oldest member of the AHL (since 1938) and if you've ever been to Giant Arena in Hershey, Pennsylvania you'll notice right away it's a bit different compared to other minor league arenas. Not only from the capacity of the building, but the atmosphere inside also is noticeable. The Bears have the most Calder Cup championships, 11, with their most recent coming in 2010. When THW asked Holtby about the arena/fans there, his eyes lit up and he smiled again. "Yeah, we are definitely fortunate (in this organization) with Hershey that the fans are very similar to an NHL fan base, and obviously, it's on a bit of a smaller scale. But they fill up the rink and it's pretty fun to be there. That's not a very common luxury in that league so we're very fortunate."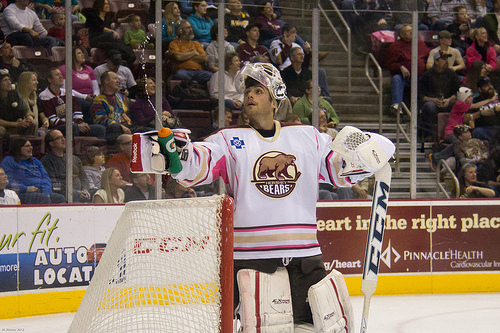 In 126 career games (all with Washington) Holtby has a record of 70-38-11, with 12 shutouts, a .918 save % and a 2.56 GAA. In three career playoff series his playoff record is 10-11 (one shutout) — all three series have gone seven games.
Dan Rice can be reached via Twitter: @DRdiabloTHW or via Email: drdiablo321@yahoo.com
Dan Rice is in his 9th year of reporting for THW & has covered NJ Devils home games for 15+ years at various websites. He began his journey working for legendary broadcaster/writer Stan Fischler from 2002-04 & completed an internship at the ECHL; he also has been writing features for the NWHL (nwhl.zone) website since 2016.