This year's prospect pool is undeniably different from years past. We usually end up having a clear No. 1 talent from the get-go and a pretty good idea who is close behind, but this year is wide open. Many scouts have been putting out their lists over the past few weeks and months and it is safe to say that there has been a wide variety of options at the top of each of their draft lists.
One thing that I think is certain is that Brandt Clarke is a top-five talent in this year's draft. The Barrie Colts defender is one of the best blueliners in a deep draft on the backend. The way he is able to make plays with the puck is something to behold and if given the chance, will make opponents pay the price. Here is why Brandt Clarke is one of the more promising players in this year's draft:
Skating and Puck Skills
What separates Clarke from a bunch of other players in this draft is his smooth skating ability. Blessed with a powerful stride, Clarke is able to effectively use crossovers to get to top speed quickly. He loves to jump into the rush and has a great motor to be able to get back as well. He is able to close gaps with his skating ability and can really open up space for his teammates when given the time to do so.
With the puck on his stick, Clarke is great at picking up speed through the neutral zone and attacking open lanes. He is not afraid to drive the net and is sometimes rewarded for his efforts. He is also a great passer. He consistently makes hard, crisp passes that are able to hit his teammates' sticks in stride and it is impressive to watch.
In the future, I can see Clarke being able to run a power play from the backend. He is so good at walking the line and finding an open lane to get a shot off. He is so calm with the puck on his stick and he will only continue to get better as time goes on.
Intensity
While Clarke may not go looking for physical play, he certainly does not back down from it. He battles hard in the corners for the puck and makes good decisions under pressure in the defensive zone. He is capable of battling bigger opponents in front of the net and his teammates can rely on him to clear the net if there is any danger present.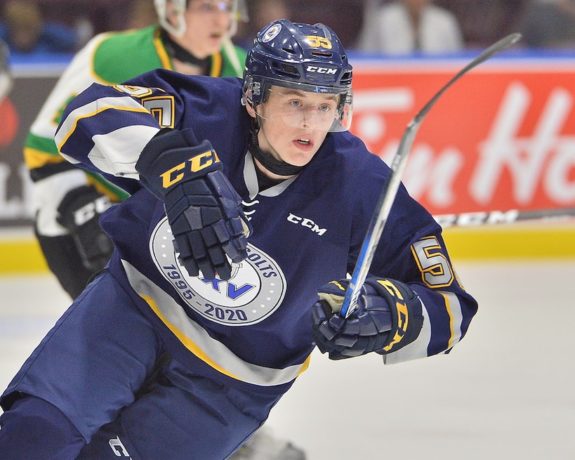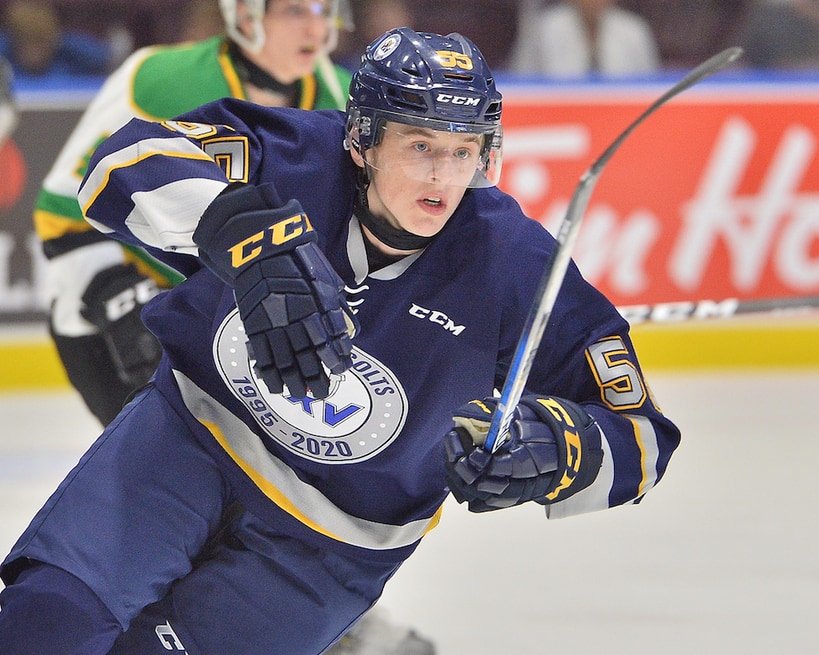 While there is no denying the fact that he needs to improve his defensive game, he is good at closing gaps and limits opponents' angles so they don't have a good chance at creating a scoring chance near the net. Yes, he can get caught watching the play sometimes and that has hurt his team but that is easily fixable and Clarke will only continue to get better as time goes on.
Projection
If all goes well and Clarke develops, he has a very good chance at becoming a top-pairing defenseman in the NHL someday. He has all the tools required to make a difference at both ends of the ice and looked really solid in his first OHL season. If I had to compare him to someone, it would be Erik Karlsson. Both of them are great skaters and see the ice exceptionally well. While Karlsson's game has fallen off over the past few seasons, he was still a dynamic player in his prime. Time will tell if Clarke makes a big impact but at this point, all signs point to him being a great player for years to come.
---
---
My name is Mathieu Sheridan. I am a writer here at THW who covers the OHL and prospects in general.