Slava Voynov Arrested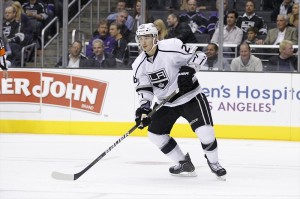 News broke early Monday morning that Los Angeles Kings defenseman Slava Voynov has been arrested for domestic assault, a charge which carries a maximum prison sentence of four years and fine of up to $6000, if found guilty.
Voynov, 24, has been suspended indefinitely by the NHL with pay while a formal investigation takes place. He will be unable to participate in any club related activities during his suspension.
Voynov's $4.1 Million dollar contract will continue to count against the Los Angeles Kings' cap, leaving the Kings with very little opportunity to replace him due to a mere $450,00 in available cap space.
Voynov was suspended under Section 18-A.5 of the Collective Bargaining Agreement (CBA), which states that during a criminal investigation, the NHL reserves the right to suspend a player if it feels there is substantial risk for harm to the legitimacy or reputation of the league.
Domestic assault cases have become an increasingly significant issue in the sports world. Both Ray Rice and Adrian Peterson of the National Football League have endured similar situations, with both of which currently suspended by the NFL indefinitely.
Voynov's arrest is the second in the past two seasons for the NHL, as Colorado Avalanche goaltender Semyon Varlamov was also arrested for domestic assault this past season, however the charges were eventually dropped.
Having witnessed domestic assault arrests in other major sports leagues and how they have been dealt with, the NHL has taken a different approach in dealing with the situation then they did last year with Varlamov, in which they remained silent until the issue had been resolved. The NHL quickly issued a formal statement regarding the issue, outlining disciplinary action which had been implemented as well as a procedure relative to how the situation would be handled.
The formal announcement can be read here:
Voynov has two assists through six games this season.
Brett Slawson is a four-year veteran of The Hockey Writers who covers the Toronto Maple Leafs, NHL prospects, and the OHL's Mississauga Steelheads.
Contact Brett on Twitter @brettslawson92, or by email at brett_slawson@hotmail.com.