Pavel Datsyuk has been out with a shoulder injury since before the regular season started. However, according to MLive.com's Ansar Khan, the Detroit Red Wings think he'll be ready for Tuesday's game against Montreal.
@teude21 @Datsyuk13 @jp55wings He's not expected to play tonight. They think he'll be ready for Tuesday's game in Montreal.

— Ansar Khan (@AnsarKhanMLive) October 18, 2014
Good news for the Red Wings, but it means someone is going to have to go to make room on the roster. Here are the three players the Red Wings most likely will send to Grand Rapids.
Tomas Jurco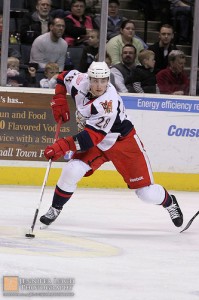 Sending Tomas Jurco to Grand Rapids would make the most sense from a personnel standpoint, but the least amount of sense from a talent perspective.
The kid line of Jurco, Riley Sheahan and Tomas Tatar has been one of the most consistent lines for the Red Wings. They have just three points among the three of them, but none of them have a minus rating and are constantly outworking the opposition and creating scoring opportunities.
Unfortunately for Jurco, he is the only player on the roster who is waiver exempt, which makes it easy for general manager Ken Holland to send him to Grand Rapids without the risk of him being subjected to waivers.
There was talk before the season started that Jurco might have to start in Grand Rapids. However, Daniel Alfredsson had a set back with his back, which made room for Jurco on the roster.
Jurco should stay with the Red Wings, but this is the player I think most likely will be sent to Grand Rapids.
Daniel Cleary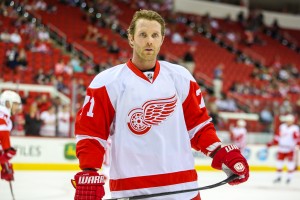 This is the player who should be sent to Grand Rapids. Daniel Cleary has yet to play in a game to start 2014-15, as he has been a healthy scratch for the first five games.
Cleary has the ability to be an asset, but he's far too inconsistent, and there are faster, younger guys on the roster who can do everything he can.
However, the odds of Cleary being sent to Grand Rapids are slim to none. Holland re-signed Cleary in the offseason to a one-year deal after promising Cleary he would take care of him when Cleary opted to not sign with Philadelphia during the summer of 2013.
Taking care of a player doesn't involve sending him to the minors. I think Cleary would rather sit in the press box and await an opportunity to play with the Red Wings than go down to Grand Rapids.
Coach Mike Babcock likes his locker room presence, and he and Holland will no doubt want to keep him in Detroit.
Andrej Nestrasil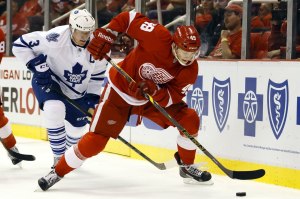 There is a chance Detroit could send Andrej Nestrasil back to Grand Rapids purely on the fact he is the least experienced of anyone on the team.
After having an impressive preseason, Nestrasil has been nonexistent during the regular season. He has no points and is a minus-1 in five games, mostly playing on a line with Darren Helm and Gustav Nyquist.
However, Nestrasil is not waiver exempt. The odds of a team picking up Nestrasil over Cleary are much higher, although I could see Nestrasil making it through.
He has shown some flashes of brilliance, and I'd much rather see Nestrasil stay with the Red Wings than Cleary. However, we've seen more-deserving players get sent to the minors before, so it wouldn't be unheard of if it happened again.
Should Datsyuk return to the lineup Tuesday, here's how I expect the lines to look, with Jurco being the player sent to Grand Rapids.
First Line: Henrik Zetterberg-Pavel Datsyuk-Gustav Nyquist
Second Line: Tomas Tatar–Riley Sheahan-Andrej Nestrasil
Third Line:  Stephen Weiss-Darren Helm-Justin Abdelkader
Fourth Line: Drew Miller-Luke Glendening-Joakim Andersson
Scratches: Daniel Cleary, Johan Franzen (injury)
Tom Mitsos is a writer from Michigan who covers the Red Wings and the Red Wings' AHL affiliate, the Grand Rapids Griffins, for The Hockey Writers.