The Edmonton Oilers re-assigned 18 players to reduce their training camp roster from 50 to 32 players vying for an opening night roster spot.
Among the notable names being sent down to the AHL Bakersfield Condors are Laurent Brossoit, Brad Hunt, rookie camp standout Braden Christoffer and Tyler Pitlick.
Of the 18 players released, Pitlick had the best shot of the bunch to make the Oilers' opening night roster and his re-assignment comes as a bit of a surprise this early into camp.
Waiver-wise forwards Ryan Hamilton, Andrew Miller and Pitlick will have to clear before heading to Bakersfield. The same can be said for Hunt.
Still, the Oilers have just three games remaining in camp and need to make some educated decisions about the group that remains.
The Oilers training camp roster now includes 32 players (3 goalies, 12 defencemen and 17 forwards).
Some surprising names are still with the big club heading into the final week of training camp. On defense there is Martin Gernat and Dillon Simpson. Upfront there is Mitch Moroz, Anton Slepyshev and Iiro Pakarinen.
Here is the list of  players re-assigned Saturday night:
---
Goaltenders (2)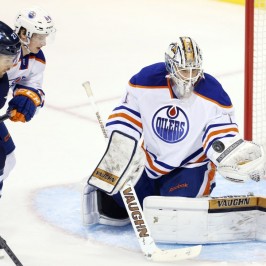 Re-Assigned to AHL Bakersfield Condors: Laurent Brossoit, Eetu Laurikainen
---
It comes as no surprise that Brossoit and Laurikainen were re-assigned with just three games remaining in the preseason.
The main club's focus at this point is on the three goaltenders on one-way deals this season in Cam Talbot, Ben Scrivens and Anders Nilsson.
All will need new deals at the end of the year but before that the Oilers need to figure out what they have in-house between the three.
Realistically everyone knows Talbot is the starter, so it's coming down to Scrivens and Nilsson battling it out over the next three games to determine who the backup will be.
For Brossoit and Laurikainen the two will likely split the games in the AHL this season with the Bakersfield Condors.
Both are still developing prospects and the Oilers don't need to rush them into an NHL job neither is ready for at this stage in their careers.
---
Defense (4)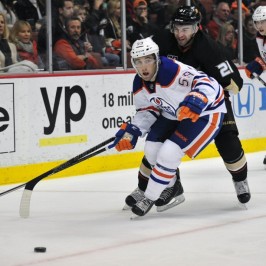 Re-Assigned to AHL Bakersfield Condors: Brad Hunt, Joey LaLeggia, Jordan Oesterle, David Musil
---
LaLeggia is entering his first year as a pro so an early release from training camp shouldn't jump out at anyone. He's a smaller defenseman that'll take some time to develop and he'll get a fair shake in the minors this season.
Hunt was a leader on the farm for much of last season after his demotion from the Oilers to the Oklahoma City Barons and he'll be a UFA at the end of the year.
It's possible Hunt will be on the move later in the year for an organization looking to bolster their AHL team for a playoff run.
Next is Oesterle who really didn't stand out much at camp. After all the praise he got last year, it was expected he'd have an outside shot at cracking the No. 7 spot but another year in the AHL might position him better for next year.
Lastly, there is Musil who has yet to find his legs at the pro level and is becoming more of a floundering, diminishing prospect than an asset for the future in Edmonton. After being drafted 31st overall in 2011, Musil was projected to be a shutdown defenseman but is a No. 5/6 guy on the farm right now.
He's in the last year of his ELC.
---
Forwards (12)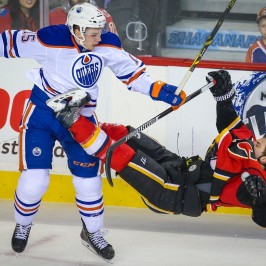 Re-Assigned to AHL Bakersfield Condors: Greg Chase, Braden Christoffer, Matt Ford, Ryan Hamilton, Kale Kessy, Jujhar Khaira, Phil McRae, Andrew Miller, Tyler Pitlick, Kyle Platzer, Josh Winquist, Bogdan Yakimov
---
The guy who has to be most disappointed is Pitlick who everyone had pegged for one of the No. 12/13/14 spots on the roster in hopes he'd eventually work himself into a third-line roll with the franchise.
However, it was an early camp re-assignment to Bakersfield for the 2010 second-round pick who has yet to stay healthy through a full season in the professional ranks.
This is a big test for Pitlick and his future with the club, as he becomes an RFA it's entirely possible Edmonton doesn't offer him a qualifying offer next summer.
Chase and Christoffer enter their first year at the pro level after graduating from junior hockey. Chase was a seventh round pick a few years ago and Christoffer earned himself an AHL contract this summer. They'll be decent farm hands.
Another interesting name is Andrew Miller who was originally in Group A at camp with what consisted of veteran NHLers or guys who had a legit shot at making the team. Miller is a smaller forward who hasn't exactly caught on as an NHL regular after having an impressive college career.
Lastly, there is Yakimov who looked good in spurts at training camp but ultimately needs more seasoning. His offensive numbers in 2014-15 weren't overly impressive, but neither were anyone else's numbers on the farm last year.
---
Who's Left?
Goaltenders
Cam Talbot is an absolute lock as the Oilers starter for 2015-16 but the rest of training camp will be heavily focused on the battle between Ben Scrivens and Anders Nilsson for the backup role. This battle will take place for a few months into the season possibly, with a 'loser leaves town' type of fallout.
Scrivens had a tough season and Nilsson thrived in the KHL so it'll be interesting to see how the final week shakes out.
Goaltenders
Cam Talbot
Ben Scrivens
Anders Nilsson
Defense
On defense five of the seven spots are already locked in. Andrej Sekera and Mark Fayne will likely make up the Oilers top-pairing this season.
Oscar Klefbom and Justin Schultz will be a second-pairing that will likely see softer and more protected minutes.
It's on the third-pairing where things get interesting. Eric Gryba is already a lock however and that leaves seven defenseman fighting for the No. 6/7/8 spots on the roster depending on how McLellan likes to structure his roster.
Unless the Oilers make a bold move by demoting and waiving their captain or waiving Nikita Nikitin, it'll be tough for Edmonton to reasonably carry both Griffin Reinhart and Darnell Nurse to start the year.
Martin Gernat and Dillon Simpson are still developing and are on the outside looking in.
The only way Brandon Davidson makes the team is if the Oilers waive one of Ference or Nikitin and demote one or both of Nurse and Reinhart, and that's a little  tough to envision as well.
Defencemen

Andrej Sekera

Mark Fayne

Oscar Klefbom

Justin Schultz

Eric Gryba

Griffin Reinhart

Andrew Ference

Nikita Nikitin

Darnell Nurse

Brandon Davidson

Martin Gernat

Dillon Simpson
Forwards
McLellan is using a revolving door on the top line with Taylor Hall and Connor McDavid. There have been lots of opportunities in camp for the 1RW spot with Teddy Purcell, Nail Yakupov, Leon Draisaitl and even Anton Slepyshev getting looks.
The inside battle has moved from Yakupov and Purcell to Purcell and Draisaitl, something  that has fans buzzing about the big German, 3rd overall pick from 2014 lining up next to two stars. Draisaitl had a terrible start to his pro career last year and just wasn't ready before tearing up the WHL en route to a Memorial Cup championship and tournament MVP honors.
The other battle will be on the Oilers 3LW spot and it looks more and more like Anton Lander and Yakupov will play protected offensive zone starts together on the third unit.
There are some camp standouts in Slepyshev and to a lesser extent Iiro  Pakarinen and Mitch Moroz who have impressed the coaching staff. The team still has to decide it's No. 13/14 forward spots as well. A lot of it will come down to who can and doesn't need to clear waivers.
Moroz is a potential power forward who has a more rounded game than Gazdic, so he could backdoor himself into a spot.
Regardless it's shaping up to be an interesting last week at camp with plenty of spots available.
Forwards

Taylor Hall

Connor McDavid

Teddy Purcell

Benoit Pouliot

Ryan Nugent-Hopkins

Jordan Eberle

Leon Draisaitl

Anton Lander

Nail Yakupov

Lauri Korpikoski

Mark Letestu

Matt Hendricks

Luke Gazdic

Rob Klinkhammer

Anton Slepyshev

Iiro Pakarinen

Mitch Moroz
Edmonton Oilers regular contributor providing insight on all things Oilers including club history, prospect profiles, trade breakdowns, and everything else in between. Check back regularly for new and exciting content. Follow on Twitter @SanderTHW.