It's been a season of ups and downs for the Boston Bruins. The start of the year has shown us that the Bruins can be a good team – they've had some very convincing wins, but it's also shown us that this team is plagued with inconsistency.
The Bruins have lost eight of their last eleven games headed into a critical home-and-home matchup against the Buffalo Sabres. With the B's in need of a boost, many people believe Claude Julien could be on the hot seat headed into this weekend.
History With the Hook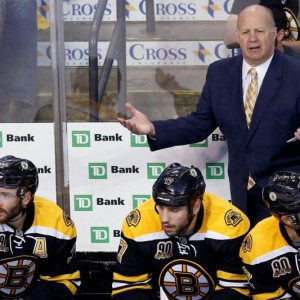 Julien has a history with the hook. After quite a bit of consideration earlier this spring, Bruins GM Don Sweeney announced that Julien would return this season as head coach. Many believed that the Bruins' head coach would be let go headed into this season after failing to make the playoffs for the second straight year. However, Sweeney opted to roll with the winningest coach in team history, noting his belief in Julien as a coach, and stating that their "core principles align."
Eight months later, Julien is right back on the hot seat. The Bruins have been an inconsistent team all season, and many people are pointing fingers at Julien as the goat. A good portion of the fanbase has lost faith in Julien. They point towards Boston's inconsistency, blaming Julien's lack of motivational ability as the cause.
If the Bruins struggle this weekend against the lowly Sabres, many believe that the B's will pull the plug on Julien once and for all. But is that really the right move?
[irp]
Firing Julien = Big Mistake
Bruins fans are understandably angry. The sad truth is that this team was set up to become a dynasty when it won the Stanley Cup back in 2011. The Bruins had a great core of players and had some exciting youngsters who had the potential to be the building blocks for the future. The Bruins were the model NHL team just a few short years ago.
That is no longer the case. Now, the Bruins are stuck in no man's land. They have a solid core of players in Patrice Bergeron, Brad Marchand, David Pastrnak and Tuukka Rask. But their roster isn't nearly as deep as it was when they reached two Stanley Cup Finals in three years. Even more upsetting — Boston departed with several of the building blocks that could have made their future (see Tyler Seguin and Dougie Hamilton).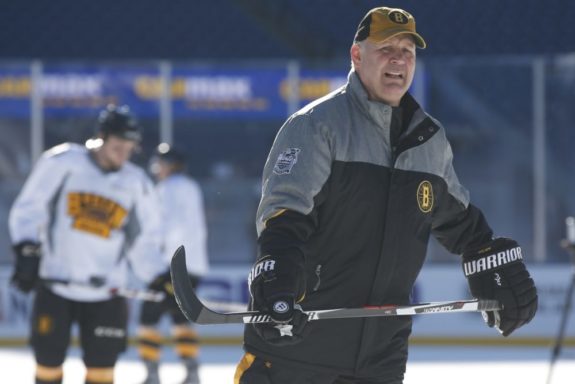 Long story short, the Bruins have issues but Claude Julien is not one of them. You know what the biggest difference is between the 2011 and 2013 Bruins and the current team? Not the coach, but the roster.
Is Julien to blame for Jimmy Hayes' or Matt Beleskey's lack of production? Is it his fault that his organization traded away its young stars, leaving him with a roster that doesn't quite fit together? Is it Julien's fault that Boston's defensive core is shaky at best?
No — he's not the one who makes those decisions. All he can do is work with what he's given, and right now, given what he has, the fact that the Bruins are even in the mix for a playoff spot is pretty remarkable.
I understand what Bruins fans are feeling. They're upset that the team which was so successful such a short time ago seems to be holding on for dear life now. To some extent, Bruins fans feel like they're stuck in a "here we go again" position. They're upset that the team doesn't "show up" for games, and they feel the responsibility falls on Julien to kick the Bruins back into shape. They feel he's failing to do so.
[irp]
Considering the Alternatives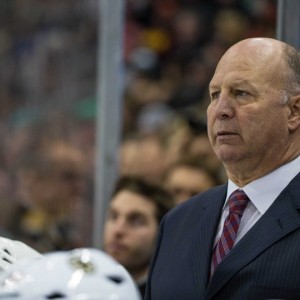 Firing the head coach of a professional sports team is the simplest, flashiest way for management to express discontent. But it isn't always the right move.
I get that Bruins fans want to see some change. After all, the definition of insanity is doing the same thing over and over again and expecting different results. But Bruins fans should really consider what type of change would be the best for this organization.
Let's just say the Bruins fire Julien. Who do they bring on as a replacement? Are there any coaches who exist, let alone who are available to sign, who could whip this team into a Stanley-Cup contender? No, because the coaching isn't the problem.
Julien's biggest issue is what he has to work with. The sad truth for Bruins fans is that this team was heavily mismanaged at the highest level. Under former general manager Peter Chiarelli, the Bruins got rid of their future. Current GM Don Sweeney hasn't been able to fix those issues — not yet, at least. He hasn't had enough time). A coach can only work with the roster that he has available, and right now the Bruins roster isn't elite.
If you want to blame Claude Julien for the Bruins failings you're excusing the front office for doing almost (Backes) nothing this offseason

— Mike From Woburn (@MikeFromWoburn) December 28, 2016
Do the Bruins need to be more consistent? Yes. Do they give their best performance every night? No. But how much of that will really be solved by firing the winningest coach in franchise history? Julien is getting quite a bit out of a Bruins roster that, quite frankly, could easily fall well out of the playoff race under many other coaches.
Boston's success in the coming weeks will have a huge impact on Julien's future. There's a good possibility that the B's could have another coach buttoning up their suit and tightening their tie behind the bench in the next few months. But when you realize that no other coach is going to turn this team's success around and that the Bruins eliminated Julien as a scapegoat for deeper organizational problems, don't come crying to me.
Cam is a Broadcast Journalism student at the University of Maryland. He's the Boston Bruins Beat Writer at The Hockey Writers, and is an avid college hockey fan. Find him on Twitter @CamHasbrouck!