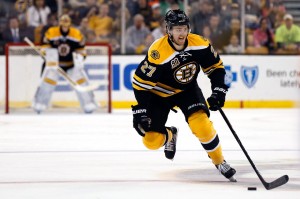 The Boston Bruins have been counting days since the season began for all of the wrong reasons.
Twenty two days since Kevan Miller's injury, 17 days since Zdeno Chara's, 12 days since Torey Krug's, and three days since Dave Warsofsky became the latest of the Bruins defensemen to be sidelined.
Once a wealth of depth, the Bruins' blue line has been depleted with Chara's absence being the biggest glare. And sure, it doesn't help that Johnny Boychuk wears an Islanders jersey now and Matt Bartkowski wears a suit as a healthy scratch, but the one-time strength of the Bruins' system should be a far cry from its former self.
Except, it's really not.
Make no mistake about it, the Bruins' injuries, Chara's first and foremost, make them a lesser team. The sample size of their wins is a bit skewed, too. Though the Bruins are on a four-game winning streak and 5-1 with their captain out of the lineup, this isn't a team that has been truly tested yet. But they've still been meeting expectations, which says something.
While Miller's injury shouldn't be downplayed, the Bruins' biggest struggle so far this season has been learning how to play without Chara. With Warsofsky's injuries not withstanding, the Bruins have had to rely on each defensemen to serve a new type of role and responsibility.
Joe Morrow, Zach Trotman, and Warsofsky were tasked with transitioning their game to the NHL-level, Adam McQuaid needed to provide stability, Dennis Seidenberg armed to give veteran presence, and Dougie Hamilton to accept major minutes in key situations.
The Bruins' have done a good job facing adversity and not allowing injuries to key players, along with one of the most important players on the team, impact them. A big reason for the Bruins' success thus far is the continued improvement from Dougie Hamilton.
Hamilton's individual Corsi is a 60, the highest of any Bruin and eighth highest in the NHL according to Hockey Analysis. He's producing offensively with two goals and six assists in his last eight games. Hamilton's time-on-ice has been Chara-like, eclipsing the 25-minute mark twice since the captain has been out of the lineup—his lowest of the span was still a hulking 22:28.
Hamilton has evened out his game and has been gaining the trust of Claude Julien who has been giving the third-year Bruins defensemen more zone starts in Boston's own end. Hamilton's DZFO% of 34.7 is third best on the team, only behind Seidenberg's 41.1% and Joe Morrow's 36.4% after four games.
Though Seidenberg, Hamilton's defensive partner, has also been strong, the bulk of the other minutes played have come from McQuaid and the three rookies who have played a combined 22 NHL games in their career. Morrow and McQuaid have served as mostly the secondary pairing while Warsofky and Trotman, defensive partners in Providence, are seeing more sheltered time with higher offensive zone starts amongst Bruins defensemen.
But looking at the numbers, the goaltending and Bruins defensemen have done well keeping teams from scoring. Opponents have scored more than two goals only once over the span of the six games.
The sample size might be small, but the Bruins defensemen are holding up, winning games when they have to. They'll be tested going forward with games against the New Jersey Devils at home before a back-to-back set against Toronto and Montreal on the road. For right now, the Bruins defensemen are doing what is asked of them and that's all that you can ask.
Follow Mike Miccoli on Twitter for more Bruins updates, news, and commentary.
Mike Miccoli covers the Boston Bruins for The Hockey Writers and has been a credentialed member of the media for all Bruins' home games for the past five years. As a former player, coach and official, Miccoli has been around the game of hockey since the age of three. Along with his work on THW, Miccoli has also been published in the New England Hockey Journal, Improper Bostonian magazine and on BostInno.