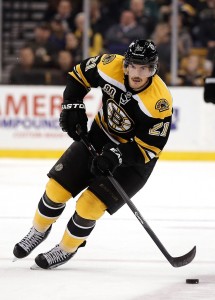 The Boston Bruins were without Milan Lucic and Patrice Bergeron on the same night they put forward one of their best efforts all season. It's been that type of a backwards year where the good seems bad and the bad sometimes seems worse.
Still, without two of their top six forwards and arguably their best player, the Bruins defeated the Red Wings 5-2 on Monday night. The Bruins registered 45 shots on goal, their most of the season and got contributions from all four lines.
"It's hard to not single out everybody because they all played a pretty nice role," said Bruins coach Claude Julien after the win. "And although the [Craig] Cunningham line didn't get a ton of ice time, they did a great job when they were out there and we needed them to go out there and give us some of those kind of shifts to give those other guys a rest. Overall I thought our game was good as a whole and to me that's how we have to win right now."
The Bruins got the scoring started early when Reilly Smith fired a shot from the point past Jimmy Howard less than three minutes into the game. Smith was playing high to cover Dougie Hamilton, who fed him the pass after winning a puck battle in the corner. The Bruins added two more goals from Gregory Campbell and Carl Soderberg in the first period, one of their best 20-minute efforts of the season. The team played with a sense of desperation that had been missing for much of the year, save for a handful of late, third period efforts.
"That was a great example of how we have to play, pretty much for the rest of the season," said Zdeno Chara. "It's pretty simple. We had the right attitude and right approach right from the first drop of the puck. Even though they put some pressure on us, especially in the second when they got some power plays going, I thought we handled it well. Our young guys really stepped up, our veteran guys were obviously leading the way but I think it's a great example of how we need to be. Everybody worked really hard, everybody was doing what they were supposed to do and we got good results."
While all four lines did contribute and pick up the slack left from Lucic and Bergeron's absences, the line of Chris Kelly, Carl Soderberg, and Loui Eriksson was perhaps the team's best on Monday night. Soderberg had a team-high six shots on goal and finished the night with a goal and two-assists. Both Eriksson (two assists) and Kelly (goal and an assist) also had two-point games.
"It's just hard work and I think everyone is digging in today and doing all the little things," said Eriksson. "We're just staying compact as a team and I think that's why we got the win."
The Bruins have gone from Stanley Cup contenders to a bubble playoff team in a matter of 37 games. At some point, the reality of the situation at hand for the team has to sink in. Monday night was just a step in the right direction. While it's still way too early to tell if the Bruins will able to capitalize on this momentum and continue to play to the best of their ability, Boston showed that they can still perform at a high level and beat good teams.
"You need everybody showing up and this league is too good to win with half a team," said Julien. "It's important we have everybody on board."
Follow Mike on Twitter for more Bruins updates, news, and commentary.
Mike Miccoli covers the Boston Bruins for The Hockey Writers and has been a credentialed member of the media for all Bruins' home games for the past five years. As a former player, coach and official, Miccoli has been around the game of hockey since the age of three. Along with his work on THW, Miccoli has also been published in the New England Hockey Journal, Improper Bostonian magazine and on BostInno.