Buffalo didn't waste any time making a move on day two of the NHL Draft. The Sabres acquired Russian defenseman Dmitry Kulikov and the 33rd pick for Mark Pysyk the 38th pick and 89th pick. General Manager Tim Murray fulfilled his need of a top four left shot blueliner.
When you compare Kulikov to Pysyk it would appear that the Panthers got the better of the trade. Kulikov brings a more physical presence to the Sabres top four and he'll also be an upgrade as a potential partner to Rasmus Ristolainen. On the flip side of the coin from an analytical perspective Pysyk comes off as the better all around player. However, there's more to this deal than what meets the eye.
Expansion Effect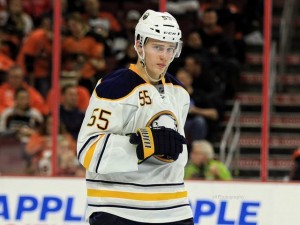 This trade is an example of how the expansion draft next summer has general managers thinking differently.
Under the rules of the expansion draft a team can only protect seven forwards, three defenseman and one goalie. A team can also choose to protect eight skaters and one goaltender instead.
When you evaluate the Sabres potential defense group next summer the three defenseman who would be protected are Rasmus Ristolainen, Jake McCabe and Zach Bogosian due his no-movement clause. Under that scenario Pysyk would be exposed and very possibly be lost for nothing if selected by the new Las Vegas franchise.
Murray appears to have recognized the potential scenario and decided to use the former first round pick as an asset to acquire a left shot defender he desired. Kulikov comes over with a $4.3 Million cap hit for next season. His contract expires after that and he'll be an unrestricted free agent next summer. Basically the former 14th overall pick will be a one year rental for the Sabres.
If they plan to go big in free agency this summer they'll need the cap space, and allowing him to walk will avoid needing to protect Kulikov. If he has a great season in Buffalo, the Sabres could, of course, explore resigning him. The most logical case though appears to be replacing his roster spot in 2017-18 with a promising young player at a cheaper cap hit like Brendan Guhle.
The Pick
The piece of this trade that can't be overlooked is the move the Sabres made from 38th overall to 33rd overall. Murray coveted Swede Rasmus Asplund early in the second round, and some scouts had Asplund as a potential late first round pick. The Sabres didn't believe he would last until 38th, and in fact feared he may go before their pick at 33rd.
Asplund is a 5'10 forward out of Farjestad of the Swedish Elite League. He's a very good skater and has an incredible hockey sense. High hockey intelligence seemed to be a theme for the Sabres throughout the draft.
Combine those traits and his excellent puck skills, Asplund, has the skill set be a productive top six forward down the road. He plays a solid two-way game and can create space for his teammates in the offensive zone. He's an undersized forward and needs to rely on his speed to take advantage of defenders.
Asplund put on a good showing during the World Junior Championships playing on a line with Sabres first round pick Alex Nylander.
The main force behind this trade appears to be the Sabres desire to move up in order to acquire Asplund. If he turns out to be a productive player down the road this trade will look a lot better for Buffalo. He has the potential to end up being the best player in this deal in a few years.
At the end of the day this trade isn't as bad as it seems on the surface.
The Sabres lose a quality defender in Pysyk, but had too many of the same type of players. Murray was looking to add some toughness to his blue line and accomplished that with Kulikov. Buffalo also avoids having to risk losing Pysyk for nothing next summer, and fulfills a need of a left hand shot for this season.
A close eye will be kept on Asplund to see how the main piece in this deal develops in a few years as he heads back to Sweden for at least one more year.