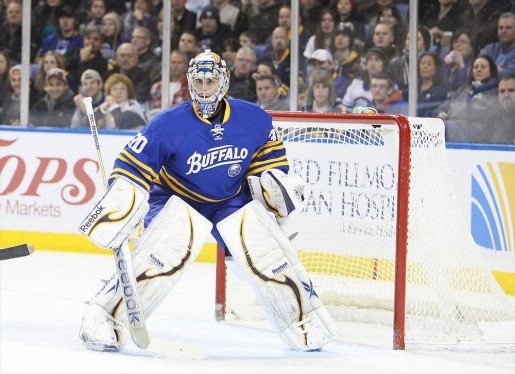 Since his welcome to Western New York, Cody Hodgson has helped the Buffalo Sabres to two straight wins in which the opponents, both known for their goal scoring ability were held off the score sheet.  It's likely pure coincidence that Cody Hodgson's arrival to the Buffalo Sabres lineup had anything to do with two consecutive shutouts, 2-0 over the Anaheim Ducks on Wednesday night, and 1-0 over the San Jose Sharks the following night, but it's a nice coincidence.  Hodgson in those two games was +2 with 11:08 and 15:15 minutes of ice-time.  Zack Kassian eat your heart out.
The real saving grace has been the stellar play of one Ryan Miller.  Nobody will question the fact that the star of the 2010 Vancouver Olympics has been this club's MVP. In fact, if they do make it back into the post season, there's no question that Miller would at least have to be in the conversation along with Henrik Lundqvist and Evgeni Malkin for the Hart Trophy.
In back to back games, the star netminder made 43 and 39 saves respectively for his 26th and 27th career shutouts.   Miller now has five shutouts on the season which is good enough for 6th in the league behind only Lundqvist (8), Jonathan Quick (7), Jaroslav Halak (6), Brian Elliott (6) and Jimmy Howard (6).    Buffalo as a team have been so strong on defense that over the past six games they have only allowed seven goals and Miller has saved 196 of the last 203 shots he has faced.
What's probably the most surprising is that this week was that Miller was playing through the irritation incurred when Gaustad, one of his best friends in the league, was dealt.  This deal was one that Miller felt would cripple his own club, and it irked him so much so that he voiced his displeasure after the trade deadline had passed suggesting that a player of Gaustad's ilk doesn't get developed over night and that the Sabres would be missing his presence.   While Gaustad's skillset and presence will be missed, the Sabres really needed to start buckling down and keeping the puck out and over the past two weeks they have certainly been successful at that, going 5-0-1 to gain valuable ground on the 8th and final playoff spot.
As of this afternoon, the Sabres sit in 11th place in the Eastern Conference just 4 points behind the Winnipeg Jets who are at 70 points and who have two games in hand.  Between them are the Lightning also with 66 points and the Washington Capitals with 69 points.  Only Tampa Bay also plays this evening, so it could very well be that with a Sabres victory tonight the difference will only be two points.  If they are able to get the two points and assuming Winnipeg loses on Sunday, these two teams face off on Monday night to further determine who will have the upper hand in their battle for that spot.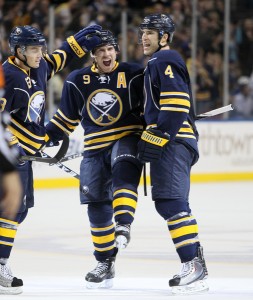 Buffalo Sabres at Vancouver Canucks
Tonight's game will be a big one for both of these clubs for two reasons.
The first is that both Vancouver and Buffalo are in playoff races.  As mentioned, Buffalo is looking to hop into that elusive 8th and final playoff spot in the East, meanwhile the Vancouver Canucks, find themselves atop the NHL and are looking to bolster their chance at a second straight Presidents Trophy and home ice advantage throughout the playoffs.
The second reason is that the biggest deal of the trade deadline day was consummated between these two clubs and both teams will want to show that they got the better part of the deal.
This is also a great goaltender matchup and a rematch of the Gold Medal Game with the American Miller up against Canadian Roberto Luongo, and it should be a good one.
Note:  Robyn Regehr will be a scratch after suffering an injury in the second period of Thursday's game against San Jose. Alexander Sulzer, acquired in the big deal on Monday, will take his place.
It's white knuckle time Sabres fans.