The 2013 NHL Draft has come and gone.
Trades happened, some of the blockbuster variety, and the dreams of several young men came true. Teams filled need or found tremendous value while others left pundits and their own fan bases scratching their heads.
Depending on who you ask, the Buffalo Sabres did either the former or the latter.
Going into Sunday's festivities, the Sabres were widely believed to be sellers. They had Thomas Vanek, consistent 25-30 goal scorer, and Ryan Miller, franchise goaltender, available to move as well as the 8th and 16th picks in the first round at their disposal.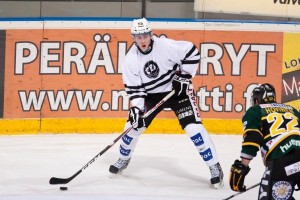 But draft Sunday came and went with the Sabres standing totally pat.
Watching the Sabres last year, there was an obvious need for offense as it was basically the Thomas Vanek show for a good chunk of the season. And when the Sabres were selecting at eight, there were definitely big-time offensive options available.
Russian winger Valeri Nichushkin was once believed to be the third pick to a smitten TampaBay. And why wouldn't they be smitten? He's big, powerful, a dynamic skater, and has the ability to be a superstar. But the Lightning took the safe route by selecting Jonathan Drouin and let the boom-or-bust Nichushkin slide.
Yet, instead of taking this potentially big-time impact player, they decided to stay with the safer selection and took Finnish defenseman Rasmus Ristolainen with the pick. That's not to say it was a bad pick; Ristolainen is big, mobile, and as "safe" a pick as you can get at eight.
Surely, when the team was ready to pick again at 16, offense would be the way to go, right? Another risky prospect, Medicine Hat's Hunter Shinkaruk, was still there and he has all the potential to be an elite scorer…or a total bust.
The Sabres decided they weren't big enough or mean enough on the blueline and instead opted to go with massive Nikita Zadorov. The 6'5", 230lb defenseman has been described as elite physical player, something the Sabres have been craving since the Milan Lucic/Ryan Miller incident a few years back.
You know the old saying: if you can't beat 'em…beat them. The Sabres got a whole lot bigger and meaner on the blueline and will certainly be much tougher to play against. Whether that starts this year or in the future remains to be seen.
Check back on Thursday when I'll have a complete set of draft grades as well as thoughts on the Andrej Sekera trade.