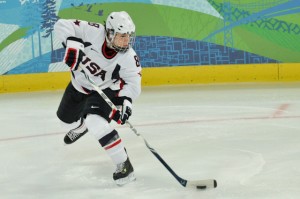 The 28 year old veteran defender Caitlin Cahow was rumored to be returning to the CWHL's Boston Blades for the 2014-15 season. She is a veteran of two Winter Olympic games (2006 Turin and 2010 Vancouver) winning bronze and silver medals. She also went to four IIHF World Women's Championships winning three gold (2008, 2009, and 2011) and one silver (2007).
Rumor alert @OchoCahow out of retirement for Boston Blades 2014

— Worcester Blades (@WorcesterCWHL) April 7, 2014
She played her NCAA hockey at Harvard from 2004 to 2008 and was a top 10 finalist for the Patty Kazmaier Award in 2008. In 2008 she was also named USA Hockey Women's Player of the Year.
After the NCAA she played for the Minnesota Whitecaps of the Western Women's Hockey League for the 2008-09 season. She helped them to the championship and was named the best defender.  
The Injury
Cahow received a concussion January 28, 2012 during a Boston Blades game. A month later she was cleared to play but quickly suffered a much more severe concussion. It took months for her to recover from this concussion, however she did return in time for the 2012-13 season with the Blades.  She spent the 2012-13 CWHL season as the captain of the Boston Blades and led them to a Clarkson Cup victory.
Below are Cailtin Cahow's statistics from her time spent in the Canadian Women's Hockey League, along with a coupe advanced statistics from Women's Hockey Stats.
CWHL Stats
| | | | | | | | |
| --- | --- | --- | --- | --- | --- | --- | --- |
| Season | GP | G | A | PTS | +/- | VORP* | PS** |
| 2012-13 | 24 | 2 | 12 | 14 | 4 | 1.5 | 3.4 |
| 2011-12 | 20 | 4 | 7 | 11 | 7 | 4.3 | 0.9 |
| 2010-11 | 23 | 2 | 11 | 13 | 6 | 4.5 | 0.9 |
* Value over replacement player
** Point shares
2014 Sochi Winter Olympics: Bewilderment and Success
Despite her success Cahow was left of the USA Women's National Team for the April 2013 Women's World Championship. She was later invited to try out for the 2014 Olympic team but decided to retire instead.
Although she has retired from the game Caitlin Cahow had a very busy year recently with her much publicized "coming out" in November 2013 on Ellen. Along with that came her being named as part of an American delegation attending the closing ceremonies of the 2014 Sochi Olympics by American President Barack Obama. She was also on the Board of Directors for the CWHL as the Past Player Representative this season.
Will she be returning?
Her return to the Boston Blades would be a tremendous boost to their chances of reclaiming the Clarkson Cup in the Canadian Women's Hockey League for the 2014-15 season.
Grateful for you support and sorry to disappoint but my skating days are over. Excited to be giving back to the game from behind the glass.

— Caitlin Cahow (@OchoCahow) April 8, 2014
Brant Feldman, Managing Partner at American Group Management, is currently representing Caitlin Cahow and was contacted for comment on this report. He confirmed that Caitlin was not planning a return to her playing days.
Unfortunately for Women's Hockey fans everywhere Cahow will not be making her return to the ice. Although she remains a tremendous supporter and ambassador of the game. He contributions now and in the future will be even more valuable than her time spent on the ice.
Covering the Florida Panthers for The Hockey Writers. Women's Hockey news and statistics for Outlook Hockey.