It's no secret that things didn't exactly work out between Ilya Bryzgalov and the Flyers.  Paul Holmgren regrettably chose to invest $85.55 million dollars in Ilya Bryzgalov and Chris Pronger, instead of sticking with his $127 million dollar investment in Mike Richards and Jeff Carter.  Just three summers later, it's become clear that Bryzgalov and Pronger will never play for the Flyers again.
While some blame is deserving for the poor contract management, there is a second factor at work that deserves even more blame for Ilya Bryzgalov's failures in Philadelphia: his coach.
Where Ilya Bryzgalov Succeeds
The performance that earned Bryzgalov $51 million was his strong body of work for the Phoenix Coyotes from 2007-08 to 2010-11.  He enjoyed moderate success his first two years, with a .913 save percentage and 2.73 GAA.  Everything changed when Dave Tippett came to Arizona in 2009-10.  Under Tippett, Bryzgalov upped his save percentage to .921 and dropped his GAA to 2.39.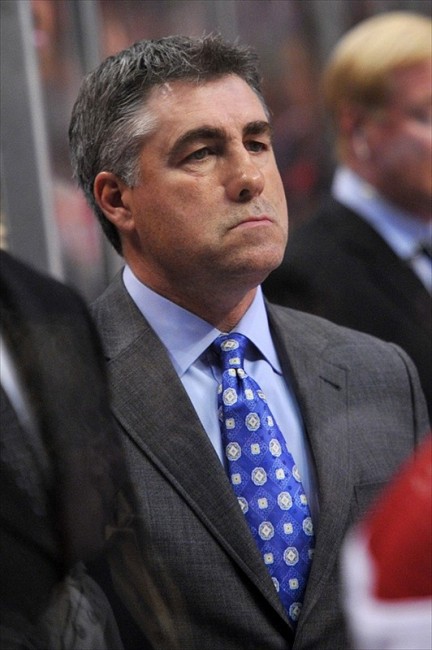 To understand Ilya Bryzgalov's success, you have to understand Dave Tippett's system.  The Phoenix Coyotes, led by savvy GM Don Maloney and coach Tippett, possessed a tremendous sense of organizational self-awareness.  They knew what they were working with, and built their system around their skillset.  They played a conservative brand of hockey that allowed them to be able to win games despite being one of the least talented teams in the league from a pure skill standpoint.
In the defensive zone, they focused on minimizing second chance opportunities after the first shot.  They allowed a similar amount of shots pre Tippett (31.15 to 31.1) in Bryzgalov's time, but the type of shots was very different.  The defensemen, led by Zbynek Michalek, were very good at clearing out traffic from in front of the net and sweeping away rebounds.  As long as Bryzgalov made the first save, he knew that his defensemen would be there to clear out the rebound as long as he directed it to the right place.  With this in mind, Bryzgalov played shooters much more aggressively, knowing his defensemen would be there to take care of the rest.  With this confidence, Bryzgalov was able to post the two best statistical seasons in his career.
Fast forward to 2013-14, and we are seeing the same Ilya Bryzgalov in Minnesota.  He posted a 7-1-3 record in his time in the regular season in Minnesota, including 3 shutouts.  He faced some struggles in the first round against Colorado, but was back on top of his game in the Wild's 4-0 Game 3 victory.
Same thing I've been saying for years – a slightly more aggressive / assertive Bryzgalov is the the best kind. Not over-worked, but timely.

— The Goalie Guild (@TheGoalieGuild) May 7, 2014
Good to see Bryz staying a tad bit more aggressive than usual tonight. Nice compact bfly in traffic. https://t.co/vgQYMr3SRp

— The Goalie Guild (@TheGoalieGuild) May 7, 2014
When Ilya Bryzgalov is confident in the defense around him (who wouldn't be with Ryan Suter playing nearly half the game?), he is a strong goaltender.  Under Mike Yeo, the Wild play defense by playing offense.  They forecheck hard, pin their opponent in their own end, and allow among the fewest shots on goal in the league.  Similar to Tippett, Yeo possessed an awareness of his team's skillset (a hard working, blue collar group), and tailored the system to fit them.
Where Ilya Bryzgalov Fails
Pressure from a big contract, a rabid fanbase, and being the butt of every joke in the NHL is enough to shake a goaltender's confidence.  When you add in a system that doesn't fit your skillset, it's a recipe for disaster.  From 2011-12 to 2012-13, Bryzgalov's two years in Philadelphia, the only team to score more goals was the Penguins.  However, the Flyers won just one playoff series between those two years.
The Flyers didn't allow an absurd amount of shots those years.  In fact, they allowed 2.6 shots fewer per game than Tippett's Coyotes.  Yet, Bryzgalov's save percentage dropped to .905 and his GAA ballooned to 2.60.  The problem was the type of shots the Flyers allowed.  Under Peter Laviolette's run-and-gun offensive system, the defenders were often left on an island with little support from the forwards.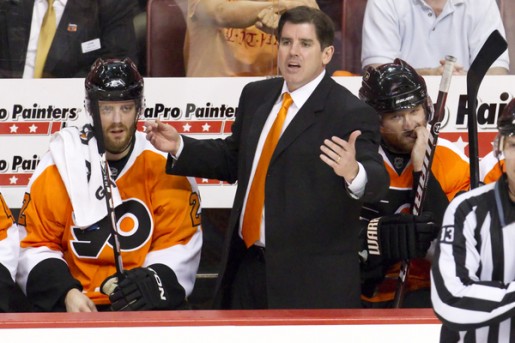 If a shot got through the defense to Bryzgalov, there is a strong chance that it was a quality one.  Bryzgalov thrives on his ability to make the first save, and have his defense take care of the rest.  When he only has the support of two defensemen, Bryzgalov can make the first save.  But, the support needed to clear out the rebounds was non-existent.  There are two main reasons for this was the case:
With the way Laviolette's system worked, the forwards provided little defensive support in their own zone.  Their chief focus was getting in position to start the breakout and transition to offense.
The forwards, even if they did try to help out defensively, were largely inexperienced and not well versed in playing away from the puck at the NHL level due to their youth.
It was a perfect storm that provided teams with prime, second-chance opportunities.  When Bryzgalov is confident, as noted above, he is aggressive in his net and challenges shooters.  In Philadelphia, he sunk back into his crease, and was passive because he knew the defensive support he needed was not there.  What led to the ultimate demise of Laviolette was his inability to accept this fact, and adapt his system accordingly.  It was clearly a problem, but Laviolette tried to jam a square peg into a round hole.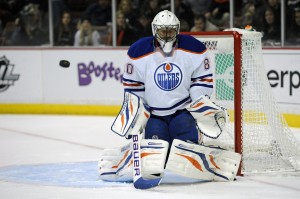 In Bryzgalov's short tenure in Edmonton, it was even worse.  The defense in front of him was young, and not a talented group.  The forwards were even younger, and were not strong two-way players at all.  The result was a GAA over 3, and a trade to the Wild at the deadline for just a fourth round pick.
Would Berube & Bryzgalov Work?
Under Craig Berube, the Flyers made the necessary defensive adjustments to fit the skillset of the team.  In the team's new breakout, the forwards sink lower into the defensive zone to support the defense.  This also means they are in a better position to clear out any rebounds the goalie may kick out.  Berube also placed a stronger emphasis on defensive positioning, forcing the forwards to play a 200 foot game instead of focusing just on offense.
The adjustments Berube has made were the ones that Laviolette needed to make, but didn't, in Bryzgalov's time in Philadelphia.  In the beginning of the year, Bryzgalov would not have stood up to the onslaught of pressure from opposing teams the way Mason did.  However, once the proper adjustments were made, I believe Bryzgalov could have performed very well in the system.
Whether the Flyers made the right hockey and salary cap move in buying out Bryzgalov when they did is not a question.  Peter Laviolette was still the coach, and there was no indication he would make the needed adjustments to supplement the goaltender.  If Laviolette had been willing to make the adjustments earlier, or been fired earlier, maybe Ilya Bryzgalov is still the Flyers' goaltender.