When the Calgary Flames broke camp last season, it was in the immediate aftermath of the retirement of Miikka Kiprusoff. With the team's all-time best netminder gone, there were questions everywhere and a lot of uncertainty.
Flash forward 12 months, and things are a lot less murky.
A LOOK BACK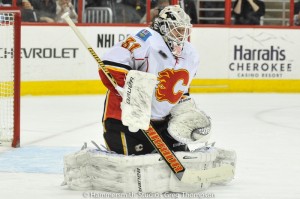 The Flames opened 2013-14 with KHL import Karri Ramo and journeyman Joey MacDonald. After a few months, MacDonald was demoted to the AHL and the team brought up Swiss import Reto Berra, who tandemed with Ramo the rest of the season. The pairing was decent if unspectacular, but the pairing rarely stole games. Ramo was injured late in the season, opening the door for Finnish rookie Joni Ortio to make his NHL debut. Ortio impressed, building upon a strong AHL campaign with several good showings with the big club. In a move that stunned the hockey world – mostly because nobody believed he would net that much – the Flames traded Berra to Colorado for a second round pick, declared Ramo the winner of the season-long duel for the starting job, and sent Ortio to the AHL for the playoffs, relying on their original pairing of Ramo and MacDonald for the last few games of the season.
THIS SEASON'S OUTLOOK
The team was pretty happy with Ramo's season (17-15-4, 2.65 GAA, .911 SV%) but likely not wanting to rest on their laurels – and probably not wanting to make Ortio an NHL back-up rather than give him a lot of starts in the AHL – the team brought in free agent veteran Jonas Hiller (29-13-7, 2.48 GAA, .911 SV%) from the Anaheim Ducks. Now, Hiller will be pressing to prove that the Ducks were silly to replace him in net with youngsters last season, while Ramo will be faced with a more impressive and accomplished Swiss netminder to duel with for the starting job in Calgary. Given the addition of Hiller and possibility of further progression from Ramo, Calgary's goaltending will be massively improved in 2014-15. And that's great, because they were among the league's worst in goal last season.
On the farm, the Adirondack Flames will be juggling a potential tending trio: Ortio, free agent signing Brad Thiessen, and newcomer Doug Carr. Ortio (27-8-0, 2.33 GAA, .925 SV%) was really good last season as he made the full-time transition from Finland to North America. He'll be the undisputed number-one starter. His erstwhile back-up will be Thiessen, who is an AHL veteran with a lot of experience and good numbers last season as well (8-6-2, 2.26 GAA, .930 SV%). Carr is a bit of a wild-card, as he was a back-up at U-Mass Lowell for the past couple seasons but was really good in two AHL starts after signing late last season.
A LOOK AHEAD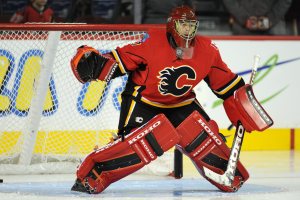 Hiller and Ortio are both under contract for another season, with Ortio's two-way contract converting to a one-way deal. If that makes you think that they'll probably be the NHL tandem in 2015-16, you're not alone.
The Flames have college star Jon Gillies heading into his junior year at Providence College. Gillies has had two strong NCAA seasons, including two trips to the World Juniors. If his college team goes on a big playoff run this season, he may be tempted to turn pro. Beyond Gillies, 2014 second round pick Mason McDonald still has a couple years of junior eligibility left and hasn't yet established himself as a strong junior starter.
Hypothetically, if Gillies signs and goes pro in the AHL, one of Thiessen or Carr could be considered candidates to be his back-up.
THE VERDICT
After some nervousness last season, goaltending may be established as an organizational strength this season. Hiller and Ramo are a credible NHL tandem, while Ortio and Thiessen may combine to be the AHL's best goalkeeping pairing.
Ryan Pike has covered the Calgary Flames and the NHL Draft extensively since 2010 as a Senior Writer for The Hockey Writers and Senior Contributing Editor of FlamesNation.ca. A member of the Professional Hockey Writers Association, he lives in Calgary.