The Calgary Flames have done a few last-minute revisions of their roster. On Monday, the Flames sent eight players to waivers. As a result of that move, the Flames' roster and taxi squad are set for now. In this edition of Flames News & Rumors, I'll share some of the news emerging from the team about the opening-game roster.
Item One: Flames Final 2020-21 Roster
The Flames' final roster includes forwards: Mikael Backlund, Johnny Gaudreau, Milan Lucic, Matthew Tkachuk, Joakim Nordstrom, Sean Monahan, Josh Leivo, Elias Lindholm, Dillon Dube, Dominik Simon, Andrew Mangiapane, and Sam Bennett.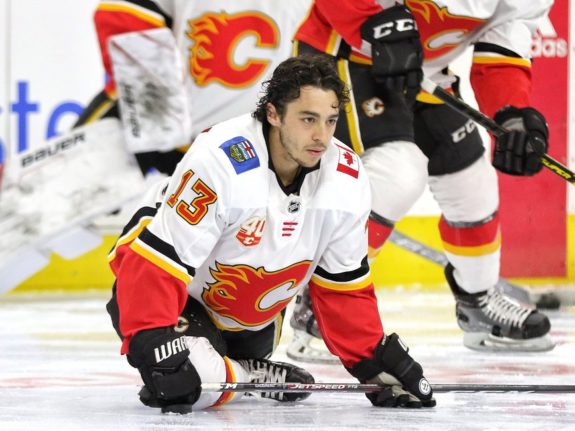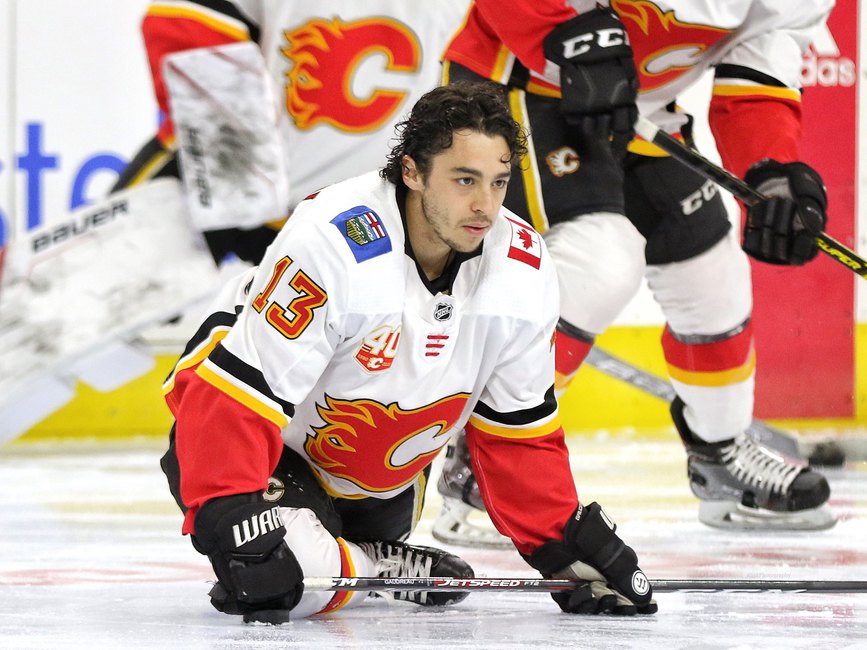 On defense, the Flames' roster includes Rasmus Andersson, Mark Giordaon, Juuso Valimaki, Chris Tanev, Noah Hanifin, and Nikita Nesterov.
The Flames goalies are Jocob Markstrom and David Rittich. 
Related: Calgary Flames: News & Rumors: Leivo, Parsons, Kinnvall, Stone & More
The Flames' 2020-21 taxi squad includes Derek Ryan, Connor Mackey, Zac Rinaldo, Buddy Robinson, Oliver Kylington, and Louis Domingue.
Item Two: Flames Send Four Players Directly to the AHL Stockton Heat
In other roster moves, the Flames sent Colton Poolman, Garret Sparks, Luke Philp, and Eetu Tuulola to the team's AHL affiliate in Stockton (or wherever the Flames will play AHL games this season). 
Colton Poolman
The Calgary Flames have sent Colton Poolman to the AHL Stockton of the AHL. Poolman was a longshot to make the Flames' roster out of training camp. The 25-year-old defenseman will begin his professional career when the AHL season opens in February. (from FLAMES SNAPS: Everyday NHLers back together on line combos, Daniel Austin, Calgary Sun, 10/01/21).
Garret Sparks
Garret Sparks was reassigned to AHL Stockton on the weekend. Sparks came to the Flames' training camp on a PTO. It's possible the team could sign him to a two-way contract, but it's more likely he'll end up spending the season in the minors. When Sparks moved down to Stockton, that left Domingue to become the Flames' taxi-squad goalie.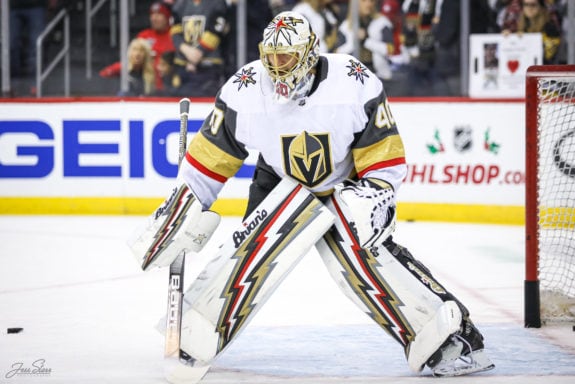 Eetu Tuulola
The Flames also sent Eetu Tuulola to AHL's Stockton Heat and that's where the 22-year-old Finnish right-winger will start the season. Tuulola was the Flames' sixth-round choice (156th overall) in the 2016 NHL Entry Draft. Last season, he scored 23 points in 50 games with Stockton.
Luke Philp
The last Flames player assigned to AHL Stockton was Luke Philp. Philp was considered a long shot to make the Flames out of training camp. The 25-year-old center from close-by Canmore, Alberta, played 52 games with Stockton last season, scoring 19 goals and 12 assists. The former University of Alberta product should continue to get a chance to play lots of AHL minutes with the Heat this season.
Item Three: Connor Mackey Close to Ready for the NHL
Flames defenseman Connor Mackey has become part of the team's taxi squad, but he was close to making the roster this season. Mackey was signed by the Flames in March as an undrafted free agent and had a strong camp. The 24-year-old left-shot defenseman scored four goals and 24 points in 31 games with Minnesota State University-Mankato during the 2019-20 season and the Flames jumped at the chance to sign him to a contract.
Former Norris Trophy defenseman Mark Giordano said that Mackey "looks like he's pretty close to being ready to play."
This season, he's likely to remain a depth defenseman on the Flames' taxi squad or move to the AHL when their season begins; however, there's a chance the recent NCAA graduate Mackey have an NHL future one season soon. (from "Flames rookie Connor Mackey aims to follow father into NHL spotlight," Wes Gilbertson, Calgary Sun, 11/01/21).
Related: The WHA – A Look Back at the Upstart Hockey League
Item Four: Sam Bennett Back from Injury
Sam Bennett missed a number of practices last week, but he seems to be back in the action.  Although he only totaled eight goals and 12 points in 52 games during the 2019-20 regular season, he was a star during the postseason for the Flames when he scored five goals and eight points in 10 games.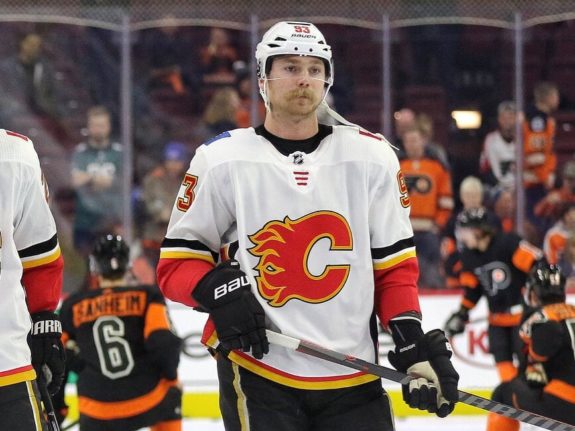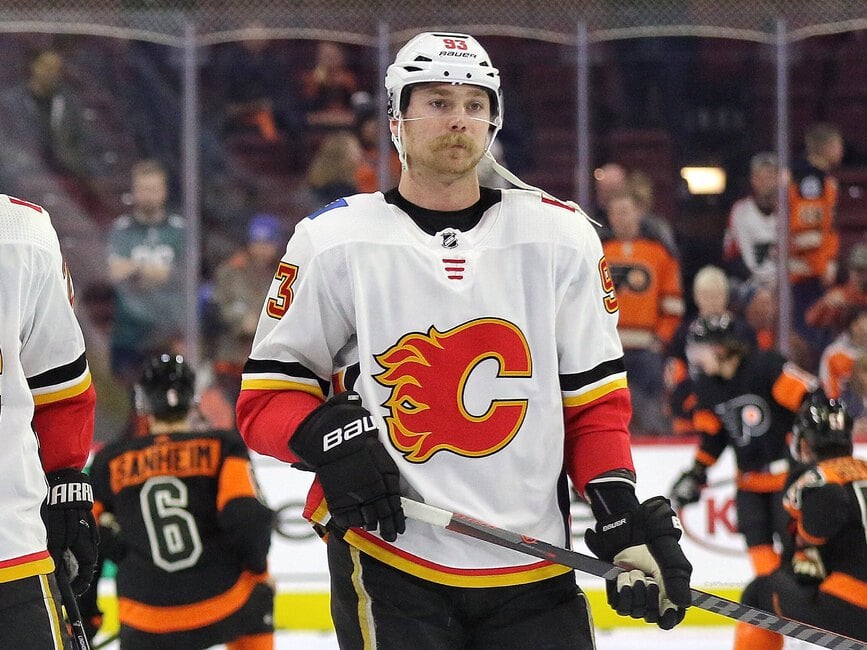 The 24-year-old Bennett will be a bottom-six player and has recently been partnered with Derek Ryan and Joakim Nordstrom. Because Lindholm and Monahan are set as the Flames' top two centers, Bennett will make the roster as a depth forward this season.
What's Next for the Flames?
The Flames begin their 2020-21 NHL season by playing the Winnipeg Jets on Thursday, January 14th. The Flames play in Calgary on Saturday, Jan. 16, when they will meet the Vancouver Canucks.
The Old Prof (Jim Parsons, Sr.) taught for more than 40 years in the Faculty of Education at the University of Alberta. He's a Canadian boy, who has two degrees from the University of Kentucky and a doctorate from the University of Texas. He is now retired on Vancouver Island, where he lives with his family. His hobbies include playing with his hockey cards and simply being a sports fan – hockey, the Toronto Raptors, and CFL football (thinks Ricky Ray personifies how a professional athlete should act).
If you wonder why he doesn't use his real name, it's because his son – who's also Jim Parsons – wrote for The Hockey Writers first and asked Jim Sr. to use another name so readers wouldn't confuse their work.
Because Jim Sr. had worked in China, he adopted the Mandarin word for teacher (老師). The first character lǎo (老) means "old," and the second character shī (師) means "teacher." The literal translation of lǎoshī is "old teacher." That became his pen name. Today, other than writing for The Hockey Writers, he teaches graduate students research design at several Canadian universities.
He looks forward to sharing his insights about the Toronto Maple Leafs and about how sports engages life more fully. His Twitter address is https://twitter.com/TheOldProf