One of the oldest clichés in sports, in general, is that all coaches are hired to be fired. Pretty self-explanatory. We get it. Unless some poor guy behind the bench actually dies behind the bench, all coaches will eventually be shown the door. Comes with the territory.
Generally, when the schedule is a few games past the halfway point and your team isn't in the playoff picture, coaches begin to feel the heat. When the fan base begins to realize that their team is closer to the lottery for the upcoming #1 draft pick than an upcoming playoff spot, they hit social media with calls to get the bum out.
How Did We Get Here?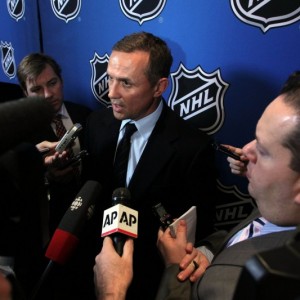 Tampa Bay Lightning coach, Jon Cooper, finds himself as coach of the last-place team in the Eastern Conference. Because his team is struggling, Cooper surely hears and reads some of this nonsense. So, as the team continues to limp along with their schedule, this notion about Coop's future continues to fester.
Festering aside, Lightning general manager, Steve Yzerman, isn't swayed by fans, social media or any other man, woman or child who brandishes an opinion. More often than not, Yzerman avoids the media, making it difficult to anticipate any move he has in mind.
This trait leads many in Tampa to believe that when Yzerman does make a statement, you can put it in the vault. Addressing this chatter, Yzerman has categorically stated recently that his opinion is that "(Cooper) is doing an excellent job."
This isn't the typical vote of confidence a coach on the hot seat gets. This is simply a statement by the guy who put together this team backing the performance of the man he hired to coach this team. It also was a message to the under-performing players. This isn't anything new for Yzerman.
Pattern for Yzerman
A year ago, the talk around town centered on Jonathan Drouin. Yzerman was lauded by many of his peers when he didn't buckle under the external pressure expecting the Lightning to trade Drouin. The GM showed he was not afraid or unwilling to mete out punishment to Drouin for running out on his teammates. At the same time, Yzerman also was magnanimous enough to welcome the kid back in the fold. Both decisions were for the well-being of the franchise.
Most armchair GMs had Drouin traded for anything between another team's #1 draft pick to a bag of pucks. Yzerman is the type of GM that makes firm decisions after careful and rational deliberation. Does he make the right call every time? Of course not, but the Hall of Fame is littered with individuals who didn't succeed every single time.
Back to the calls for Cooper's backside. Yes, the expectations coming into this season were high. After two consecutive long playoff runs, thoughts weren't centered on just making the postseason but on Cup hoisting. The pieces were in place, put there by Yzerman to be coached by his guy, Cooper.
Is Jon Cooper at Fault?
Then the season started. From the very beginning, things seemed off kilter. Despite winning the first game of the season, there were potential issues. This season wasn't even nine minutes old when the Lightning was down two goals. Sure they came back to beat the Detroit Red Wings 6-4 on opening night but the team had to score four goals in the third to pull out that victory.
In the very next game, the Lightning was again down two goals less than five minutes into the game. Fans that may have overlooked the opening night jitters took notice. Yes, the Lightning again won the game 3-2 but were down four goals to none in first periods after two games. The trend of chasing the game by giving up initial goals in games has stuck.
Additionally, injuries have piled up. Yes, losing your captain (Steven Stamkos) is a tougher pill to swallow and a lot of NHL teams would scuffle if that happens to them. Imagine, the Pittsburgh Penguins without Sidney Crosby or the Chicago Blackhawks without Jonathan Toews.
Stamkos has been out of the lineup for almost two months now with at least two more months before the team can even talk about his return. Taking all this into consideration, it is understandable to hear the people calling for Cooper's head. That argument may even have merit. Yet, it would be the wrong move for this organization.
To fire Cooper would mean that this team would be in a better position with a different coach. To give Coop the boot means that it is him and or his coaching staff that is responsible for the performance this season. Just what could Cooper have done differently that would have changed the fortunes of the Lightning?
Finger Pointing
The answer is nothing. Cooper hasn't suddenly become a bad coach. Look at his resume. This apparent lost season could very well come down to two players – Stamkos and Ben Bishop. Sure, Stammer is the easy answer but not for the apparent reasons. When Stamkos went down, the team lost its captain.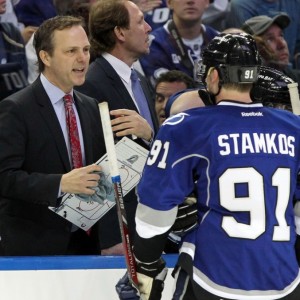 In addition, they lost one of their best penalty killers when they lost their leader. Without Stamkos and with associate captain, Ryan Callahan missing 30 of the 48 games played, the team desperately needs a leader.
Bishop has been a different story. Yes, he did miss nine games due to a lower-body injury. But he has not played like he has in the three previous seasons. His save percentage is down and his goals against are up. These stats point in the wrong direction for a team looking for the postseason.
It has to be difficult for Bishop knowing that this could be his last season in Tampa. The team can only protect one goalie in the upcoming expansion draft. Conventional wisdom says you keep the kid (Andrei Vasilevskiy) who is only 22 years old. Not the guy who is 30.
How do these thoughts not enter Bishop's mind? He's human. If these thoughts are rolling around, how does it not affect his game? It must be challenging to know that a team you have had a great hand in their recent successes may leave you open to picked up by the Vegas expansion team.
The two factors have contributed mightily to where the Lightning find themselves. Both of these reasons will continue to affect the team. There are other issues that can be pointed to for the lackluster results for Tampa, none of which are Jon Cooper not doing his job.
Born in Chicago, Illinois. Grew up playing and loving sports. Spent most of my formative years playing, debating, arguing and talking sports. for the last couple of years I have written about hockey. I am currently a Tampa Bay Lightning contributor for The Hockey Writers. I know that I may not always be right, but I am passionate about hockey and it is damn hard to hide that passion in my writing.