Goalie controversies in the National Hockey League tend to occur when a backup begins to outplay the starter and questions start to be asked of who should be a team's number one. In Colorado a different kind of goalie controversy is brewing and it has to do with the team's backup situation. Colorado called up Calvin Pickard to replace the injured Varlamov and he's been impressive when he's come into games. Inversely Reto Berra, who had worked with  goalie Coach Francois Allaire in the offseason, has begun to struggle.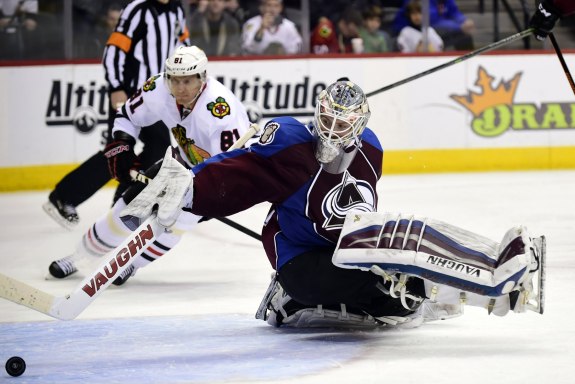 This situation all started against the Carolina Hurricanes. Reto Berra had a disaster of a first period, which in his defense wasn't entirely his fault. He allowed three goals in the first, and only the third was really a soft goal. But Patrick Roy wanted to shake up his team so back up Calvin Pickard was brought into the game. Pickard went the rest of the game without allowing another goal and the Avalanche went on to win the game 4-3. It was Pickard's first career win, and it came in relief. He looked stable in net, and confident. There were some rebound issues but he always seemed to remain square to the shooter. He even made one highlight reel save against Alex Semin.

The next game against the Phoenix Coyotes Berra was given a chance to redeem himself, but not even 10 minutes were gone before Colorado were down 3-0 to a Phoenix team that has had trouble scoring. Roy once again made a goalie change, and again Calvin Pickard managed to hold the opposition scoreless for the rest of the game. Colorado again came back and won 4-3, this time in overtime. Pickard played more than 50 minutes of shutout hockey, and it wasn't long before people were talking about him staying in the NHL.
Pickard, despite playing the majority of the game against Phoenix was given the start the following night, this time against the Chicago Blackhawks. That game could have been a nerve-racking experience for a young goalie, but Pickard was excellent, despite the loss. He faced 46 shots against the dynamic Chicago offense, but he stood tall the majority of the game. Now Patrick Roy will be giving Pickard start against the Dallas Stars on Saturday. Roy said that the rookie has earned another start, and there are few that would argue with that. Now with Varlamov expected to return to the lineup Monday against Montreal Pickard's play has forced the Colorado front office into some serious decision making.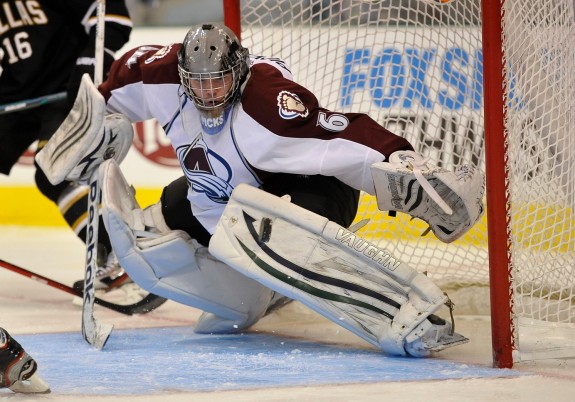 Calvin Pickard set an NHL record in the two games against Carolina and Phoenix. He became the first goalie in NHL history to win his first two games after coming in as relief. His numbers have been impressive. He has a 2.24 GAA, and a .933 save percentage. Those are not number that get you sent back down to the AHL. Reto Berra, by comparison has a 3.57 GAA and a .883 save percentage. Colorado obviously can't keep three goalies on the roster for the season so something has to give.
The obvious might be to just keep Pickard on as sthe backup and send Berra down to the Lake Erie Monsters. But the issue here is that Pickard is on a two-way contract and Berra is not. Berra would have to go through waivers if he were sent down. That's a risky proposition for the Avalanche. Despite his struggles, Berra still started the season strong and has talent. Colorado doesn't want to lose Berra for nothing, especially given that they had to surrender a second round draft pick to get him. In this respect it just makes more sense to send Pickard down for now. But that isn't something that Patrick Roy seems to be considering.
Patrick Roy says Pickard will start against Stars. Says if he had to decide today, Pickard would NOT be sent back to LE if Varly were back

— Adrian Dater (@adater) November 28, 2014
One thing that could be an issue for Colorado is Berra's Salary. He makes 1.4 million dollars, and that's a lot for a backup. So it seems like it would be unlikely that another team would be willing to claim him considering what the cap situation is for a lot of teams. All this means is that Colorado have to decide what's the bigger risk, continuing to play Berra or putting Berra through waivers.
The last option that Colorado have is trading Berra, but considering his salary this might be hard to do. Berra wouldn't give much of a return right now either so it seems unlikely that Colorado would even consider this unless some team makes a surprising offer that Colorado just can't turn down.
Berra's poor play shouldn't be the story. It should be how impressive Calvin Pickard has played lately. He's shown great composure after being thrown into some rather uncomfortable positions. He's going to have to put in a good showing Saturday against Dallas. If he does that he'll make it very hard for Colorado's front office to send him anywhere other than a spot behind Varlamov on depth chart. Competition can bring out the best in a player and for Berra he's going to need to work hard to get back to playing well real soon, otherwise he'll be the odd man out and that likely means a trip out of Denver in one way or another.
Born and raised in Denver, I'm a writer covering the Colorado Avalanche. I have a degree in Journalism from Northern Illinois University.