Chicago Blackhawks training camp is one week old.  Despite the fact that it is still early in camp, here are the counselor (okay my) favorites thus far:
Goalies
No competition here. Crawford and Darling look ready to continue with their success from last year. I watched Darling in person shut out Detroit on Tuesday during his time in net, making several spectacular saves. Crawford played in Detroit Wednesday night and let up one goal, but also looked solid.
Defense
No need to worry about Keith, Hjalmarsson, Seabrook, and Daley (from Dallas in Patrick Sharp trade). In addition, Rozsival just re-signed for one year, and he is a reliable veteran. The only concern is his recovery from his broken ankle, but all indications are he should be fine.  Trevor Van Riemsdyk (TVR) came back from injuries late in the 2015 Cup run and is solid – not to mention a Coach Q favorite.
So, that leaves a few defensive spots open. David Runblad has two years left at $1.05MM per year but is mistake prone. His performance in the pre-season thus far is underwhelming (visualize the "bug juice" drink at camp as a kid).  I cannot see Coach Q keeping him around. Jan Hejda, Kyle Cumiskey and Lubomir Visnovsky are on professional Try Outs (PTOs). I know Cumiskey played for Blackhawks last year, but I don't see him coming back.  If he was that good, the Blackhawks would have tried to sign him already, even with salary cap challenges. Hejda has played in 627 games, has averaged almost 21 minutes a game and offers a shot blocking presence (811 of them since the 2009-1010 season!) on the power play. Visnovsky is also a veteran, having played in 883 games over which time he has garnered 495 points. Visnovsky is more of an offensive minded defender, while Hejda is more similar to Hjalmarsson. Anyone willing to absorb 90+ MPH pucks to the body is automatically a favorite of mine.
Of the minors under contract, the two most noticeable thus far are Ville Pokka and Viktor Svedberg. Unfortunately Pokka has never played in the NHL. Last year for the Rockford IceHogs he played in 76 games, and only racked up 16 penalty minutes. I watched him play this week and he is very disciplined and mentally aware of what is going on around him. There appears to be no panic in his game. Having heaped those praises upon him, I am guessing he will be sent to Rockford to strengthen his game. I just cannot see Coach Q providing both Pokka and TVR with the ice time needed. Svedberg is a long, lanky skater, but also brings the element of enforcement that is a must for this team. It will be interesting to see if he makes the team or also goes back on the bus to Rockford.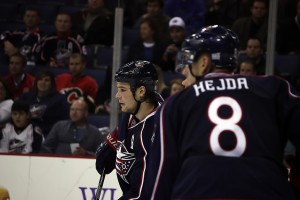 Barring a trade, I see either Hejda or Visnovsky (maybe both as Q loves veterans) and Svedberg rounding out the spots for now. Pokka will get noticed and that will mean a quick call up as warranted.
Forwards
Toews, Kane, Hossa, Bickell, Anisimov, Shaw, Kruger, Tikhonov, Garbutt, and Teravainen are in. I am also going to add Marko Dano because this guy has sick skills.  Yep, he's that kid at overnight camp that excelled in sports and basket weaving. He also got all the girls attention. His smile melted my wife and made her forget all about Patrick Sharp. Obviously the Blackhawks knew something when they got him from Columbus in the Saad trade as he has been anchored between Toews and Hossa. Trust me, that line is going to be magic all season.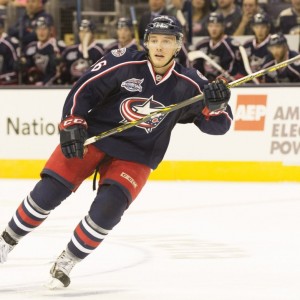 Coach Q gets added depth from the return of Desjardins (yawn) as well.  If the Blackhawks can move Bickell for cap relief, they will.  If not, he needs to park himself in front of the net and stay there! Jeremy Morin is back via the Saad trade but has almost zero chance to make team (again). I haven't even seen him dress yet for either game. Woof!
The forwards under minor contract vying for a spot include Ryan Haggerty, Mark McNeill, Ryan Hartman, Kyle Baun, Artemi Panarin, Tanner Kero, Garrett Ross, Brandon Mashinter and Vincent Hinostroza. Hartmann has played in both preseason games and has been noticeable for his physical play and dumb penalties (hey look it's Andrew Shaw V.2!). Hinostroza has shown ridiculous skill with the puck. He is young but hard to ignore. Panarin was brought in May 1st as a free agent from the KHL, and in the early going has definitely impressed at camp. Blackhawks coach Joel Quenneville has noticed stating on the Chicago Blackhawks website "I liked the Panarin kid. For the first time seeing him, I like his anticipation, patience [and] skill set. Looks like he'll be alright." For those of you not familiar with Coach Q speak, "alright" means I love this guy!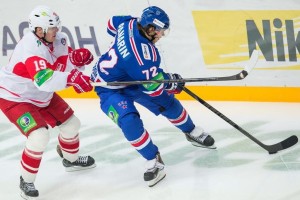 Kero also has a shot as does Ross, but those two are also likely to start the season in Rockford. Out of the bunch, Hinostroza, Panarin and Hartman just might break camp with the team.
So there you have it. One week in and I have this all figured out at Camp Blackhawks.  At least until injury, trade or the wrath of Coach Q takes hold.  Who do you think has stood out thus far in a bid to make the team?
Rick is fortunate to live off the I-90 hockey corridor where both his beloved Chicago Blackhawks and Rockford IceHogs (aka Baby Hawks) call home. Hockey has been in his blood since the early 1970's when he saw his first Blackhawks game at the "Old Barn". His favorite player is Keith Magnuson followed closely by Bobby Hull (old school!). When not covering the greatest sport, he enjoys watching live music and has even been known to join his beloved bands on stage for a song or two. Follow Rick on Twitter via @HawksStrength