Both the Devils (16-22-8) and Sharks (24-16-6) will be looking to rebound after losses as the New Jersey Devils fell in a poor effort to the Anaheim Ducks 5-1. The Sharks on the other hand, took a defeat in overtime to the Calgary Flames courtesy of Flames young star Sean Monahan.
San Jose will have a matchup against the Los Angeles Kings on Wednesday, while this will be the Devils last game before they disperse before the All-Star break. Going to the All-Star game for New Jersey is long time veteran Patrik Elias, and defensemen Brent Burns will be heading over from the Sharks.
Offensive Advantage: Sharks
There's no question with weapons like Joe Thornton, Joe Pavelski, Patrick Marleau, and Logan Couture, that the Sharks have a distinct edge over New Jersey in offense.
San Jose ranks 18th in total offense with a respectable 2.67 goals-per-game. New Jersey scores exactly half a goal less going 2.17 which puts them at 28th with only lowly Carolina and Buffalo behind them.
Don't count New Jersey out though, as in recent weeks, they have been prone to have offensive breakouts, most recently in a 5-1 victory over the Los Angeles Kings. New Jersey does have some firepower of their own with Mike Cammalleri. He leads the team with 14 goals. New Jersey also has Patrik Elias who is still looking for goal number 400 after he reached 1,000 points in a game against the Buffalo Sabers last Tuesday.
New Jersey will once again be without leading scorer Jaromir Jagr, and Tuomo Rutuu because of the flu.
Joe Pavelski and Logan Couture will lead San Jose. Pavelski is leading the team with 22 goals and 40 points while Couture is only one point behind at 39, and has 16 goals which is good for second on the team.
One player who has been fantastic for San Jose and that the Devils will need to look out for is rookie Melker Karlsson. Karlsson was recently on a five-game scoring streak, which was snapped in Arizona three games ago. Karlsson was right back at it last night however, as he scored a questionable goal by allegedly kicking the puck in. Alleged or not, New Jersey will need to be responsible for his whereabouts on the ice.
Defensive Advantage: Sharks
I give the Sharks the defensive advantage simply because their high-end defensemen are better than New Jersey's.
The Devils are Sharks are in similar situation with their defensive corps as they both are in the process of developing young defensemen. San Jose however, is a bit ahead of the curve in that departmen with guys like Marc-Edward Vlasic, Justin Braun, and Brenden Dillion who are entering the prime of their careers. Add in All-Star Brent Burns, and the Sharks have a solid top-4.
New Jersey has embraced their youth movement with semi-open arms. Young standout Damon Severson is still nursing an ankle fracture, and Eric Gelinas can't find his way back in the lineup after being out with a bad case of the flu. Adam Larsson is finally beginning to look like the player New Jersey drafted fourth overall back in 2011. Jon Merrill has also been great for the Devils and has turned into a steady defensemen New Jersey can roll out at will.
Their weakness comes after their top-4 in regards to Peter Harrold and Mark Fraser. Both players have gone up and down from the minors in recent seasons; Harrold has more of an offensive flare but is prone to make mistakes, while Fraser tends to fight often but we won't see that as he is nursing a hurt pinky finger after taking a nasty slash courtesy of Marian Gaborik.
Goaltending Advantage: Devils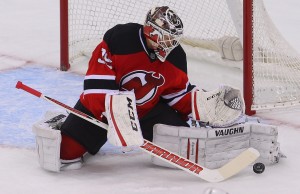 It was reported earlier today that even after taking a shot close to the ear, while hearing a ringing sound during the game against Anaheim, Cory Schneider will start tomorrow night against the Sharks.
Schneider leads the league in starts with 40, one ahead of Braden Holtby, in his first season as the Devils full-time starter. He's compiled a .919 Sv% along with a 2.42 GAA. However due to a lack of offense, he's only garnered a 15-19-4 record.
Alex Stalock looks to be getting the start for the Sharks. He comes in with 12 games started, a 5-4-1 record, a .912 Sv%, and a 2.43 GAA. Its been a bit of a struggle for Stalock; he's been injured a few times during the season which has forced the Sharks to go with Antti Niemi on a more consistent basis. Niemi has posted similar stats with a .911 Sv% to go along with a 2.59 GAA.
Simply because of the consistency Schneider offers, along with better stats and no goaltending controversy, he makes this an easy goaltending advantage for the Devils.
Coaching Advantage: Sharks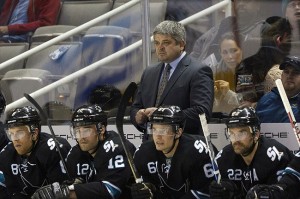 As easy as goaltending was, this was an even easier decision considering the Devils don't actually have a real head coach. General Manger Lou Lamoriello is acting as interim head coach, with Adam Oates running the offense, and Scott Stevens attending the defense.
Even with the playoff exits San Jose has endured over the past several seasons, Todd McLellan definitely the better coach in this situation. The Sharks regular season success is something McLellan has a huge part in. He encourages loads of shots and skill, which could mean another 40-15 shot differential in which the Devils suffered to the Anaheim Ducks.
New Jersey's coaches will make sure their players to empty the tank with the All-Star break nearly upon us. Plus with Los Angeles in the Sharks future, it wouldn't be ignorant to suggest the Sharks overlooking the Devils a bit. Regardless, this is a game that both teams need to win, and should be a great contest out in San Jose, California.
Who do you think will win? Leave a comment and let me know!