The Montreal Canadiens absolutely don't need Antti Niemi. Nevertheless, it's hard to fault general manager Marc Bergevin for re-signing the goalie, as he just did to a 1-year, $950,000 deal. Think of Niemi as that extra insurance policy you have, because, "Hey, why not?" There really isn't a reason.
Price vs. Niemi
To be clear, that wouldn't be an insurance policy for Carey Price. I mean, if Niemi is starting more games than Price down the stretch next season, then it's clear they'll be needing a whole lot more than a 34-year-old goalie whose best years are way behind him. We're talking divine intervention instead, if it comes down to that.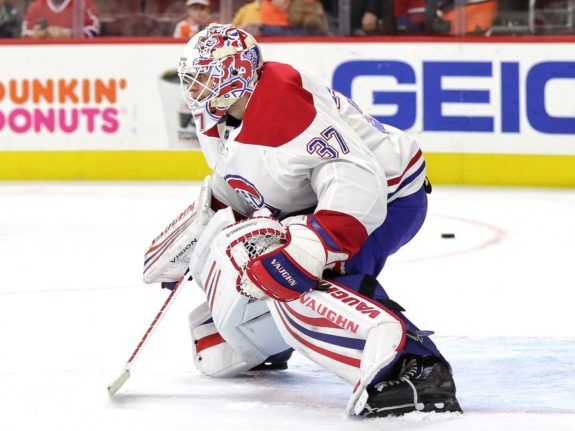 That's in spite of the fact that Niemi deserved this deal. His .929 save percentage in 19 appearances for the Habs was beyond a pleasant surprise. It would have been an impressive accomplishment for any goalie, let alone one who, for all intents and purposes, was done.
After seeing his stats deteriorate for the second consecutive season with the Dallas Stars, Niemi signed with the Pittsburgh Penguins last summer. He went on to earn a .797 save percentage in three appearances before getting picked up off waivers only to post one of .872 in two games with the Florida Panthers. That led to another stint on the waiver wire and a desperate flyer taken on him by the Habs.
Niemi Beats Out Montoya
There was little reason to believe Niemi would be anything other than fodder for opposing teams as Price and then-backup Al Montoya went down with injuries. Instead, his stellar play led to Montoya's obsolescence in the eyes of Bergevin (and an extra draft pick thanks to a deal with the Edmonton Oilers).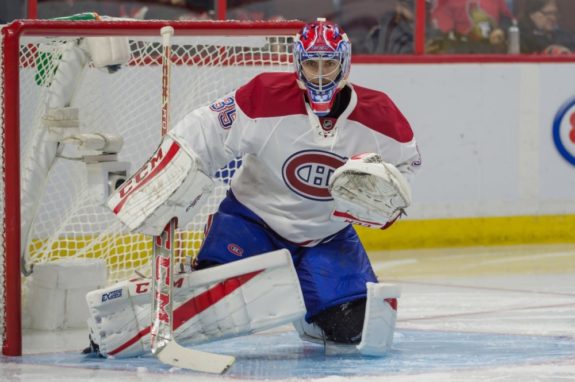 As an added bonus, combined with the decent play of Charlie Lindgren in the early-going, Niemi provided some measure of hope with regard to Price and the team's goaltending situation moving forward. If a 34-year-old Niemi could put it together, surely a 30-year-old Price could in the throes of his worst-ever professional season (16-26-7, 3.11 goals-against average, .900 save percentage).
If Price falters, one has to believe Lindgren, not Niemi, would be the heir apparent to his throne. Of course, that's about as worst-case of a scenario as you can imagine. Lindgren may even win the backup job out of training camp, in which case Niemi may become expendable.
Goalie Insurance on the Cheap
That doesn't mean the Canadiens will suffer any financial distress as a result of this deal, though. Niemi's $950,000 salary comfortably slips in under the maximum $1.025 million cap hit that can be buried in the minors according to the Collective Bargaining Agreement. So, however this situation plays out, the Canadiens aren't worse for wear with specific regard to this latest deal.
If Niemi continues on the same decline everyone expected him to be heading into last season, send him down and cross your fingers someone picks him up off waivers again. It's not like Lindgren's going anywhere (and won't, being waiver-exempt himself, in case it needs to be specified). Mix and match as you so please.
If, on the other hand, Niemi works out and continues on his run of strong play, great. He may very well end up one of the best backups in the league, while Lindgren continues to get the lion's share of ice time with the Laval Rocket in the American Hockey League. There are obviously worse things in the world.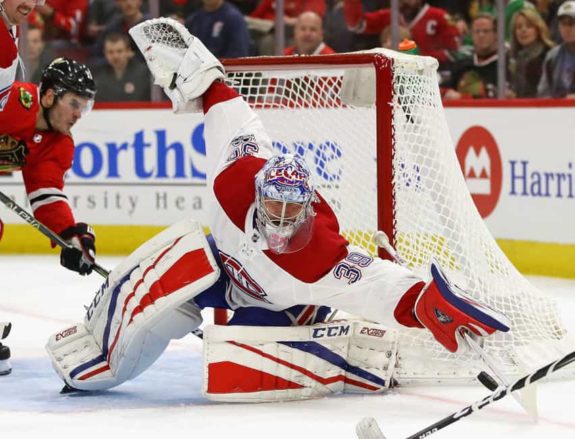 Similar to the situation with Montoya, it would just be gravy if Bergevin would be able trade a resurgent Niemi at next year's trade deadline. Bergevin would have effectively turned a goalie no one wanted into an asset out of thin air for the second straight season.
While most probably had Lindgren tabbed to be Price's backup in 2018-19 (or the other way around in the aforementioned nightmarish worst-case scenario), another goalie in the fold gives them options without costing them anything in this case. Another goalie on the cheap is a nice thing to have in other words. And now they do.