The Montreal Canadiens are once again going into this season with low expectations to make the playoffs. General manager (GM) Kent Hughes has said he doesn't think this is a playoff team, but that doesn't mean the Canadiens will sit at the bottom of the standings. The group last year was decimated by injuries to key players like Sean Monahan, Cole Caufield, and Kirby Dach. Only two players on the team played more than 70 games, and captain Nick Suzuki was the only Hab to play all 82. With that in mind, if the Habs remain healthy this season, some of these players could have high expectations of them compared to what type of season they could have had last year. Here is a look at some key Montreal players and what you could expect from them next season.
Canadiens Suzuki Eyes 80 Points
Suzuki has been an iron man for the Canadiens the past few seasons. With all the injuries and illnesses, he has consistently been the only player to play every game for the past three seasons. Last year, when he was teamed up with Caufield and Dach, he was on pace for an 80-point season. Injuries to both his wingers derailed his chance at his point-per-game (P/G) role, and he finished with a career-high 66 points. If his linemates can stay healthy, it is not out of the realm of possibility that he could get close to a P/G or at least 80 points, but it won't be easy to gain an extra 14 points, especially if Caufield or Dach don't play with him.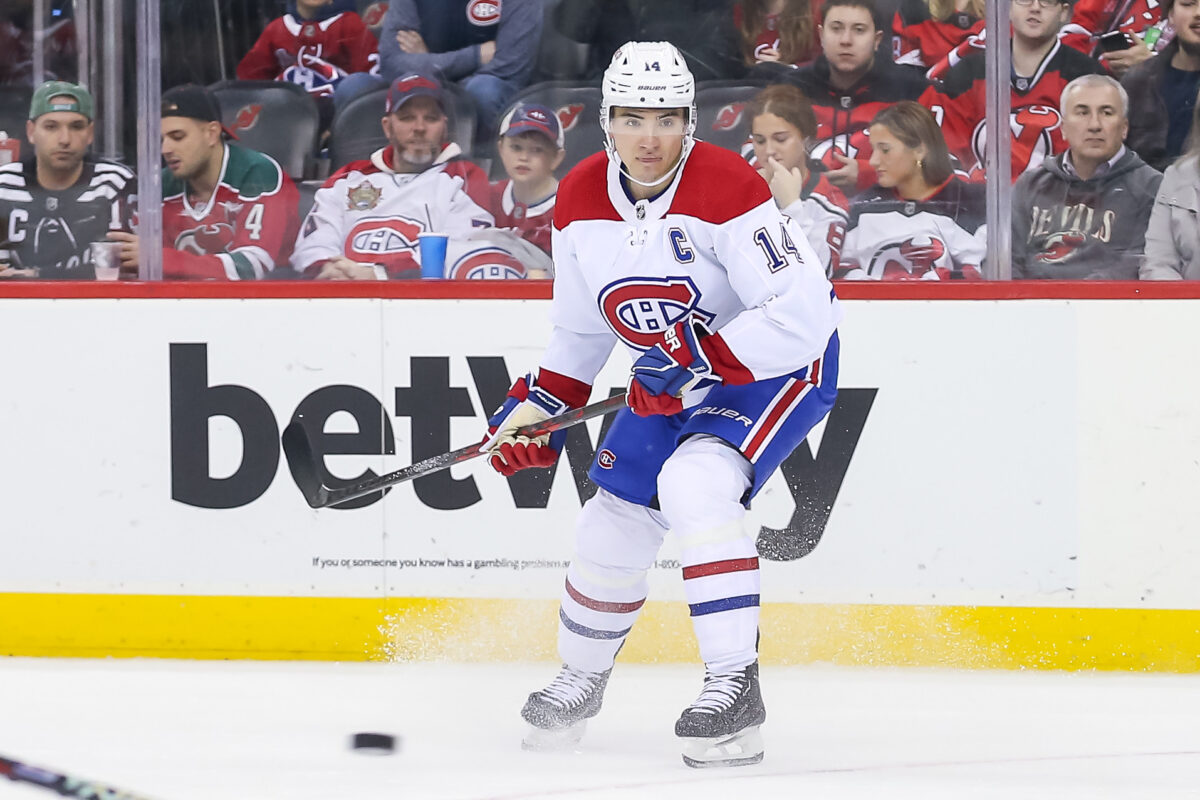 Suzuki and Caufield have been clicking since the 2021 playoffs, and when paired with Dach, they were one of the best lines in the NHL for a short time. It is almost guaranteed that Caufield and Suzuki will at least start the season on the same line, and even if Dach isn't the other winger, there is no reason to think that Caufield can't add 20 goals to last season's output of 26. Suzuki could also add 14 points to his previous season's total of 66. These are not unreasonable expectations, but there are a lot of factors to hockey, like chemistry and slumps. As long as Suzuki can stay consistent, there is no reason he can't hit 80 points.
Canadiens' Caufield Could Get 50 Goals
Caufield was having himself a career year before a shoulder injury cut his season short. He scored 26 goals before he stopped playing but was on pace for 47, which would have been the most by any Canadiens player since Max Pacioretty scored 39 in 2013-14. With the shoulder fixed and expectations for a healthy season, Caufield could be right back in that 45-goal range. If his pace last year was 47, then 45 is highly likely. But like the theme of this article, as long as he stays relatively healthy, and so do his linemates. Last year, he was most productive with Dach and Suzuki, but his natural scoring ability should allow him to maintain his productivity with any top-six player.
Related: Canadiens Should Keep Caufield and Suzuki Together
---
Latest News & Highlights
---
No matter who Caufield plays with, he should be able to score 40 goals at least, but 50 isn't a pipe dream either. Odds are he will start the season with Suzuki as his center, but who his winger will be is another story. It could be Dach, who has said he liked the chemistry with Suzuki and Caufield, Anderson, who would provide a big-bodied power forward on the line, or even rookies Juraj Slafkovsky or Rafael Harvey-Pinard. Harvey-Pinard had good chemistry with Suzuki when they were together, which could continue next season. If Caufield maintains last year's pace, 50 goals are achievable; it will take some hard work and consistency from Caufield and company, but it could happen, which wouldn't be surprising.
Canadiens' Dach Could Hit 70 Points, Anderson 25 Goals
Last season, the newly acquired Dach had low expectations after a few lacklustre seasons with the Chicago Blackhawks. However, he broke out of his shell with the Habs and started to show his true potential and why GM Hughes acquired him. He had 38 points in 58 games and, at one point in the season, was on a 70-point pace, but was hampered by injuries.
If Dach can stay healthy — I know, a common theme — and consistent, he can reach the 70-point plateau, especially if he plays wing with Suzuzki and Caufield. The Canadiens see him as a future center, and he plays the position well enough to be used as the second-line center next season. If that's the case, his point total may not be high, depending on who he plays with. Dach still has the skill to produce, no matter his linemates. But reality, however, may dictate more of a 60-65 point range.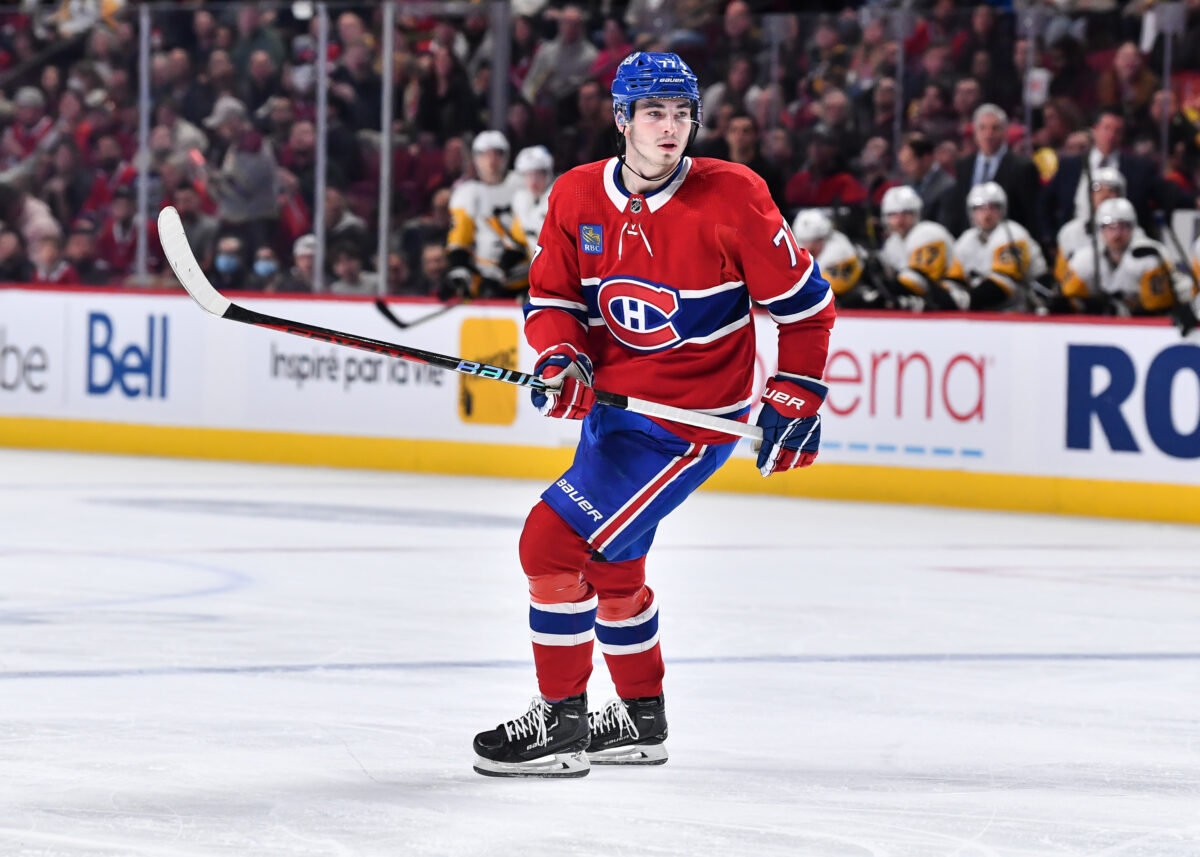 Josh Anderson scored over 20 goals for the first time as a member of the Canadiens last season when he totaled 21. He came to Montreal with high hopes of being a potential 30-goal scorer, but injuries have hampered his career. He has always had a 20-goal pace but could never reach the milestone; a healthy Anderson could easily reach the 25-goal plateau. He has never played more than 69 games in Montreal — if he could play even ten more games and remain consistent, 25 goals should be easy for the power forward.
Consistency is another knock on Anderson's game: he can't play an entire season and has not been consistent. He would have to overcome at least one of those to get 25 goals, but both to accumulate 30 and prove he can be the power forward the Habs need.
No matter how you look at it, the Canadiens will have to improve their offence for these players to reach their goals. The flip side is that if they achieve these goals, their offence will improve; it's a win-win. Some may think these goals are unrealistic, and maybe so; except for Caufield, no one has come close to hitting any of these marks. Realistically, you could say 70 points for Suzuki, 40 goals for Caulfield, 55 points for Dach and 20 goals for Anderson, and that would be more in their wheelhouse. But if they all click, stay healthy and remain consistent, these totals are very realistic. The season will soon start, and we can see what happens and where things go. It'll be exciting.
---

---