The second round of the 2023 Stanley Cup Playoffs is in the books, leaving four semi-finalists, each of whom are probably the envy of Montreal Canadiens fans to varying degrees. It needn't be that way though, at least not completely.
Related: What Canadiens Learned After Round 1 of 2023 Playoffs
There's a takeaway from each team that should leave them cautiously optimistic the Canadiens are closer than one might expect of a team that just finished in fifth-last place during the regular season. It's true "tanking" was probably the biggest casualty round over round, with nary a single survivor having deployed that strategy to its full extent, at least compared to the teams they dispatched (the Carolina Hurricanes over the New Jersey Devils, for example). However, it's not like the Canadiens themselves have either.
---
---
In truth, you can only really argue general manager Kent Hughes inactively tanked this past season, going with the goaltending he did. Ultimately, when you sustain as many injuries as the Canadiens have over the last two seasons, you're going to find it hard to stay competitive no matter what you do. It's also a sign the Canadiens are closer to competing than you might think, along with these four lessons learned:
4. Vegas Golden Knights: Canadiens Don't Need Another Carey Price
The Vegas Golden Knights serve as the best antithesis to tanking, seeing as they've only been in existence since 2017-18, only missing the playoffs once… and just barely at that (last season). As a result, they've never so much as drafted within the Top 5, as management has seemingly gone about their business like one would in a video game, trading for elite player after elite player… if they didn't manage to sign them via free agency first.
To a degree, that's reflected in their revolving door in and out of the net, as they've yet to truly stabilize their goaltending. They thought they had their man in Robin Lehner, only for him to miss all of 2022-23 due to hip surgery, ultimately forcing them to go with backup Laurent Brossoit, at least to start the playoffs. With Brossoit now injured, they've since switched to Adin Hill, himself far from what you would call an established starter.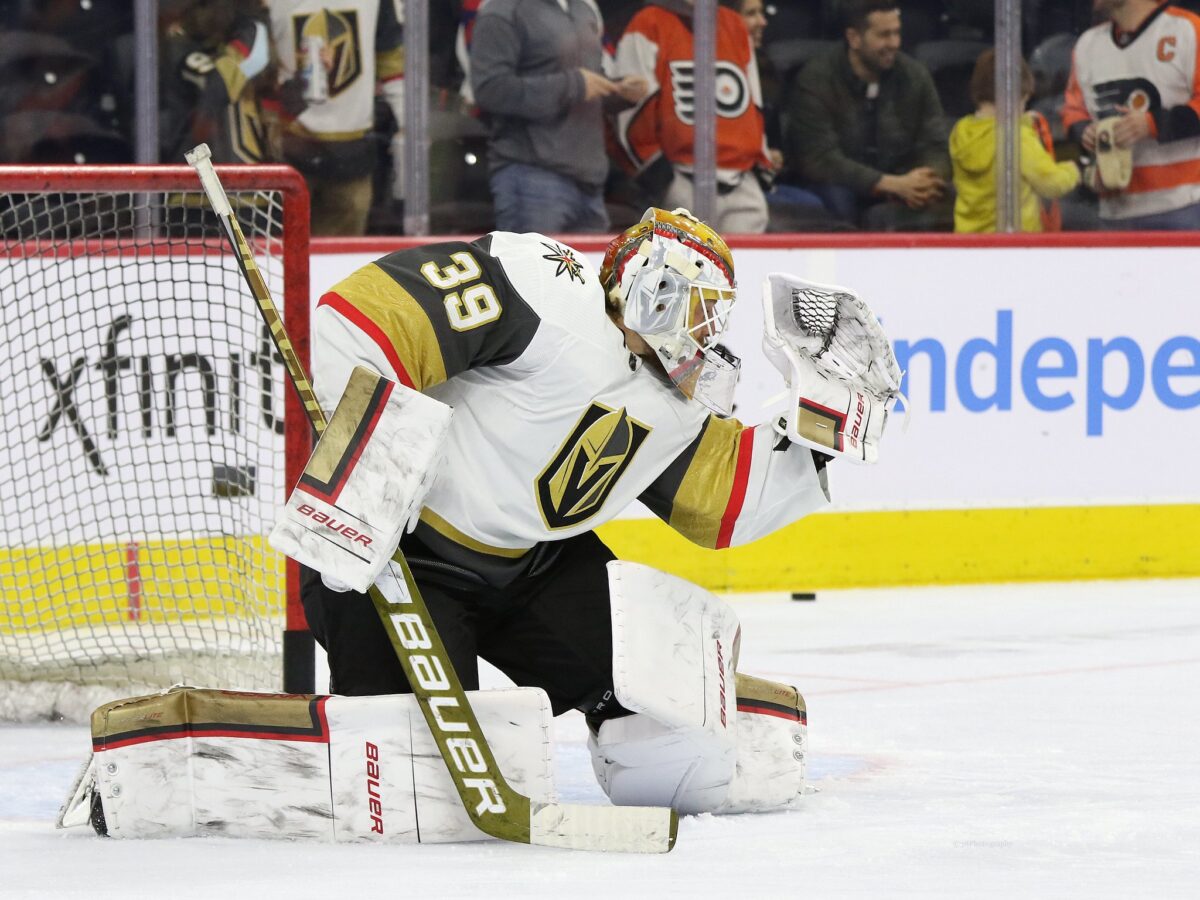 It all goes to show, you don't need elite goaltending to be successful in the NHL, which is consistent with what fans saw in Round 1, too. True, the Canadiens did reach the Final with Carey Price… but they also got outclassed by a team with more balance throughout their lineup in the Tampa Bay Lightning, albeit largely thanks to a loophole that enabled the activation of an injured Nikita Kucherov to start the postseason. Even so, if you were to look at the Golden Knights and then the Canadiens, you'd see a lot of similarities in net, not so much everywhere else.
3. Florida Panthers: Anything Can Happen Once You Make the Playoffs
It also bears repeating after Round 1 that you don't need a Presidents' Trophy season to be successful in the playoffs, with the 2012-13 Chicago Blackhawks the last winners to capture the Cup. Take for example the Florida Panthers, who, as eighth seeds, knocked off the record-setting Boston Bruins before beating the Toronto Maple Leafs to move on to Round 3.
Granted, the Panthers won the Presidents' Trophy last season. However, a roster shake-up last summer left the team radically different, even with just a few players changing teams. The end result of trading Jonathan Huberdeau (and Mackenzie Weegar, etc.) for Matthew Tkachuk? Sure, a third-round berth so far, but also a playoff one that almost wasn't.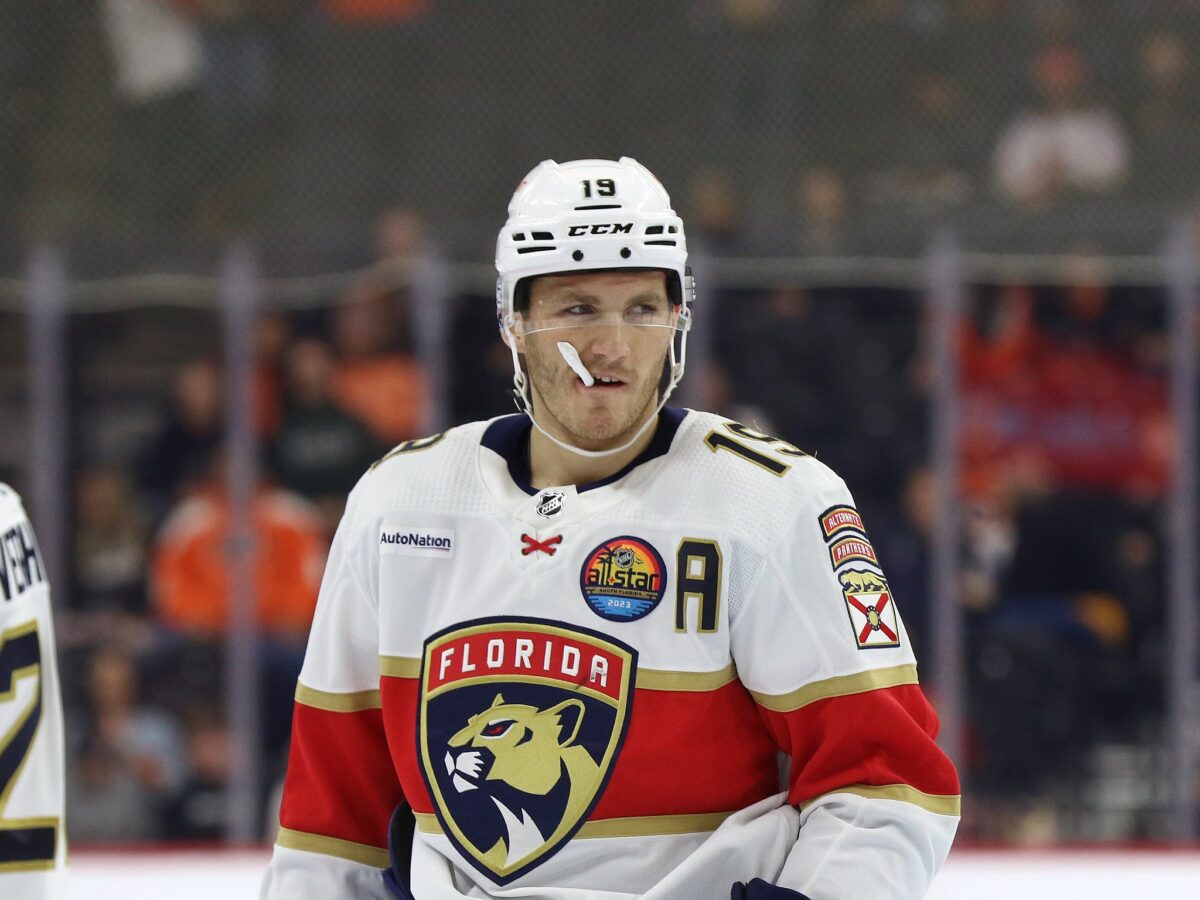 The Canadiens have been ridiculed in the past for subscribing to the notion that anything can happen once you make the playoffs. The Panthers are living proof that's the case. That isn't to suggest the Canadiens should follow the same model for success, for example sign an in-decline 31-year-old goalie for $10 million per season, insulating him with an offense-first blue line, and hope he regains his game long enough to go on a heater at the right time.
---
Latest News & Highlights
---
What it does mean is the Canadiens don't need to become regular-season powerhouses right away. For example, first compete for a playoff spot this coming season. Once you eventually make them, who knows? Habs fans should know better than anyone, based on their relatively recent Stanley Cup Final run.
2. Dallas Stars: Road Back to Respectability Doesn't Have to Be Long
Canadiens fans may have found it easier to cheer for the underdog Seattle Kraken in Round 2 against the Dallas Stars. However, for obvious reasons, the Stars and Canadiens actually have a great deal in common beyond Evgeny Dadonov, the Canadiens cast-off who's quasi-admirably found new life after his trade-deadline deal out of town. The Stars also have the dubious distinction of having lost to the Lightning in the Stanley Cup Final, just like the Habs in 2021, but one year earlier… only to similarly miss the playoffs right after.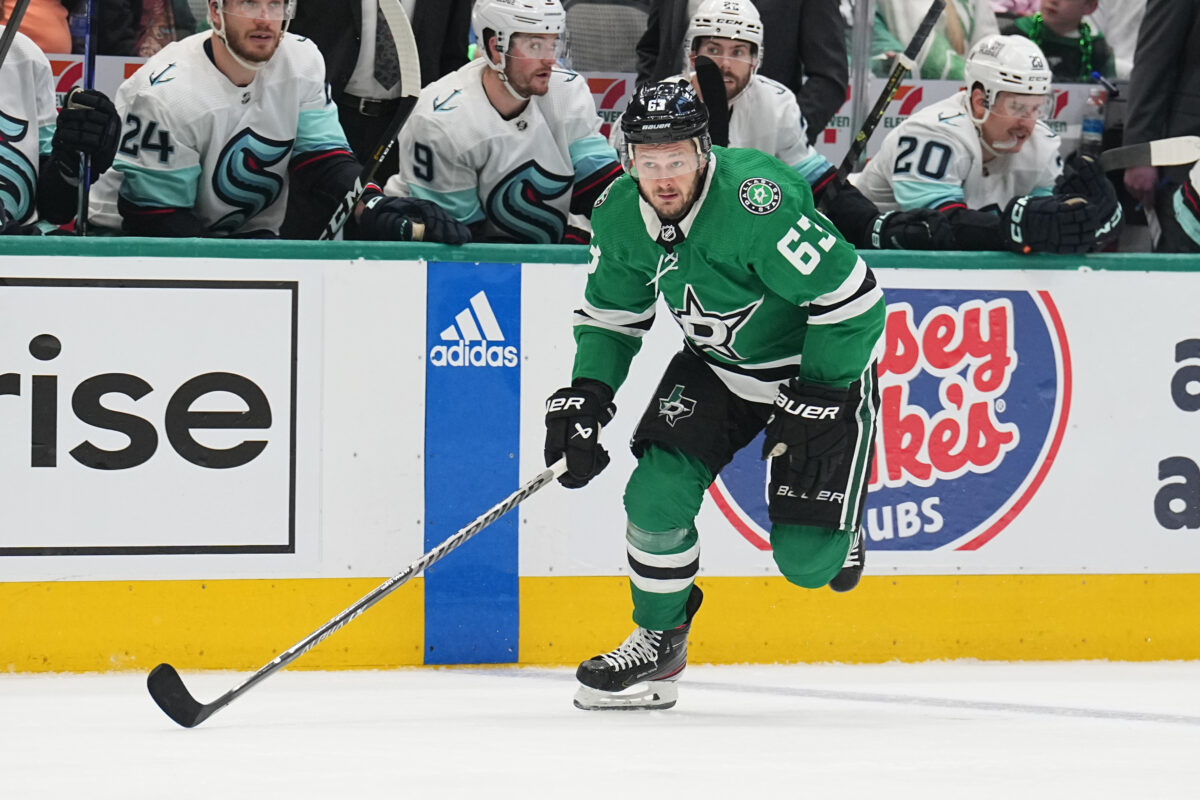 It's not a perfect comparison, by any stretch. After all, the same season the Stars missed the postseason and the Canadiens lost in the Final, the former finished with 60 points in 56 regular-season games. The Habs only had 59. Furthermore, the Stars were right back in the playoffs the following season, whereas the Canadiens have taken more of a detour on the road back to respectability, finishing where they did in 2022-23 after a last-place 2021-22.
Nevertheless, the Canadiens can look to the Stars as something of a model of a success. The Habs aren't there yet, but they're realistically well on their way.
1. Carolina Hurricanes: Culture Is Key
The Hurricanes are a bit tougher, and not just because Canadiens fans may find it hard to acknowledge the success of a team that signed ex-Hab Jesperi Kotkaniemi to an offer sheet a few seasons ago. Even so, in spite of any lingering hard feelings, you have to admit Kotkaniemi has come on as of late, scoring a career-high 43 points during the regular season, while adding six in the playoffs so far.
No, Kotkaniemi isn't a stand-out player per se. However, you'd be hard-pressed to find one on the team these playoffs… especially with Andrei Svechnikov absent up to now due to injury, Stefan Noesen, who at 30 has yet to fully establish himself as an NHLer, presumably getting as much ice time as he is as a result and Jordan Martinook, traditionally someone fans might see as a bottom-six forward, co-leading the team in scoring.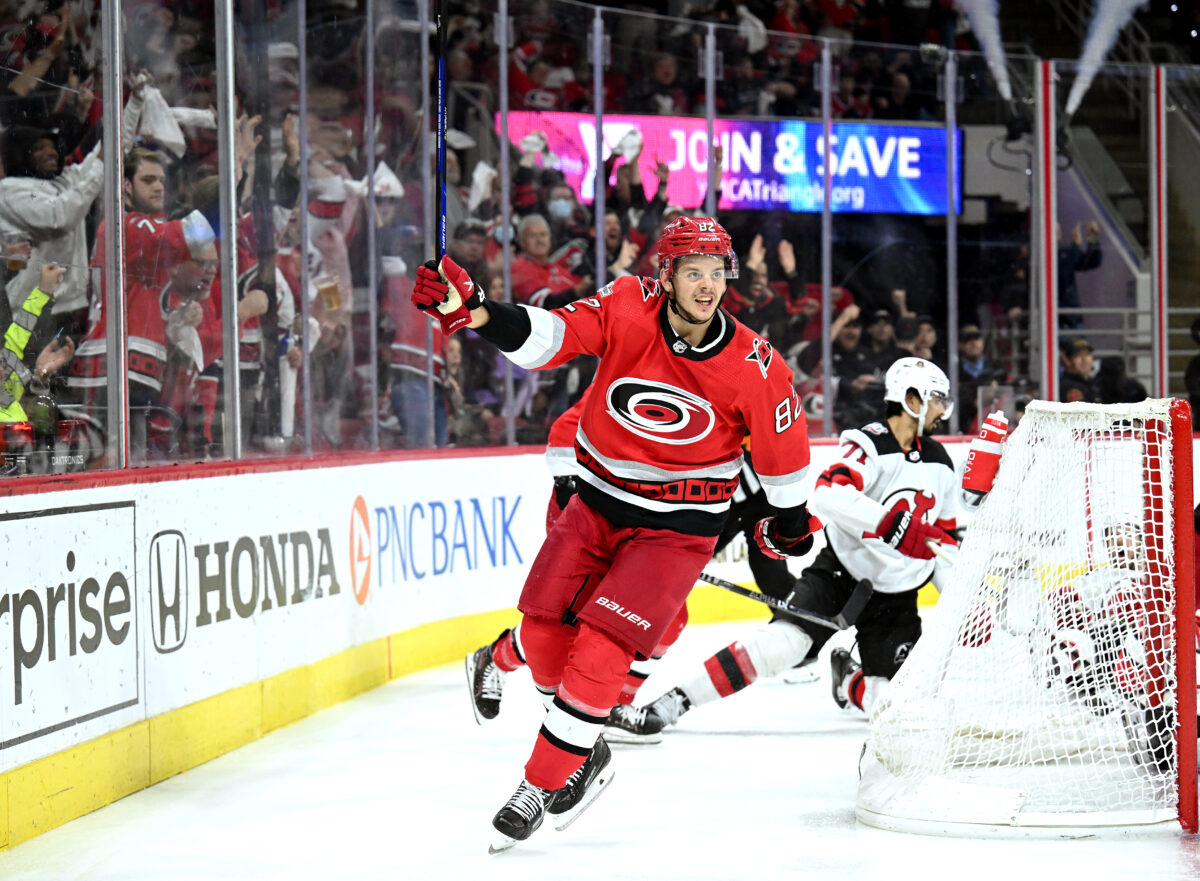 Maybe that plays into the make-up of the Canadiens currently, how they may be able to get by without any elite players, although ex-Habs superstar Sebastian Aho, who's also co-leading the team in scoring, might have something to say about that. Maybe instead it's how in spite of injuries to Svechnikov (and Max Pacioretty) the team is doing as well as it is, with the depth to stay competitive. However, you'd have to believe even the Hurricanes would have had trouble under circumstances as severe as what the Canadiens have faced recently.
Perhaps it's more so the fact players like Noesen and Martinook can successfully step into prominent roles, owing to Rod Brind'Amour's coaching. With a player of Brind'Amour's caliber behind the Canadiens' bench in Martin St. Louis, who has the benefit of Hall of Fame-career experiences from which to draw, maybe culture is the thing on which to hone in.
To be fair, Brind'Amour had more (assistant) coaching experience than St. Louis when they each first became head coaches. He also found success immediately (in that role), whereas it's been a work in progress for St. Louis. So, consider this point more aspirational in nature compared to the other ones on this list.
Even so, there's little disputing the positive effect St. Louis has had on the Canadiens since he took over, even if only culturally. To be clear, this goes beyond laughable mottos like "No excuses", simple buzzwords like "CHaracter" and the misguided notion the Canadiens regularly losing games is adversely impacting a lasting winning culture. Losses happen. It's a natural part of every contender's genesis.
It's easy to look at the Hurricanes and want what they have (and not just Aho), if you're a Canadiens fan. However, it's also easy to forget the Hurricanes went through massive growing pains, even with Brind'Amour on staff. Before they hired him as head coach, he spent seven non-playoff seasons with the team in an assistant capacity.
So, it's a process, in which patience plays a key role. St. Louis could realistically be the coach the Canadiens need, but he needs leeway to make it happen. Considering how the Hurricanes are (now) consistently considered one of the best teams in the NHL (and probably the best still standing), even without a full lineup, it's arguably all worth it.