With Kevin Bieksa now shipped out of town, the Vancouver Canucks face the decision of naming a new alternate captain. They have several options to fill the void, both of the veteran and youthful variety. Here are the six best candidates to replace Bieksa as an alternate captain.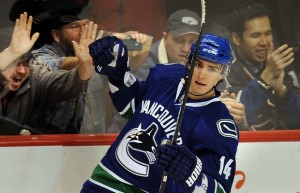 Alex Burrows
One of the longest tenured Canucks on the team, Burrows has not only been a productive Canuck for a longtime, but has been one of their strongest character guys. Say what you will about his (deserved) reputation or his declining production, but there is no question that each and every night, Burrows leaves it all out on the ice every single game, which is something that rubs off on not only the up-and-comers, but the more experiences skaters. It seems like a sure bet that the fan-favorite out of Quebec will be named an alternate captain
Dan Hamhuis
Affectionately called Dan "The Community Man" Hamhuis by some, the veteran defenceman has established himself as one of the club's strongest community members over the course of his five seasons as a Canuck, and has been a key part of the franchise for each of those five. With two wins for defenceman of the year at the Canucks team awards and an Olympic gold medal in Sochi, Hamhuis has been arguably the most consistent Canuck defender since arriving in Vancouver, and would be a strong candidate for alternate captaincy, especially considering the youth arrival on the blue line next season with Adam Clendening and Frankie Corrado all but guaranteed a roster spot.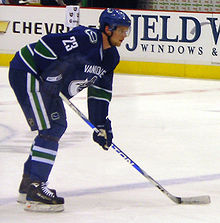 Alexander Edler
Alex Edler is a lifetime Canuck, and was their best defender throughout the entire campaign. He continues to rise the franchise rankings in many defense categories, including games played, points and goals. On that front, Edler seems like a prime candidate for the "A". So what's holding him back? The fact that alternate captains are often relied upon to speak on behalf of the team, and considering that in several interviews Edler has come across as rather soft-spoken and uncomfortable, he may not get as much consideration as others.
Chris Tanev
One of the emerging parts of the Canucks core, Tanev may come across as the silent type, but generally comes across as well-spoken and in a recent feature where the young blue liner was mic'd up for a game, he seemed relatively well liked by his teammates. When taking into account that Tanev is likely to be a part of the Canucks for many years to come, he'll have plenty of time to grow and develop as a leader for this hockey team, he may just be the perfect fit to sport an "A" on his jersey.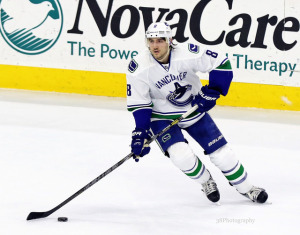 Derek Dorsett
Acquired at last year's draft, Dorsett has done wonders for the Canucks in terms of leadership, mentoring rookie Bo Horvat and young power winger Zack Kassian throughout the season, as both players made huge strides during the 2014-15 campaign. Like the aforementioned Burrows, Dorsett leaves everything on the ice, playing a heart and soul game that makes him a significant part of the physical aspect of the Canucks, as well as a key figure on the penalty kill. While he may be too new to the organization to give him a letter on his jersey, it certainly wouldn't be a bad selection.
BONUS: Bo Horvat
The 20-year-old Horvat is quickly rising within the organization, and if management decides that Horvat is going to be a face of the franchise moving forward or that they want a young voice for the youngsters in the pipeline that will soon make the jump to the NHL, they may go out on a limb and name Horvat an alternate captain.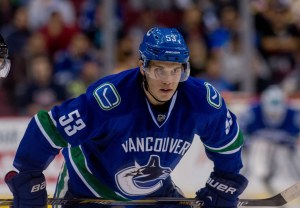 Markus is a Vancouver Canucks columnist out of Victoria, BC. Markus is also a Staff Writer for Last Word on Hockey, an Editor and Staff Writer for country music website The Shotgun Seat, and founder of This Is Country Music.