Everyone, take a chill pill.
It's only been two preseason games and the Vancouver Canucks are 0-2. The key word in that sentence is preseason. Even if the Canucks were blown out by the Edmonton Oilers 10-1, the points don't matter because there aren't any. It's really mindboggling how some Canuck fans are crying that the sky is falling, after Roberto Luongo's dismal performance – giving up four goals to the Oilers on September 18. Here are some examples on social media:
Roberto Luongo wasting no time penning the next chapter in Vancouver's ongoing goaltending drama.

— Robin Brownlee (@Robin_Brownlee) September 19, 2013
If Roberto Luongo doesn't do well in between the pipes the Vancouver Canucks are in big trouble. pic.twitter.com/5DWpnCvjtm — Flyers Finest (@sandropacheco71) September 21, 2013
"I threatened to cancel tix if they didn't trade Huberdeau, Gudbranson and a 1st-rd pick for Roberto Luongo" http://t.co/lzArAxHlZs — katiebakes (@katiebakes) September 18, 2013
While there may be an argument to run Lou out of Vancouvertown, there are others including my colleague Chris Wassel who thought otherwise:
NHL Players were asked to pick the best goalie in the league and Johnathon Toews chose Roberto Luongo…. http://t.co/zThtUNleqC

— Blue Line Sports (@BlueLineSports_) September 17, 2013
"@VanCanucks: Roberto Luongo is once again THE GUY and John Garrett says you should be excited about that – http://t.co/NR0lZidP7b"

— Steven Miorin (@SMiorin) September 14, 2013
Roberto Luongo, Martin Brodeur, Cam Ward….all have given up 4 goals in a period this week.

— Chris Wassel (@ChrisWasselTHW) September 21, 2013
It's no wonder why Coach John Tortorella doesn't like "that damn Twitter." He urges his pages not to get carried away on social media and he may have a point.
Look at what Toronto Blue Jays catcher J.P. Arencibia had to deal with when he criticized two former players-turned-commentators who criticized his offensive play, or lack thereof. Arencibia fired back and called out Roger Sportsnet's Gregg Zaun as a steroid user (an unproven claim.) What's worse is that J.P. was critical with his employer, Rogers Communications who owns the Blue Jays and Rogers Centre, their home address. After the controversy, Arencibia closed his Twitter account. As recently as this week, the critics are still posting:
J.P. Arencibia is pretty bad at baseball.

— Dave Lozo (@DaveLozo) September 19, 2013
Regardless of the sport, Twitter is a always going to be a forum for negativity, and Torts wants his players to be protected from that. While there are always going to be critics, it's important to note that not everyone is going to have a great game every game. Has any NHL team ever established a record of 82-0-0? That's asking way too much from the Canucks. Torts doesn't need that for his team.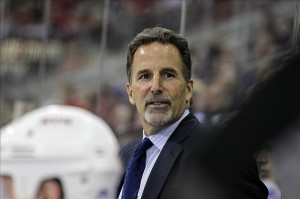 There are always going to be winners and losers in a hockey game. To dwell on it for several years is really unhealthy to the body and mind. Why throw a tantrum over something you can't control? What's the point of criticizing the goalie, the coach or management? Are the fans going to take over and run the team? That would be more fun to watch than these exhibition games.
So before you throw your beer on the ice, or throw the remote at your $3,000 LED flat-screen TV, remember that this is JUST EXHIBITION. It's not October yet, and fans need to be patient with this team.
Take a deep breath, and just enjoy the game.
A former novice/atom player, timekeeper and fan of the game, Peter has lived and breathed hockey throughout his life, covering hockey happenings in Edmonton, Vancouver, and currently in Saskatchewan. He is now a contributing writer for the Hockey Writers.