After nine games played, there have been many pleasant surprises for the Vancouver Canucks.
One can start with the fact that the Sedins are on pace for over a point per game again and new linemate Radim Vrbata has not just blended in, but actually appears to be the spark behind recent first line success. And now it appears that they have solid secondary scoring with the second line putting up points.
Even their 6-3-0 record to open the season is a rather pleasant surprise, considering their usual slow, or at least mediocre, starts in October.
However, the one that is not being talked about too much is the fourth line's play. You heard me right, I said the fourth line.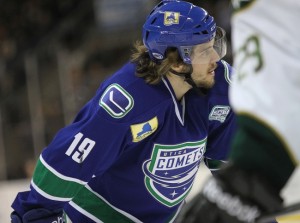 In recent years, the fourth line in Vancouver has just been a throw-together line of players who just don't anywhere else, or AHL call-ups playing because of a roster hole, rather than that of a line with a real purpose.
Even when a player fit a fourth line role, such as Tom Sestito, it was in an enforcer role, rather than their on-ice contributions (though Sestito notching five goals was impressive for his role, and he has shown legitimate offensive ability — which shows even at the NHL level some nights).
And the one other legitimate fourth liner the Canucks had, Dale Weise, fell victim to John Tortorella's strategy of barely playing the fourth line — and the Canucks lost him for essentially nothing.
Now, however, with a new coach and new players, the fourth line looks different — and potentially dangerous.
Talent in the Offensive Zone
It might not be every night, as with many things about this team recently, it's off and on, but have you noticed the fourth line's ability to cycle in the offensive zone?
The entire first period of Sunday's game against the Washington Capitals, they were noticeable in their ability to just keep the puck in the offensive zone and put the puck on net.
Though they have only scored for the first time Tuesday night against the Carolina Hurricanes, on a Jannik Hansen goal (he scored twice previously but both on an empty net, while linemate Linden Vey has three goals, but all on the powerplay), it shows great potential for a balanced four line approach, where the fourth line contributes to the team's secondary scoring, or even just killing valuable time hemming opponents in their own zone — a real fourth line.
Most of this can be credited to the new players on fourth line, most of whom are new in Vancouver overall, and the other new to a fourth line role.
Derek Dorsett came over in a trade with the New York Rangers, and was essentially the final piece in the Kesler trade as the Canucks used the third round pick obtained in that trade. He is probably the one player on the line used to fourth line play. Even then, in 2011-12, he scored 12 goals with the Columbus Blue Jackets, and has potential to contribute offensively.
Center Linden Vey was essentially demoted to the fourth line after lacklustre play on the third line, and Shawn Matthias' standout play. However, he often seems to be the driver in the fourth line's cycle game.
He looks to be slated for a role in the middle six in the team's future but for now helps make a solid, potential filled fourth line. It's clear that he can put pucks in the net, by the three he has already scored.
Jannik Hansen fills out the line after a rough season last year, but is just the type of player you would want on a contending team's fourth line. Despite what might be viewed as a demotion for him, it might be the best place for him to have a great effect.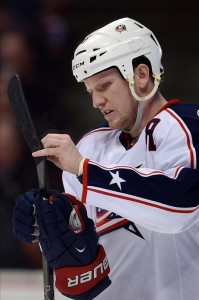 And it's not all just in the players; coaching has to be commended. As mentioned early, Tortorella did not believe in a fourth line.
Instead, new coach Willie Desjardins' system relies on a four line system, and with an emphasis on making sure that the fourth line is filled with quality role players, rather than just the misfits of the team.
And their cycling appears to be one of the rewards of that system.
Back to Reality
Now, one stat should be noted: the fourth line has a combined plus minus of -9 (although Vey's includes time on the third line).
Although many argue this is a rather ineffective stat to judge players individually, it does point out that more goals are scored against, than for — and that's bad obviously.
The problem with their cycle game is that it usually ends with them turning it over, and sometimes a goal. Even their first true goal was on a play that should have been a turnover and a breakaway for the Hurricanes, and possibly a goal for them.
However, for now, it's important that they are show offensive capability, whether it comes rather inconsistently or not. They show potential, and a vision of what Desjardins' four line system could bring.
Their defensive woes appear to be ones that can be ironed out as the season progresses and the line starts to truly gel.
The potential the line shows should be exciting to every Canucks fan, and it's too early to panic about their defensive woes (especially when everyone on the team looks defensively shaky so far).