It was a moment that made Vancouver Canucks fans cry and cuss all at the same time. When Elias Pettersson's visor fogged up while he struggled to stand after being body-slammed by Mike Matheson, there was an uproar. Aside from the dirty play, the Canucks were losing a player who had a hand in 42% of the Canucks goals through five games.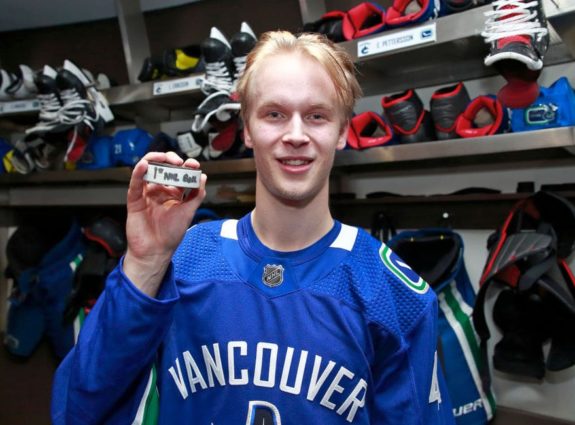 Visions of the darkest times throughout the past three seasons were creeping into the conscience of Canucks fans. However, the team has maintained a .500 record in Pettersson's absence. One player who has dramatically helped mitigate the loss of Pettersson is the Canucks de-facto number one centre, Bo Horvat.
Bo Scorevat
Never in Canucks history have fans missed an absent player so much after five career NHL games. After dazzling fans in a manner that hasn't been seen since Pavel Bure, there was legitimate concern about where the offence would come from after Pettersson left a gaping hole in the lineup.
Enter, Bo Scorevat.
Since Pettersson left the game against the Panthers, Horvat has stepped up in his absence. Horvat immediately scored on his next shift after Pettersson's injury, which became the game-winner. In the three games since, Horvat has scored two goals, accounting for one-third of his team's goals in the process.
After a "slow" start for Horvat's line with Brock Boeser, the 23-year-old now has five goals in nine games. It's not just about the goals, but about how his all-around game has improved in Pettersson's absence. Despite playing against the opposition's best defencemen every night, Horvat has been a force. He played his best game of the season on Saturday night against the Boston Bruins, despite seeing the top pairing of Zdeno Chara and Brandon Carlo for most of the game. It was Carlo who Boeser and Horvat were able to beat for the game-winning goal.
Horvat also brought out his physical game, seldom seen during his time in Vancouver. In the second period, he finished a hit on Joakim Nordstrom before schooling Noel Acciari in a scrap. There's power forward potential in the Canucks' number one centre.
One of the most impressive parts about Horvat's hot stretch of play, was that his line was being criticized for a slow start early on. The critics had merit, as Horvat's line with Boeser and Sven Baertschi didn't register a point at even-strength during their first two games. That prompted Travis Green to move Baertschi off of that line. In the Canucks next game, Baertschu posted two goals and an assit while Horvat's line with Boeser and Goldobin was silent.
One of the critiques about Horvat in the past has been his defensive play. Before Pettersson's injury, Horvat was getting caved in at even-strength. His scoring chance differential at 5 vs. 5 was a measly 23.4%. Since Pettersson's injury, his differential has risen to 44.3%. While Horvat still has struggled against top-end NHL talent, it's promising to see that his numbers have improved, even though he's the focal point of the Canucks lone scoring line.
Horvat Heading Towards Career Year
Horvat won't continue this pace, which would see him hit the 50-goal mark. However, it's attainable for him to keep up his points-per-game average of 0.78. Here's a look at how his point-per-game average has increased year after year:
2014-15: 0.36 points-per-game
2015-16: 0.48
2016-17: 0.64
2017-18: 0.68
Even though he was injured last season, he still had a career-high 22 goals in 64 games, which translates to 28 over a full season. If he lives up to his potential, he could be a 30-goal, 30-assist player by the end of the season; not bad for someone who was pegged as no better than a second or third line centre.
Horvat to Benefit from Pettersson's Return
Putting in my submission for "obvious headline of the year" award here, but there's one area where Horvat will be more effective when Pettersson returns: the power play.
What's impressive about Horvat's strong play in Pettersson's absence is that he's doing his damage at even strength. All three of his goals have come at even strength, with one being a 3 vs. 3 overtime winner.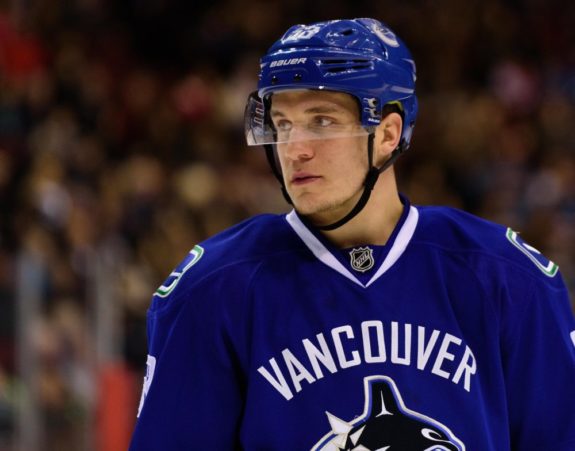 That gives hope to the fact that Horvat can be even more effective when Pettersson returns to the lineup. He had two power play goals on the top unit with Pettersson. Last season, Horvat broke through as an effective finisher on the power play. He had seven power-play goals in three seasons before 2017-18. Last season, he put up 10 goals and three assists on the power play in just 64 games.
Aside from improved power play production, Horvat should also benefit from facing lesser competition at even-strength. The league will soon catch on to Pettersson's skill (if they haven't already), meaning teams will have to choose between putting their best defenceman against one of these centers.
Either way, this sets up Horvat for a career year. He's already shown early on that this season could be his best, and things will only improve when Pettersson returns.
KPU Journalism Graduate. Trevor has been writing for The Hockey Writers since October 2014. He has contributed articles related to the Ottawa Senators, Vancouver Canucks, and other issues/stories regarding the game of hockey. Trevor currently lives in White Rock, B.C.