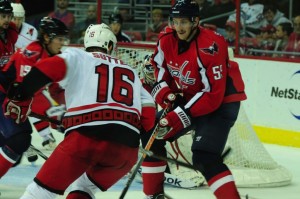 Washington Capitals General Manager George McPhee will have executive decisions to make this off-season, as any GM around the National Hockey League does, especially when it gets closer to the start of Unrestricted Free Agency, scheduled to begin on July 5th, 2013.
From a defensive standpoint, veteran Tom Poti's contract has an expiration date this summer and it's likely the 35 year old will be seeking employment elsewhere, if in fact his health, permits.
Defenseman Karl Alzner is set to become a Restricted Free Agent and will most likely work out a new deal with George McPhee, keeping the Burnaby, British Columbia native, in DC for the long haul.
That would leave the Parent Capitals blue-line with seven contracts on the books for the start of the 2013-14 campaign. However, if long time Red Shirt Jeff Schultz has anything to say about it, he will be wearing a different colored sweater, per his request.
The veteran defenseman has requested to be traded following several frustrating seasons, with playing time on the decline.
"My agent and I thought there has got to be somewhere else where a team needs a player like myself and I can be utilized a lot more then I was here," Schultz told the Washington Media. "It was like I was a young first year player again with them."
The 27 year old had previously asked to be moved at this years trade deadline, due to finding his way down the depth chart of the Capitals blue line.
"It was hard to see, when you're not playing, guys get called up and play in front of you," Schultz said. "You've been in the league for a certain amount of years and this is their first year, it's just kind of frustrating. I guess they want to get some experience, but I felt like I could do more than them."
A part of the frustration lies with Head Coach Adam Oates and former head Coach Dale Hunter in their approach with him and not fully explaining the reason for decreasing his playing time.
"Jeff would love to be there, said Schultz's agent Jarrett Bousquet. "He loves his teammates and the Capitals have been good to him over the years when they drafted him. It's just that now it's to the point where playing in the National Hockey League takes precedence over not playing for the Caps. We feel for Jeff if he's not going to be utilized in Washington that there are other teams that can utilize his talents elsewhere."
Schultz, drafted by the Washington Capitals in the 2004 NHL entry Draft, has played in 399 career regular season games, all with the Washington Capitals, compiling 11 goals and 75 points.
Follow me on Twitter @DarrenCoslov
Darren is the Washington Capitals correspondent. He spent the 2010-11 season covering the Atlanta Thrashers and the 2011-12 season covering the Columbus Blue Jackets. Feel free to contact him @ DKoz256@yahoo.com. You can also follow him on Twitter. DarrenCoslov