The Washington Capitals have played a lot of overtime lately. In ten games this season, five have gone to overtime. A third-period meltdown on Feb. 1, allowed the Boston Bruins to put away four third-period goals to rally from a three-goal deficit. It's the Capitals' first loss of the season, and it wouldn't really be worth mentioning if they hadn't done something painfully similar in the previous game. In these last two games against the Bruins, the Capitals have had a two-goal lead entering the third period and have come away with an overtime win and a loss.
RELATED: Capitals Should Ease Ovechkin & Orlov Back Into Lineup
It's difficult to isolate one thing and say, "This is the reason they lost." In both third periods, the Capitals looked like the slower team. There was also a lot of miscommunication in the defensive zone that allowed the Bruins to score easy goals. It would be easy to chalk the Feb. 1 regulation loss to the fatigue of playing 10 games in 19 days. It's also easy to excuse the loss as an inevitability, your team is simply not going to win all the time. However, in a season when every point matters, the Capitals cannot allow themselves to grow complacent.
Laviolette Shortens His Bench
It's not uncommon for coaches to shorten their bench when a game gets tight. In both games, the Capitals' fourth-liners, Daniel Sprong and Michael Sgarbossa played under seven and a half minutes of ice time. Laviolette has a history of success in the NHL. However, I have to wonder if, after 10 games in 19 days, shortening his bench will eventually take its toll on his top forwards.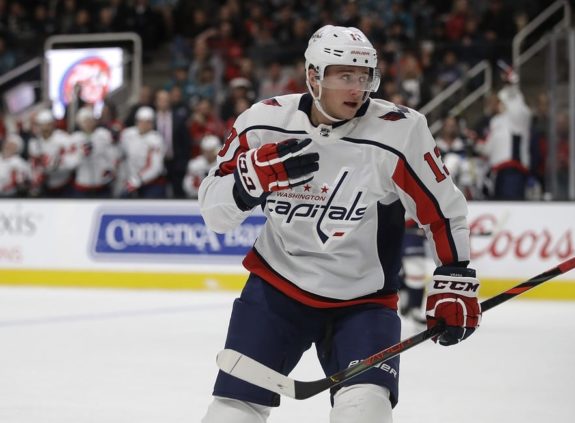 Sprong was one of the goal-scorers on Feb. 1, and his line, with Scarbossa and Jakub Vrana, looked pretty good early in the game. When Tom Wilson went to the box for a five-minute fighting major in the third period, Vrana took his slot on the top line while Sprong and Sgarbossa stayed on the bench for pretty much the rest of the game.
I have to imagine that the coach is trying not to put too much responsibility on players who might not be ready for it, but I also imagine that Laviolette will be more willing to roll four lines with a better ice-time balance once Lars Eller and Evgeny Kuznetsov return to the lineup. A review of the tape shows that the Capitals were gassed on the third and fourth Bruins' goals last night. The schedule is what it is, but I'm not sure that shortening the bench will help the team going forward.
Defensive Shuffle
I don't think the Capitals expected to play Zdeno Chara 20+ minutes a night when they signed him. In early games against the Buffalo Sabres, Chara was right at the 20-minute mark because of the time he spent killing penalties, but in several other games, he was on the third pairing with Nick Jensen playing under 20 minutes. Losing Dmitri Orlov to COVID-19 protocol moved Brenden Dillon up to the top pairing, which put Chara on the second pairing with Justin Schultz, and the two seemed to fit well together; that is until Schultz was injured. Without Schultz and Orlov, Laviolette decided to shuffle things up a bit and moved Chara up to the top line with John Carlson.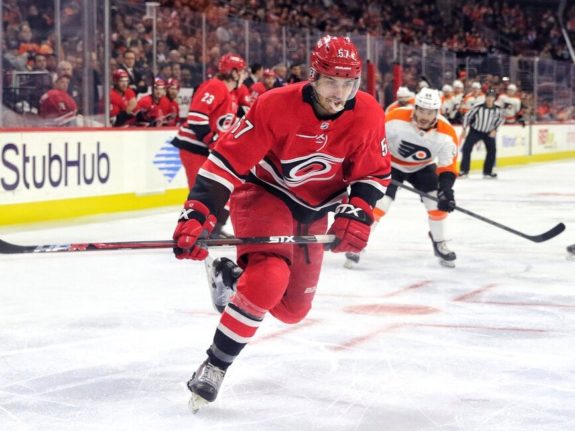 Before the season, I wondered if the Capitals really needed the defensive depth they had acquired. That seems like a silly question now. The team has now been pressed to field a lineup that makes full use of their season-opener healthy scratches, Jonas Siegenthaler and Trevor van Riemsdyk. The lineup on Feb. 1 included Orlo but in a third-pairing role with Jensen. Dillon and Van Riemsdyk made up the second pairing, and Chara saw himself thrust into top-pairing minutes for the second game in a row.
Capitals lines vs Boston

Ovechkin-Backstrom-Wilson
Sheary-Oshie-Panik
Hagelin-Dowd-Hathaway
Vrana-Sgarbossa-Sprong

Chara-Carlson
Dillon-TvR
Orlov-Jensen

Vanecek vs Halak

— Samantha Pell (@SamanthaJPell) February 1, 2021
The Dillon and van Riemsdyk pairing didn't pan out very well against the Bruins. They were minus-2 in the Feb. 1 loss and finished the game with a Corsi% below 35%. Both players have been solid at other points during the season, so this isn't an indictment of their play as individuals. Sometimes, defensive pairings don't gel or click right away. With how compressed the schedule is, it's hard to get the practice time to work on chemistry. I don't presume Laviolette will keep this pairing together. Orlov will likely play more minutes as they work him back in. It didn't work great, which isn't really anyone's fault, but I don't think they'll do that again, at least not for a while.
Don't Blame Vanecek
If you're searching for someone to blame for the back-to-back, third-period collapses, one player is free and clear: Vitek Vanecek. His statistics from Feb. 1 are not stellar, but his .875 save percentage does not tell the tale of the tape.
In the final period of that game, 16:36 was played at 5-on-5. In that time, the Capitals were outshot 15-4 and out-chanced 9-1. The Capitals' Corsi% rating for that period was 19.35%. That's abysmal. Of the 33 shots the Bruins had in that game, 16 of them were in the third period alone. That's a difficult situation for any goaltender. It's even more difficult when the team in front lets one of the most dangerous shooters in the game have time and space to make a play.
Carlson seems to forget where he is on the ice and just skates into the side of the net. David Pastrnak gets the puck behind the goal line and is allowed to wheel out around the circles, all alone, in wide-open ice. He has the puck on his stick, and nobody comes near him for three whole seconds. That's an eternity to leave Pasternak alone with the puck in the offensive zone. He's going to score a goal on that play 99 times out of 100. The game-tying goal wasn't much better.
Defender Jeremy Lauzon is able to skate around Conor Sheary with plenty of space between them. At the point when Lauzon makes his centering pass to Craig Smith, Vanecek is screened by the puck battle in front of him. Smith, for his part, has slipped out to the edge of the circle and has no Capitals players within ten feet of him. By the time Vanecek sees the puck moving across the ice, Smith is already setting up to bury a one-timer. The only hope at that point is for Smith to miss the net, which he won't typically do. The entire sequence is a series of defensive zone miscommunications compounded by the fact that one of the Bruins had gone for a change, so they effectively scored this goal at 4-on-5.
RELATED: Capitals' Goalie History Repeating With Vanecek's Hot Start
In both of those situations, the team must help their netminder. The Capitals were out-hustled, out-muscled and out-played on both goals, and there isn't much a goaltender could do to prevent those from going in. Vanecek has been good to start the season, and I expect him to continue to be good, but his team has to do their best to eliminate creating these kinds of opportunities for the opposition.
Next Up: New York Rangers
The Capitals next play the New York Rangers on Feb. 4 at Madison Square Garden. The Rangers have had a tumultuous start to the season, but they have some lethal scoring weapons. Two days off should give the Capitals an opportunity to regroup and work on some things.
But, it appears there will be few changes to the lineup. For the Capitals to have success against the Rangers, they'll need to put forth a consistently strong effort throughout the game and avoid costly mistakes that hang their goaltender out to dry. This will be Laviolette's first big test as the Capitals' coach to see if he can get his team to make quick adjustments and bounce back after a difficult loss. Every game matters this season, and the Capitals cannot afford to leave points on the table. 
---
---
Jack Dawkins is a freelance scout, analyst and avid watcher of "way too much hockey." He has joined The Hockey Writers team to cover all things Washington Capitals, New Jersey Devils, Minnesota Wild, Los Angeles Kings, Arizona Coyotes and Florida Panthers. He's an absolute data hound and loves using stats and analytics to calculate and extrapolate data for analysis.