The Washington Capitals said all along that they would take the best player available with the 22nd pick in the 2015 NHL draft. Most people didn't think that would be a goaltender. And while the Caps' selection of Russian netminder Ilya Samsonov drew immediate criticism around the DMV, is it ever a such a terrible idea to select a goalie who is almost universally thought to be a future NHL starter?
If first-round goalies were the smart move, why have there been just 12 taken since 2005. And why have five played more than 175 games?

— Neil Greenberg (@ngreenberg) June 27, 2015
Okay. Fair point.
Not only a goaltender, but one under contract in Russia for three more years. THREE. Embarrassing

— RockTheRed.net (@RockTheRed) June 27, 2015
Wow. Strong words. But others were more understanding.
3 years is not a long time. Caps drafted Varlamov in 2006 & his 1st NHL game was late Dec 2008. Samsonov will ONLY be 21 in 3 years. #Caps

— Ed Frankovic (@EdFrankovic) June 27, 2015
And it looks like at least one person was happy.
+1 красавцы???? земеля едет к нам?

— Evgeny Kuznetsov (@Kuzya92) June 27, 2015
I sure hope that was a clean tweet. So anyway, what really is the issue with Washington's selecting a goalie with a late first-round pick? Is it that they have several promising young goalies in the system already? Or could it be that Samsonov still has three years left on his KHL contract? Perhaps it's that there were players at positions of need who could have helped the team at the NHL level sooner? Or maybe it's all of the above?
Let's take a look at the concerns one at a time:
Yes, the Caps recently re-signed RFA Philipp Grubauer. And assuming that they re-sign incumbent starter and RFA Braden Holtby, who recently finished fourth in the Vezina Trophy voting, they would have two NHL-caliber netminders under the age of 25 under contract. Of course, career NHL backup Justin Peters is still in the mix as well as promising young minor-league tenders Phoenix Copley and Vitek Vanecek. Still, is it ever really a bad thing to add a quality netminder, especially one that some have labeled as a "can't miss" and "cornerstone franchise building block?" At the very least Washington now has another asset that could allow the team to make a move for (ahem) a top-six forward down the road.
The KHL contract should not be an issue. Samsonov will attend the team's developmental camp in about 10 days. He will get an introduction to goaltending guru Mitch Korn and a brief taste of North American hockey and culture before returning home to play against a high level of competition. Holtby didn't appear in a Caps' uniform until about three years after he was drafted, and in three years Samsonov will be just 21. Washington similarly waited on Evgeny Kuznetsov and received a much more mature, NHL-ready player than what they would have gotten if he had come to the United States right away. The only way this is an issue is if the team felt it could draft someone in a position of need that could help the club immediately – or make a considerable contribution in the next two years (see third bullet below). "That would be the plan, to get him in there and have him work with our goalies at development camp and training camp," Caps Assistant GM Ross Mahoney said. "We have tremendous confidence in our goalie coaches being able to help this young man develop his game and bring it to a level that will help him succeed in the NHL."
Once big Russian left wing Evgeny Svechnikov from the Cape Breton Screaming Eagles (19th to Detroit), lanky Swedish center Joel Eriksson Eck of Farjestad (20th to Minnesota) and USA hockey prospect Colin White (21st to Ottawa) – all players who one source or another had said could be coveted by the Caps – were off the board, it is quite possible that Washington didn't feel there was a player available who was capable of impacting the franchise any sooner than Samsonov. So, that brings us back to the "best available player" approach.
"We've always talked in the past about trying to draft the best player that's available to us," Mahoney said. "And we thought he was the best player we could take with that pick, so we went ahead and took him. The NFL is different. A lot of times you get drafted and step in and play right away. A lot of our players go back to juniors for a couple years or go to college for four years or they could play three or four years in Europe."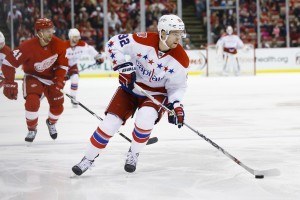 Keep in mind that Washington has two young players with NHL experience in third-year player Kuznetsov and second-year pro Andre Burakovsky poised to make a larger impact on the team's top two lines in 2015-16 and beyond. So, while it makes sense that the team would take some initial public heat for selecting the first goalie to be chosen in the opening round since 2012 with the 22nd pick, it also seems unfair and frankly unwise to judge the pick so quickly and with such negativity – especially when Samsonov comes with many glowing recommendations.
NHL Central Scouting rated Samsonov as the top European goaltender in this year's draft class. He turned in a 46-save shutout in the bronze-medal game at the 2014 World Junior A Challenge against Canada East and was named the top goaltender in the 2015 Under-18 Five Nations Tournament. Samsonov was ranked as high as number 17 and 19 overall by some draft experts, and several had him listed as the top available goaltender. His scouting reports include adjectives such as great size, mobility, athleticism, poise and confidence. More than one report talks about Samsonov being a future NHL star.
There is, as they say, more than one way to skin a cat. Could it be possible that the Caps have something else up their sleeve? Maybe they are looking at a bigger-name top-six forward such as a Phil Kessel or Jordan Eberle and are only going to offer Holtby a bridge deal now to save cap room and see how Grubauer, Copley and Samsonov develop. Or  perhaps they will use money saved to make a big splash at the trade deadline. Is it possible that they are looking to package a young netminder for that ever-elusive top-six winger? Or maybe they are content to go into this season with what they have, hope that a Riley Barber or Stan Galiev emerge in training camp and let Burakovsky and Kuznetsov have the ice time and and organizational support they need to develop. If, by American Thanksgiving or Christmas that approach hasn't panned out, pehaps then the team looks to use one of its young assets in an attempt to pry the missing piece from a struggling NHL franchise.
When it comes to hockey – much like baseball – it's really impossible to judge a team's draft immediately. As for the Caps first-round pick this year, at the end of the day if Samsonov truly becomes a buidling-block or star NHL netminder, that is going to benefit Washington one way or another eventually – maybe he will lead them to new heights on the ice or help them acquire a player who takes them where they've never been. No matter what, though, it's too early to tell for sure.
A journalism major from the University of Maryland and a published author, Scott graduated summa cum laude from the Maryland College of Journalism in 1991 before pursuing a career in sports that has spanned almost 30 years and includes 15 years working at the NCAA Division I level in sports information and as an Assistant Athletic Director and nearly 10 years working for baseball Hall of Famer Cal Ripken Jr. Scott also served as
a college beat writer for the Baltimore/Washington sports publication Pressbox and Pressbox Online and currently is the Director of Digital Media for MYHockeyRankings.com. His son Devin was drafted by two U.S. Tier 2 junior hockey teams and currently plays NCAA Division III hockey for Suffolk University in Boston. His daughter Sydney plays college lacrosse for Franklin & Marshall in Pennsylvania.