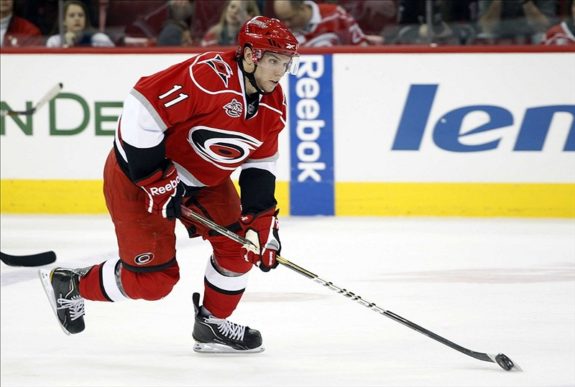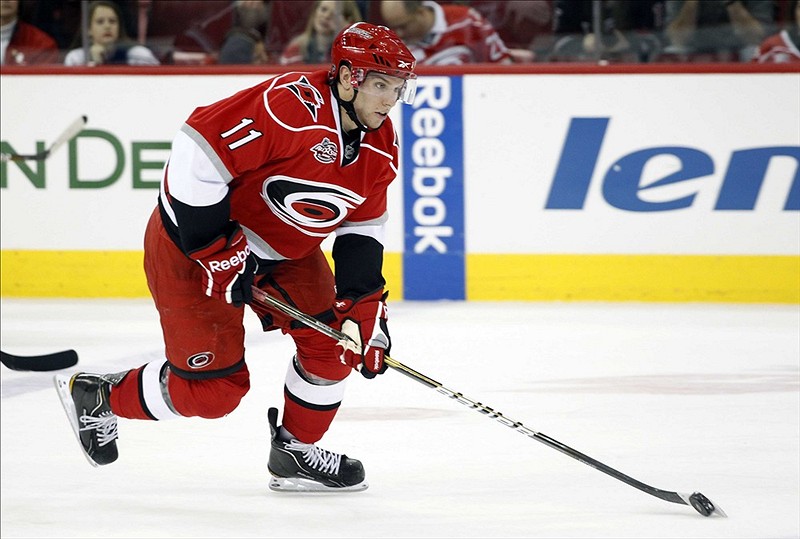 By Andrew Hirsh
When Carolina selected Zach Boychuk 14th overall in the 2008 draft, the organization figured it wouldn't be long before the 5'10" forward would earn a permanent spot in the NHL. In fact, many considered him to be a prime candidate to win the Calder Trophy in 2009-10, as his combination of speed, toughness and natural goal-scoring ability made him one of the league's more intriguing prospects at the time.
"I would think that he'll be given an opportunity to make the NHL roster as a young player," said Tony MacDonald, the Hurricanes' director of amateur scouting, in April of 2009. "Coming in I think he'll be given every opportunity to prove that he belongs and can start in the NHL."
Unfortunately, Boychuk's development hasn't gone as well as the Hurricanes planned. His rookie season was spent bouncing back and forth between the Albany River Rats (AHL) and the Hurricanes, and no hardware was won. While several years have passed since then, not a whole lot has changed.
Boychuk's professional career thus far has been a series of ups and downs, promotions and demotions, high hopes and disappointments. He finished last year scoring 26 less points than the previous campaign, despite playing in just three less games. And even though he skated in four more NHL contests last season than in 2010-11, his PPG total in the AHL dropped from 1.08 to 0.69.
This decline has raised some doubts about Boychuk's future and whether or not he'll ever turn into a productive NHL forward. However, given the way he's recently performed in Charlotte, it appears he's on the right track once again.
After neither the Canes nor the Checkers qualified for the playoffs last spring, Boychuk's year ended without competing in the postseason for the first time since 2007. This gave him the time to start his summer workouts earlier than normal—an opportunity that's proven to be extremely valuable.
With a more mature attitude and an improved physique, the Alberta native came into this season ready to take his game to a new level. And so far, he's done just that.
Scoring 14 points (nine goals and five assists) in 14 games in the AHL this season with a plus-2 rating, Boychuk has been among Charlotte's best players in 2012-13. While he's progressed in several key areas, the most visible improvement is in his skating—which is likely a product of his extended summer workouts.
"He's moving his legs and not standing around and watching," Checkers head coach Jeff Daniels said. "Even in games where he's not scoring, his skating creates a lot of chances, and when a guy like him gets chances, good things happen."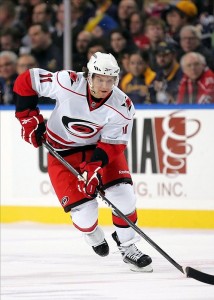 Whether or not this progression translates to the NHL level remains to be seen, and it may not be until next fall before we see Boychuk skate with the Canes again. But if he can keep scoring at a rampant pace and play a complete game, he'll have good of a shot as ever to secure a full-time home in Carolina in 2013-14.
"This is a guy we thought a lot of in drafting him as high as we did in the first round, and we still continue to think a lot of him," Hurricanes Director of Hockey Operations Ron Francis said. "We're glad to see him taking the steps that he's taking this year, and it seems like he's taken that next step up to the next level."
Even though Boychuk will be well-equipped to impress Canes brass when the NHL returns, he'll also have stiff competition. Carolina is deeper at forward than they've been in quite a while—especially after the acquisitions of Jordan Staal and Alex Semin. In addition the bona-fide NHLers in the organization, other prospects like Riley Nash, Zac Dalpe and Jeremy Welsh will be in similar situations.
Ideally, Boychuk would like to play in the Canes' top-six, but that may not be an option. Given Carolina's depth, he may have to settle for a place on third line. If that becomes the case, he'll need to prove he's not only capable of scoring, but also able to play a strong two-way game and bring some grit to the table as well.
For the meantime, all Boychuk can do is focus on getting Charlotte back to the playoffs. If he can do that and remain among the AHL's scoring leaders, he'll be in great shape when Carolina returns for training camp.