When the Rangers signed Boston University defenseman Matt Gilroy to a two-year deal in 2009, the hype surrounding the Hobey Baker winner was enough that most people didn't question the fact that he was a 25-year-old rookie, or that he was making $1.75 million a season despite having never played an NHL game. Several other teams, most notably Toronto and Vancouver, had also reportedly courted Gilroy, and the Rangers had won the lottery.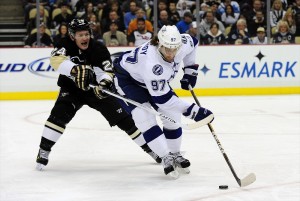 After two seasons as a Ranger, the reality was a little different than what fans had been expecting. Despite his speed and excellent offensive instincts, Gilroy's prowess at the blueline left something to be desired, and as faithful as Ranger fans can be when players step up, they are equally quick to turn when a player is perceived as not living up to expectations – just ask Scott Gomez, who is still booed heartily at Madison Square Garden three years after leaving New York – so when his contract was up, it was rare to find a fan who felt re-signing Gilroy was worthwhile.
Glen Sather apparently felt the same way, so Gilroy moved on, signing a one-year deal in Tampa, only to be traded to Ottawa for fellow defenseman Brian Lee at the deadline. The Senators declined to re-sign Gilroy at the end of the 2011-2012 season, leaving the now-28-year-old without a home in the NHL. Then, in October, Gilroy was signed to an AHL contract by the Connecticut Whale, bringing him back into the Rangers' organization, which begs the inevitable question: could Gilroy at some point end up back with the big club?
I'm pretty sure I can already hear some fans screaming in protest, and I'm not necessarily saying that I want Gilroy back on the Rangers, but I do have a`theory about him. Something many forget is that he spent his entire youth as a forward; he switched to defense for the sole reason that it was the only position Boston University had available when he began his college career. In my estimation, Gilroy simply isn't meant to play defense; a look back even at his very first goal in an NHL game indicates that he is a natural forward. It was never really his offensive skills that were a question mark with the Rangers, and having thrown himself into his AHL career, maybe his stats thus far with the Whale say it all: he is currently tied for 4th in scoring on the team with 3 goals, 4 assists, 7 points in 11 games; he is tied with Chris Kreider and at present outscoring top prospects J.T. Miller and Marek Hrivik. Most telling, perhaps, is his -5 rating. Again: maybe Matt Gilroy just isn't a defenseman. Given the opportunity, it would be interesting to see Whale coach Ken Gernander try him on the wing and see what happens, something I was frankly always surprised that John Tortorella never did when Gilroy was a Ranger.
The bottom line is, whether or not Gilroy ever dons a Ranger sweater again is not the point I'm trying to make. If he plays well for the Whale during his tenure with them and is a positive influence on our youth, a la Wade Redden, that's enough for me. But I will stand by my assertion that what has been his biggest issue in the NHL is not a matter of talent, but simply of where his talents would best be utilized.