By Wayne Whittaker, Boston Bruins Correspondent
When it comes to the NHL playoffs, inspiration is everything.
On Thursday night, 17,565 fans packed themselves up to the rafters in TD Garden as their Boston Bruins prepared to face off against the hated Montreal Canadiens in the first round of the Stanley Cup playoffs.
The environment was electric, the opponent, well-known. All the conditions were right for what was expected to be a closely contested battle between bitter divisional rivals.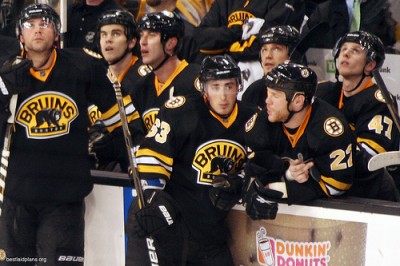 If a team can't perform to the best of its ability in a setting such as this, it would be hard not to question the character of that team.
The Boston Bruins' character has come into question.
In a series where they should have entered feeling confident but cautious, Boston instead came out flat-footed, jittery, and seemingly unprepared.
Montreal's game plan is no secret: capitalize on turnovers with great speed through the neutral zone, play surprisingly effective defense, and rely on stellar goaltending for the shots that do get through to their netminder.
It's how they advanced to the Eastern Conference Finals last year, and it's how they played when they were able to defeat the Bruins in the regular season.
Be it lack of preparation, execution, or readiness, the B's looked stunned to find themselves down 1-0 early in the first period of Games 1 and 2. The Bruins would "rebound" both games by padding their shot totals with weak wrist-shots from the parameters, straight into the red and white "C.H" on the chest of Carey Price.
Among the long list of things the Bruins failed to do in the first games of this series is show a willingness to engage and win one-on-one battles in front of the net and block Price's vision.
A winning formula in the regular season may be to "stick to the system", play a relatively safe brand of hockey, and count of the fact that your chances will come. The same cannot be said about playoff hockey.
To be a successful playoff team, it's about desperation. Every game is the most important game of the year. Every shift is an opportunity to swing momentum in your team's favor.
Every pass has to be crisp, every shot has to be precise, and every hit has to be well-timed and carried out with all the pent-up aggression accumulated after having your season threatened by an opponent who is more than willing to do the little-things that will amount to success if you're unable or unwilling to do so.
To put it bluntly, the effort the Boston Bruins have put into the first two games of Round One is an embarrassment to the organization.
There will almost certainly be excuses, and some that would probably be acceptable if this were early February, but not come playoff time.
Listen to any interview from the Bruins locker room and you do get the sense that there may be a flu bug going around. Captain Zdeno Chara was unable to play in Game 2 after being hospitalized for dehydration the night after Game 1.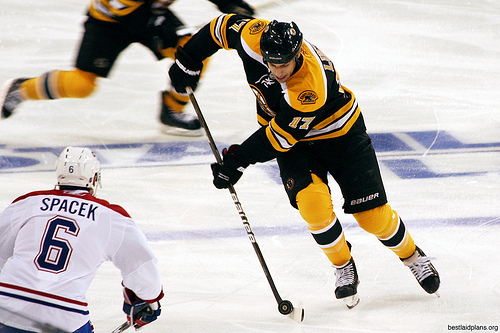 At this point in the season, bodies are worn-down. After 82 regular season games, bumps, sprains and bruises should be expected. But when your team is the #3 seed in the Eastern Conference, playing for a city desperate to see its first Stanley Cup in nearly four decades, there won't be any sympathy to be found.
It is a seven game series for a reason. The Canadiens may have a 2-0 edge heading back to Montreal, but if Boston can steal Game 3 it could go a long way for their confidence.
Some teams become known for their post-season failings. The lower-seeded Canadiens knocked Boston out of the playoffs twice last decade, in 2002 and 2004. In the last three seasons, Boston's playoff hopes ended in a Game 7, two of which coming in the Conference Semi-Finals.
There's no telling how damaging another early round exit could be to this team's future. But it's a possibility that is dangerously close to becoming a reality.
For veterans like Mark Recchi and Tim Thomas, the clock is ticking. Thomas just celebrated his 37th birthday, Recchi turned 43 in February. Both have been crucial to the success of this Bruins team, and both need to summon whatever they have left in them to try to turn this series around.
Though general manager Peter Chiarelli has always been a strong supporter of coach Claude Julien, it's hard to imagine the bench boss' job would be secure if the Bruins are eliminated in Round One. For starters, some fans have already been calling for the coach's head since last season. Julien would almost certainly be run out of town if he can't lead the Bruins deeper into the playoffs.
When Julien's tenure as coach of the New Jersey Devils (who at the time of the coach's firing were in 2nd place in the Eastern Conference with 107 points) came to an end in 2006, general manager Lou Lamoriello defended the firing by citing the Devils' "lack of readiness to challenge for the Stanley Cup".
Fast forward five years. The Boston Bruins have lost six consecutive playoff games. A team that was predicted by many to make it to the Stanley Cup Finals is now two losses away from taking a gigantic step backwards.
The character and determination of the Bruins have certainly come into question, and it's unclear whether or not the B's have the heart to turn things around before it's too late. Tonight's Game 3 is the most important game of the season for Boston. How they respond to the adversity they're currently up against will be the defining moment of the 2010-2011 Boston Bruins.
—
Wayne Whittaker has been a Boston Bruins Correspondent for TheHockeyWriters.com since 2010. As a Berklee College of Music graduate, and Massachusetts native, Whittaker has been around Boston, the Bruins, and the game of hockey his entire life. His work has also been featured in Sports Illustrated, Huffington Post, CBSSports.com, and Yahoo.com.