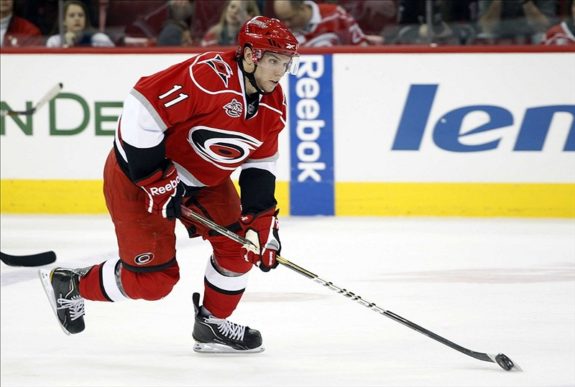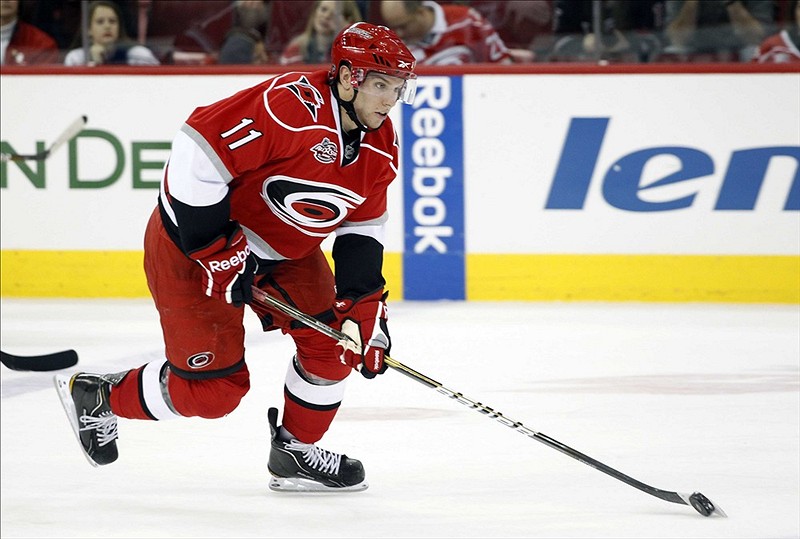 By Andrew Hirsh 
After opening the 2012-13 season with a 6-1-1 record, the Charlotte Checkers have continued their rampant pace throughout November. The Hurricanes American Hockey League affiliate has earned 26 points in the standings thus far—good for second in the Western Conference, just two back of the Abbotsford Heat. Now 12-5-2, the Checkers have solidified themselves among the AHL's elite.
A lot of credit for Charlotte's fantastic start goes to the goaltending duo of Justin Peters and Dan Ellis. Peters, 26, is 7-2 this season, allowing 2.84 goals against per game and earning a 0.903 save percentage. These solid numbers should bode well for the former second round pick, as he will try and earn a permanent role in the NHL when the lockout comes to an end.
Ellis, who has quite a bit more professional experience than Peters, has been about as solid as anyone in the organization could have hoped. Despite a record of 5-3-4, Ellis is performing admirably between the pipes, posted a 2.25 GAA and 0.933 SV%, good for eighth and sixth in the league, respectively.
Offensively, there have been few players in the AHL more valuable in 2012-13 than Zach Boychuk. Currently second in the league in goals (12), Boychuk has taken a considerable stride forward this year and is on pace to greatly exceed his numbers from last season (21 G, 23 A, -10 plus/minus).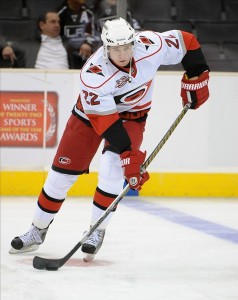 In addition to Boychuk, Zac Dalpe has been fairing well in a season in which he's adjusting to playing on the wing. He has 15 points (6 G, 9 A) in 19 games and a plus-six rating.
"Zac is a great kid and the ultimate team player, no complaints from him," said Ron Francis, the Hurricanes' vice president of hockey operations. "He's giving it a go and seeing how it's going. I've seen signs of that improving as the season's gone along, and we'll continue to monitor that."
Beyond Zac and Zach, the Checkers have been receiving a lot of depth scoring. Drayson Bowman, a former third round pick, has 11 goals in 19 games, while Chris Terry and Brett Sutter have 13 points apiece.  Guys like Jerome Samson, Riley Nash and Marc-Andre Gragnani have been productive as well.
As expected, Justin Faulk has turned into a leader on the blue line and quickly became the defense's best player upon arriving in Charlotte. A member of the NHL's All-Rookie team last year, Faulk has been on a tear since returning to the Checkers, racking up 17 points in 16 games.
"For him to come down here and play the way he's played is sort of what we expected, but it shows you the character he has to go along with that talent," said Francis. "This kid is a special defenseman. "
Another defenseman that's having himself a strong year is Michal Jordan. While he may not appear on the score sheet much (no goals and six assists so far), he has a team high plus-eight rating and has skated in 78 consecutive games.
* * *
The Checkers will look to continue their winning ways on Saturday when they take on the Ice Hogs in Charlotte.