As an official "Tomorrow Team" (whatever that means), the fans of the Sharks should keep an eye on those players of tomorrow. With a few honorable mentions, here's a quick check in on the Sharks top prospects. Some have already seen the NHL, while others will look to make their impact next season. These are the guys that will soon be up full time on the pro squad.
Honorable Mentions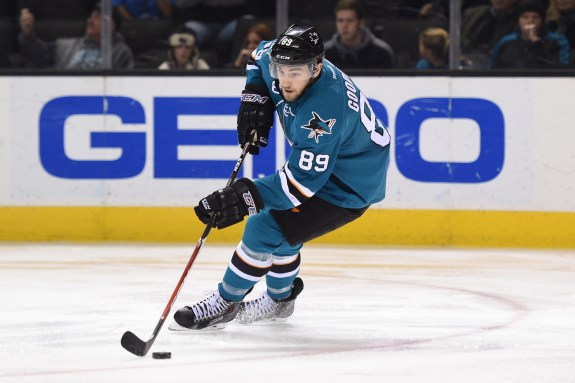 Two players land just outside of our top rankings. Barclay Goodrow and Dan O'Regan.
While Goodrow has spent most of this season up in San Jose, he probably doesn't have much more potential than a middle of the road third liner. His experience in the NHL will undoubtedly make him excel in the short term. But without any elite part of his game, Goodrow will be typecast as a role player.
O'Regan is a highly touted prospect, but it's hard for me to give any sort of real credit to him until I watch him play without the Ultimate Consolation Prize on his line. Jack Eichel has been amazing and it no doubt pads the game and stats of the Boston University forward. O'Regan had a few injuries last season, which makes scouts nervous at his age, but has had a great season with the Terriers. Here's to hoping some of that Eichel rubs off.
Sharks Top Prospects
No. 5: Rourke Chartier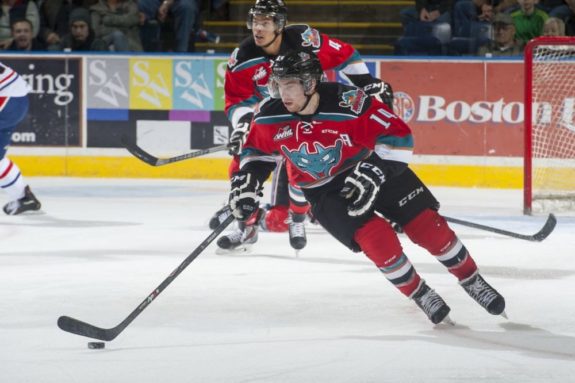 Rourke Chartier exploded out of the gate this season for the Kelowna Rockets, he earned 48 points in the first half of his 54 games. He has come back down to Earth and slowed to only 30 points in the second 27. Chartier holds a wide lead in the goal scoring department. His 46 goals are tops on the squad and third in the WHL.
Chartier has a great ability to get back on defense as well. Chartier was voted most improved player and earned votes for the most defensive forward. His shooting prowess is electrifying and it could mean great things for his career in the NHL. Remember folks, the WHL is a completely different animal than the big show.
No. 4: Dylan Demelo
Demelo has been trapped in the shadow of Konrad Abeltshauser (literally, that guy is 6'5″, 255) for the longest time. But I bump him ahead because of the needs of the major squad. San Jose needs someone who can actually stay home and play defense. Demelo is a puck moving defender, but can be physical and lock down a blue line. While he will not grow into something like Marc-Edouard Vlasic, Demelo has second pairing potential.
No. 3: Nikolay Goldobin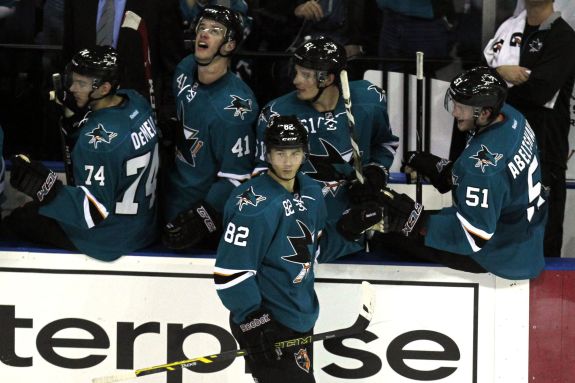 Do you know what makes Russians so fun to watch? Their shear inability to care what anyone else thinks. Shameless talent is beautiful to watch. When it wrecks, it's horrific, but oh my when it is firing on all cylinders it is a thing of beauty. When first breaking on to the scene, the biggest knock on Nikolay Goldobin was his lack of desire to play defense. In his defense (excuse the redundant phrases), defense is boring. Anyways, his club over in Finland, HIFK, has been known for shutdown defense. And to the joy of Sharks fans, it seems to be rubbing off on Goldobin. He has fought harder in his own end and as a result, his rush play is improving as well.
There's something in the water in Moscow, because the raw talent Goldy has is best among the Sharks top prospects. However, it will be a task to contain and form it into a professional player. If he can continue developing, Goldobin can be the next great sniper for San Jose.
No. 2: Mirco Mueller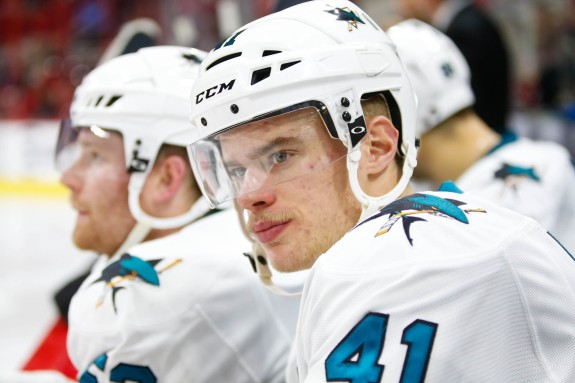 Sharks fans have gotten to watch the growing pains of the top two prospects first hand. Mirco Mueller is smart, he is talented, but at times he looks very overwhelmed against NHL talent. He is nearly non-existent offensively, but he is well-positioned and has a great hockey IQ for his age. At 19, until next week, you can't fault him for not being completely NHL-ready. His skating is smooth and effortless and he generally makes good decisions. With every game he plays, his style and execution will improve. Just give it a little while, folks.
No. 1: Chris Tierney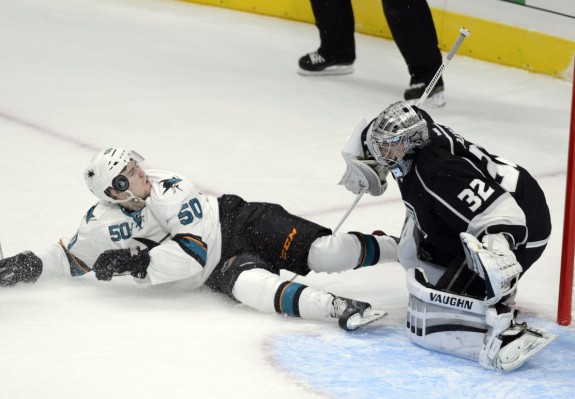 Welcome to the Chris Tierney love-in. At the prospects game last fall, Tierney impressed with his leadership and decision-making skills. When his first call up to the big leagues fell flat, some fell off the bandwagon. But as the season has progressed and the Sharks have disappointed, Tierney has worked his way back into the lineup. The Sharks top prospects all have talent, but Tierney is the smartest of them all.
His passing ability is unmatched by any other prospect in the San Jose, yes even Kevin Labanc who just broke a franchise record in assists. He is a ferocious forechecker and possesses all the intangibles to ignite the team around him. A team like the Sharks needs a guy like Tierney for their stretches of play when they seem listless. Players like Chris refuse to take losing sitting down and when the Sharks go lifeless against bottom feeding teams, Tierney can ignite them again.
Kenneth is a graduate of the University of San Francisco in Politics and Chemistry. But his passion in life has always been hockey. He has played since he was four and even coached a few teams. Kenneth writes for the San Jose Sharks at thehockeywriters.com