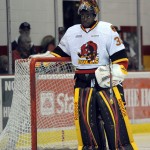 As a team that hasn't been strong at goaltending for the last two seasons, the Blackhawks may be looking for a young prospect to take over the reins in years to come. Drafting a goaltender in round one may be the best way to get their hands on the best available up-and-comer in the net. Malcolm Subban appears to be the best bet for the future of Chicago in the 2012 draft.
The Belleville Bulls (OHL) goalie has a tremendous upside that is worth taking a chance on. With a 6'1", 188-lb. frame,  great athleticism, and a proven track record, he  is a very attractive prospect for any team seeking a goaltender for the future.
Although Subban is arguably the best available goaltender in the draft, he will most likely still be available in the mid-first round, making him a  tempting choice for the Hawks. With neither Crawford (27 years old) or Emery (29) looking like  a long-term solution, the few years it will probably take for Subban to become NHL-ready could prove to be great timing  for the Hawks, allowing them to say goodbye to a goaltender or two in their early to mid-thirties in favor of a talented youngster like Subban.
Other goaltenders the Blackhawks may be interested in