The Chicago Blackhawks entered preseason action last week with several questions and 53 players competing for a spot on the opening night roster. After easy wins against the Columbus Blue Jackets and Detroit Red Wings and a hard-fought 3-2 rematch loss to the Blue Jackets, the Hawks have whittled the roster down to 36 and made substantial progress in shaping the team that will faceoff Oct. 5 against the Pittsburgh Penguins.
With three preseason games remaining, compelling storylines have emerged around four players and the Blackhawks' revamped penalty killing units. Here's a look at how each might fit into the Blackhawks' plans for the 2017-18 season and beyond.
Welcome Back, Saad(er)
After playing musical chairs on the top line's left wing for the past two seasons, the Blackhawks have to be thrilled with Brandon Saad's first appearance since returning in the blockbuster trade that sent Artemi Panarin to the Blue Jackets. Against the prospect-laden Red Wings, Saad scored a hat trick on eight shots, driving hard to the net and converting rebounds — exactly the type of play the Blackhawks want for $6 million a year through the 2020-21 season.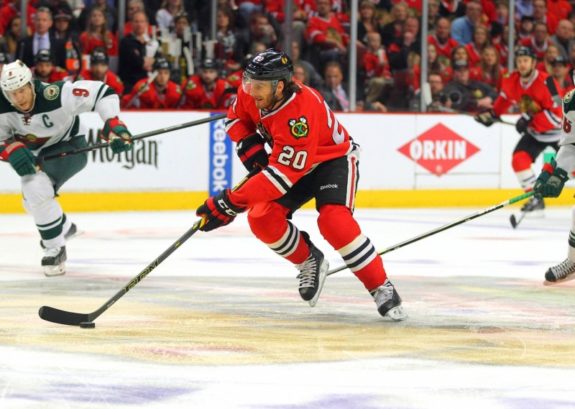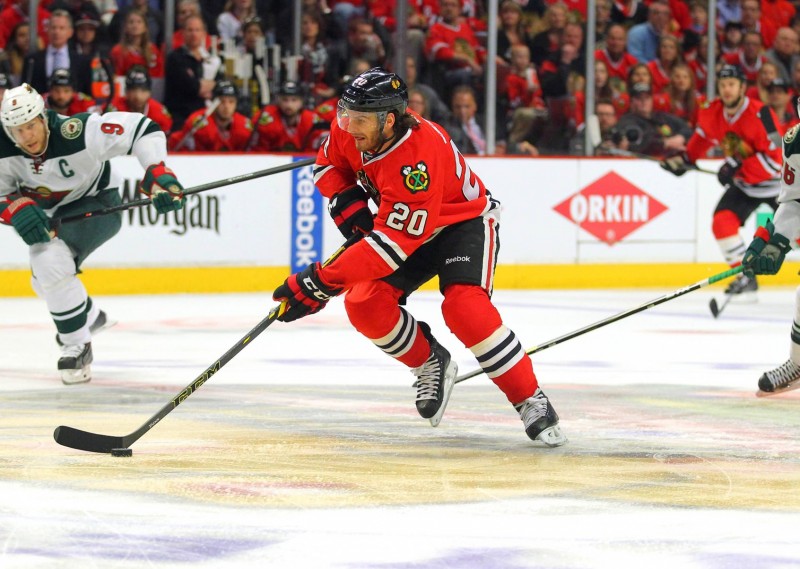 Although he didn't score in the loss to Columbus, Saad showed explosive chemistry with linemates Jonathan Toews and Richard Panik that could make this trio one of the league's most dangerous lines. He's also a speedy two-way player that gives the line more punch at both ends of the ice. It's early, but re-acquiring Saad might just be the move that gets the Blackhawks over the hump.
DeBrincat Makes his Case
At 5-foot-7, super-prospect Alex DeBrincat has had to overcome doubts about his size at every turn in his career. He did it with 167 goals over three years in the OHL and then five goals in the recent Traverse City Prospects Tournament. And in his first preseason appearance as a Blackhawk, he lit the lamp at United Center against Detroit on a nifty pass play from Panik and Nick Schmaltz.
What makes DeBrincat so dangerous is a surreal ability to find open ice 15-25 feet from the net and get off a quick shot from any angle. After just two games, it's clear he's found the kind of telepathic connection with Patrick Kane that makes Panarin so difficult to replace. DeBrincat needs to be more responsible in his own zone and committed a costly turnover that the Blue Jackets converted on for a 1-0 lead in their win over Chicago.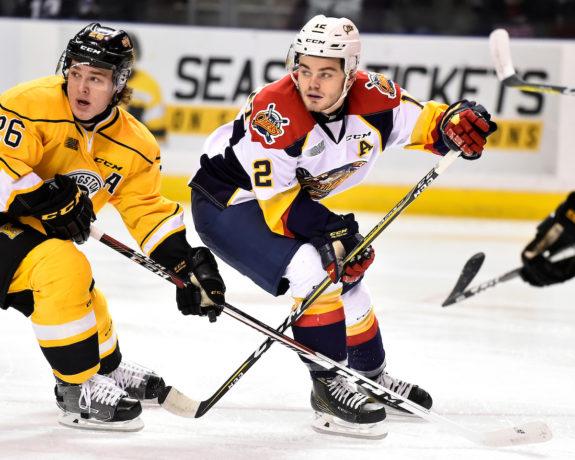 Nonetheless, DeBrincat is making a serious run to win a spot, but the Hawks may choose to tread cautiously and season him for a time in the AHL. For now, he's an intriguing option with a bright future.
Big Push from Schmaltz
After making a splash down the stretch last season on the left wing with Toews and Panik, 21-year-old Schmaltz is making a big push centering the second line. Playing in all situations, Schmaltz has posted four points in three games and leads all Blackhawks forwards with 51:41 minutes of ice time.
What stands out so far is Schmaltz's ability as a playmaker, using his vision and quickness to create scoring chances for him and his wingers. He's a shifty skater who can open up space for teammates like Cody Franson and Brent Seabrook who each scored a power play goal off nice feeds from him. He's also emerged as a trusted penalty killer with a good stick who can pressure the puck.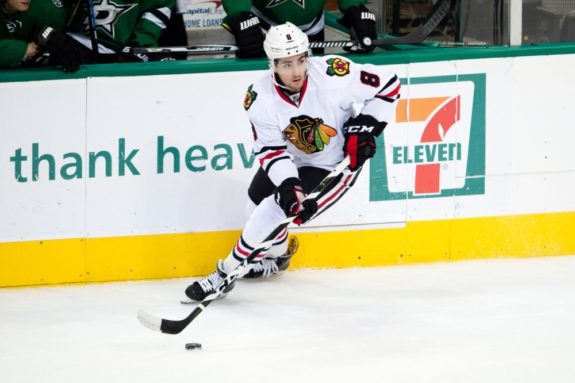 The one issue still dogging Schmaltz is inconsistency in the faceoff circle. After winning 42 percent of his draws in Columbus and 78 percent against Detroit, he dropped to 33 percent in the loss to the Blue Jackets. Still, Schmaltz is the Blackhawks' best option right now to center the second line with Kane.
Forsberg Stakes a Claim
In a stunning debut performance, 24-year-old Anton Forsberg stopped 38 of 40 shots against Columbus and immediately became the favorite to replace Scott Darling as the backup for Corey Crawford. Playing all 60 minutes of the Hawks' 5-2 victory, Forsberg showed lightning fast reflexes and a quick move from post-to-post that totally shut down the lower third of the net. In two separate sequences, he stopped five shots in quick succession, including several from point-blank range or through heavy traffic.
#Blackhawks' likely backup Anton Forsberg passes first test: https://t.co/j4MO1nRKic

(@TramyersCSN) pic.twitter.com/eDc7bjvaGX

— NBC Sports Chicago (@NBCSChicago) September 20, 2017
Other contenders for the backup position include Colin Delia, who looked sharp turning away all eight shots he faced in one period of action against Detroit, and J.F. Berube who struggled in the 3-2 loss to Columbus.
As it stands now, Forsberg has the inside track with the Blackhawks banking he can build on the skill that made him one of the AHL's leading netminders last year. So far it appears he can.
A PK Turnaround
Perhaps the single most encouraging development to come out of camp is the major improvement of Chicago's penalty killers compared to last season when they gave up 15 goals in their first 30 chances. In three preseason games, the Blackhawks have killed 18 of 19 penalties by utilizing a much more aggressive style that continually pressures the puck at the points and along the half-boards.
In a brief bench interview during the game in Detroit, new assistant coach Ulf Samuelsson indicated the Blackhawks "want to be more aggressive" killing penalties. Samuelsson is giving shorthanded time to most of the forwards, and the players have obviously bought into the new system. The Blackhawks would like to see a similar improvement with their sputtering power play which has three scores in 16 chances.
With the season opener quickly approaching, the Blackhawks still have to sort out their defensive pairings and bottom-six forwards, but the team is coming together and excitement is on the boil.
Minnesota native who traveled the world as career naval officer before settling in Pacific Northwest. Former contributor at Blackhawk Up. Hiking, music and reading are my cures for the hockey malaise.