The Chicago Blackhawks should only let goaltender Corey Crawford go under one condition: if they can't afford to meet his demands and stay under the salary cap. They ironically can ill afford to let the unrestricted free agent go otherwise.
Crawford vs. Lehner
Obviously, Crawford is not the goaltender he once was. He's 35 and any new deal to which the Blackhawks sign him should take that into consideration. Furthermore, he has lost more games than he's won in each of the last two seasons, playing 40 or less in each of the last three, as injuries, serious ones, have started to mount.
Admittedly, this past season he was limited to 40 on the button in large part because of competition in the crease. The Blackhawks signed Robin Lehner to a one-year deal last offseason and the competition in the crease with the Vezina Trophy runner-up may have done Crawford some good.
In 2018-19, Crawford went 14-18-5 with a 2.93 goals-against average and .908 save percentage. This past season, he went 16-20-3 with a 2.77 GAA and .917 save percentage. More to the point, Lehner went 16-10-5 with a 3.01 GAA and .918 save percentage, before getting traded to the Vegas Golden Knights (via the Toronto Maple Leafs).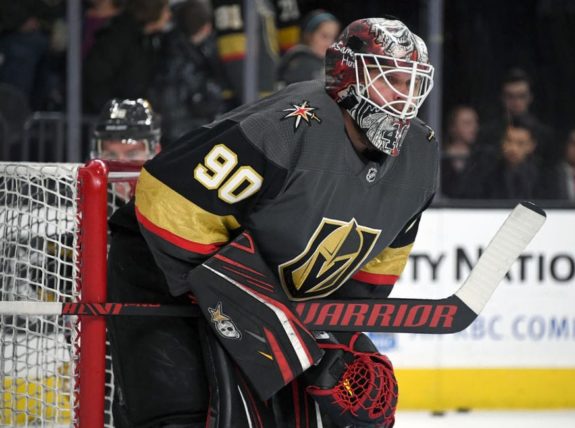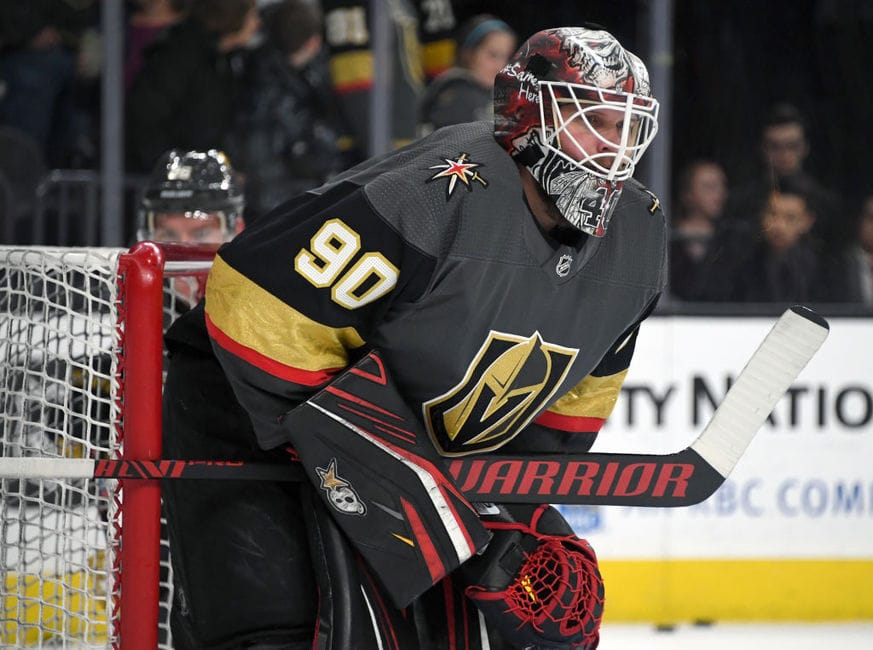 To a certain extent, the stats of both left something to be desired, but, for all intents and purposes, Crawford kept pace with an undeniable top-end goalie over six years his junior. Furthermore, the save percentages of both are on par with what you would expect from legitimate starting goalies, especially when you take into consideration the lack of a proper defense in front of them, as the Blackhawks gave up a last-place 35.1 shots per game.
Bowman's Got His Hands Full
In an attempt to address their back-end depth issues, general manager Stan Bowman acquired Olli Maatta from the Pittsburgh Penguins last summer. It obviously didn't work. Now, hopefully with a new lease on life with the Blackhawks keeping him on board (for now), Bowman must continue to make adjustments this coming offseason. At the very least, Bowman must consider also changing it up in net, but his options are somewhat limited.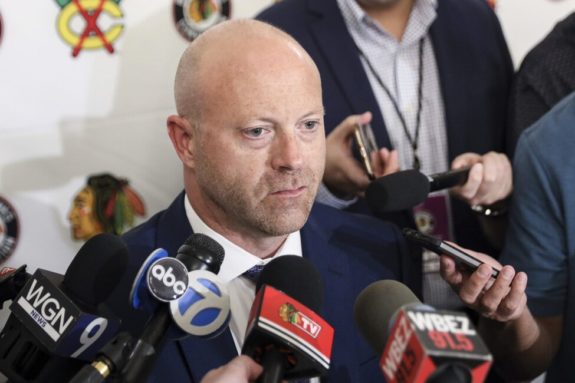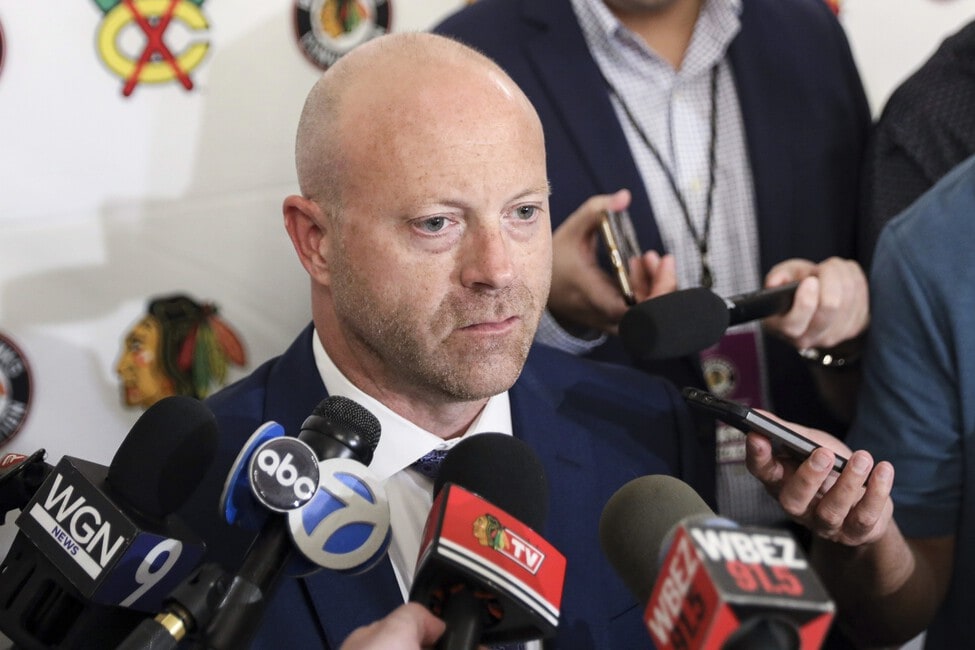 Safely assuming he won't re-sign Lehner, there really aren't any other alternatives aside from an in-decline Braden Holtby of the Washington Capitals and a solid, albeit overrated Jacob Markstrom of the Vancouver Canucks. They shouldn't want Holtby, while Markstrom might do the trick. The problem is, even if the Canucks for whatever reason don't re-sign Markstrom, he'll still be looking for top dollar after putting together the stellar campaign he just did.
Obviously, the Blackhawks don't have the luxury of being able to overpay anyone from here on out. Historically, they've approached the salary cap like a cat does a laser pointer. They know something's there, but they just don't understand what and can't get a handle on it. They can only hope that Crawford, who's on the downside of his career, agrees to re-sign for what he's worth, meaning to take at least a slight cut from the $6 million on average he had been earning since 2014.
Question Marks in Blackhawks' Net
The fact of the matter is the Blackhawks don't really have anyone else to whom they should confidently give their net. Pending-restricted-free-agent Malcolm Subban, who came back the other way in the Lehner deal, may only be 26, but he hasn't been able to establish himself as anything other than a lower-tier backup. In three full seasons in the league, he has a career save percentage below .900. Meanwhile, two of the other three Blackhawks goalies under contract, Kevin Lankinen and Matt Tomkins, have a zero combined NHL games.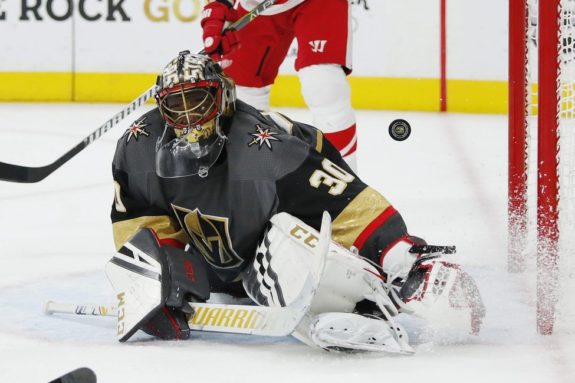 In other words, the book is arguably already out on Subban, but there literally isn't a single line of text between the latter two on how they fare in the NHL. Tomkins appears to be little more than a minor-leaguer, while Lankinen clearly has some upside following a gold-medal-winning performance at the 2019 IIHF World Championship. However, he's also coming off shoulder surgery, so take it all with a grain of salt.
Collin Delia, who went 6-4-3 with the Blackhawks last season, appears to have some potential. He may indeed be a long-term solution in goal. However, at the very least, the 26-year-old needs time to adjust and Crawford is the best person to help him along. Really, the only person, considering the aforementioned lack of options Bowman has at his disposal.
Crawford the Only Option
In Bowman's defense, he has stocked his cupboard in preparation for this moment. Nevertheless, of the four other goalies in the system, not a single one has North American professional experience, with 26-year-old Ivan Nalimov (selected at No. 179 in 2014) only just signing a professional try-out agreement (with the Rockford IceHogs) a few months ago. Wouter Peeters (No. 83 in 2016) is a longshot at best to make it here at all, last playing for the Guildford Flames in England. 
Dominic Basse (No. 167 in 2019) and Alexis Gravel (No. 162 in 2018) could pleasantly surprise in theory, but it will only be down the road. Taken in each of the last two drafts, they need time to develop. So, the Blackhawks must bide their time and either try to acquire a stop-gap measure of a goalie via trade or trust in the one that has already won two championships with them.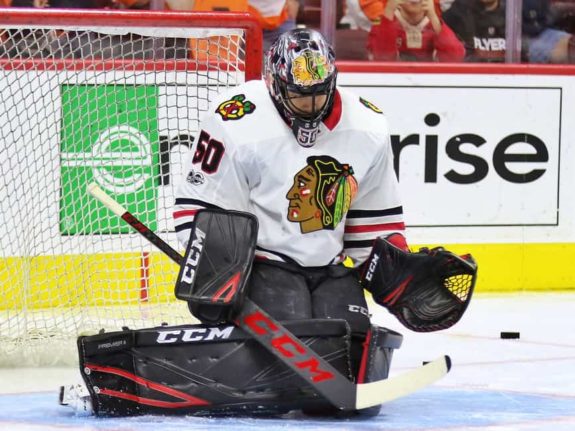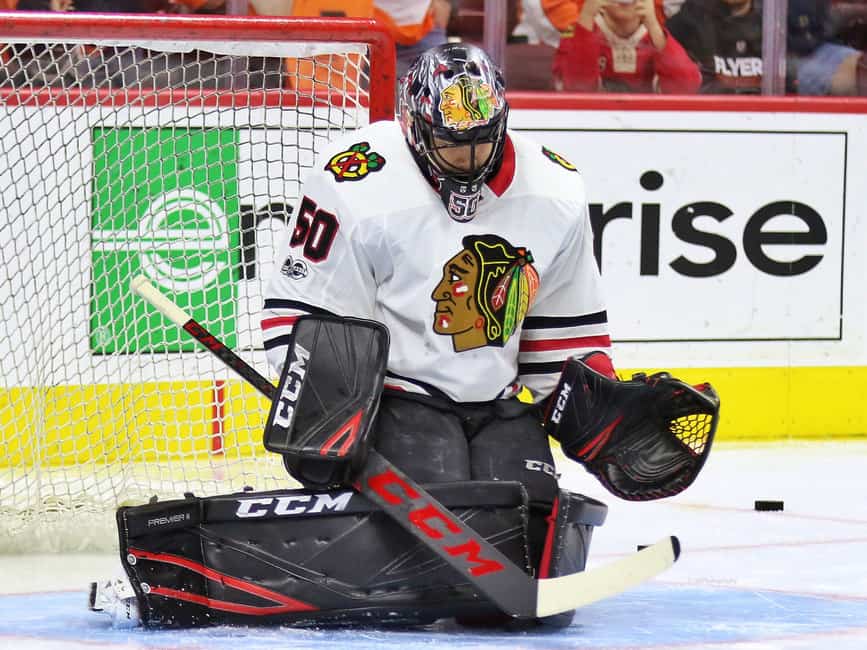 It's not that one should expect Crawford to win another, however nice that would be. It's that he's in the best position to give the Blackhawks what they need right now and that's championship-winning experience at the most critical position in hockey.
Crawford's contributions to those two Stanley Cup teams tend to get overlooked. Still, the stats say he has always been incredibly underrated. While not as much as he could during his peak, he still has a lot to give, especially from a leadership standpoint. The Blackhawks unfortunately can't afford to repay him in full for the success he's had in the past by giving him another rich contract, but they can acknowledge his worth to the team by extending a fair offer.
In many ways, Crawford is the Blackhawks' only hope in net. They can only hope in turn that other teams looking for a goalie focus on his age and look past his ability, which he still has to a certain extent based on this past season. That being said, no one should expect him to turn back the clock, just help run it out. Put simply, the Blackhawks need him. Crawford simply needs to ask himself if he needs them… that and how much.