After less than a week of training camp, the Chicago Blackhawks will head out west to face the defending champion Los Angeles Kings to kick off the 48-game 2013 NHL season on January 19 .
It has been announced that the Kings will unveil their Stanley Cup banner in a ceremony prior to the game, which will be televised nationally on NBC.
Every game that the Blackhawks (and every other NHL team) play this season will be against a foe from within their own conference. They'll face the hated Detroit Red Wings four times; the St. Louis Blues four times; the Nashville Predators five times, and the Columbus Blue Jackets four times. In total, the 'Hawks will face division rivals in 18 of their 48 games.
Some other good dates to note:
The Blackhawks will face the Phoenix Coyotes, the team that knocked them out of the playoffs, for the first time on Sunday, January 20th, the day following their showdown with the Kings in LA. Chicago and Phoenix will face each other a total of three times during the regular season.
Hated rival Vancouver will visit the United Center for the first of three meetings between the teams on Friday, February 1st. The game will be broadcast on TSN. Over the past several seasons, I don't believe that there have been two more entertaining teams to watch face off against each other.
First-overall draft choice Nail Yakupov and the talented young Edmonton Oilers will travel to the United Center on Monday, February 25th. The young and skilled Oilers lineup includes Yakupov, Ryan Nugent-Hopkins, Jordan Eberle, Taylor Hall, and newly acquired defenseman Justin Schultz.
The regular season will finish on April 27 when the 'Hawks face St. Louis at the Scottrade Center.
In total, seven games will be played during the month of January, 13 in February, and 14 in both March and April.
For the shortened training camp, Chicago recalled seven players who had been playing for their AHL affiliate, the Rockford IceHogs: Brandon Bollig, Marcus Kruger, Brandon Pirri, Brandon Saad, Andrew Shaw, Nick Leddy, and Ryan Stanton.
Kruger, Shaw, and Leddy are all but guaranteed to stick with the big league roster, as both Kruger and Leddy spent the entire season with the big league club last year and Shaw impressed after being called up.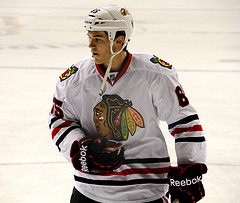 Bollig played in 18 games with Chicago last season after being called up when enforcer John Scott was traded. He also played in four playoff games against Phoenix, scoring his first career NHL goal. I am of the opinion that Bollig will make the team as, unlike Scott, he doesn't make a complete fool of himself offensively and brings much needed toughness to the lineup.
Both Pirri and Saad have had brief stints with the NHL lineup but haven't impressed enough to stick around. Both are still very young (Pirri is 21, Saad is 20) and have plenty of time to develop, but may not be ready for the NHL quite yet. Of the two, Pirri might be the more likely to stay as the Blackhawks are thin at center. Pirri currently ranks third on the IceHogs in scoring with 26 points in 38 games. Saad is tied for sixth with 20 points in 31 games on eight goals and 12 assists.
Stanton's story is a bit more intriguing. After spending his entire Major Junior career with the Moose Jaw Warriors, Stanton went undrafted. After playing two games in 2009-10 with Rockford, he became a mainstay on the blue line, playing in 73 and 76 games in 2010-11 and 2011-12, respectively. This season he has nine assists in 38 games to go along with 82 penalty minutes and a plus-7 rating.
With a deep blue line, it's unlikely that Stanton makes the Blackhawks this season, but he looks to have the potential of an NHL defenseman. Whether that potential is reached in Chicago or with another team remains to be seen.