Every season, it is inevitable that every team will have superlatives. By nature of the definition of that word, there must be a most valuable player on every team. Every team must also have a best defenseman, and a most improved player. The Chicago Blackhawks are no exception to this rule. As the season grinds to a halt, here are the regular season individual awards (as I deem them, at least) for the Chicago Blackhawks.
Most Valuable Player: Patrick Kane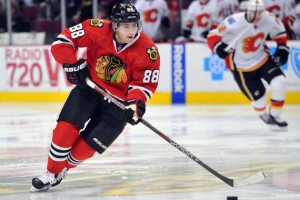 (Honorable mentions: Jonathan Toews, Duncan Keith)
Yes, I know he's injured. Yes, I know he will finish the regular season with only 61 games played. None of that changes the fact that Patrick Kane almost single handedly carried the Blackhawks through the majority of a season that saw them as a whole look worse than they have in years.
Kane's 64 points at the time of his injury tied him for the league lead. Considering that, he had clearly established himself as one of the candidates for the Hart Trophy as the most valuable player of the entire league alongside Carey Price and Alexander Ovechkin. In a season in which the production of Jonathan Toews, Marian Hossa, and Patrick Sharp has dwindled due to a whole litany of reasons, Kane was the one constant in the Blackhawks' offensive attack.
People can debate Toews vs. Kane as Chicago's most valuable player for seasons past, and in many of them they come out neck and neck. That is not the case this year, though, as this time around it's a slam dunk for the American, Patrick Kane.
Most Improved: Corey Crawford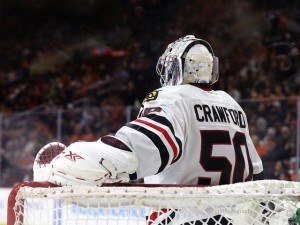 (Honorable Mention: Kris Versteeg)
Following a 2013-2014 campaign that made the Canadian netminder look squarely average, Corey Crawford has bounced back in a big way in 2014-2015. Last season, he put up a respectable (but really not that good) .917 save percentage. This season, his .924 mark is good enough to put him at 6th in the NHL.
Crawford's ability to maintain this performance and keep it going into the postseason will be crucial for Chicago. His abysmal .912 (would have been much worse if not for the easy Minnesota series) performance last go around was one of the main factors that did the Blackhawks in against Los Angeles. If he can provide steady goaltending at around .920 this postseason, the Blackhawks would have to be considered heavy Cup favorites.
The Blackhawks goaltender has long struggled with consistency. Since his save percentage this season is well above his career average, it is reasonable to expect some regression when the quality of opposition increases greatly in the playoffs. Either way, Crawford's play is sure to be a huge storyline for the team from the Second City in this postseason.
Best Defenseman: Duncan Keith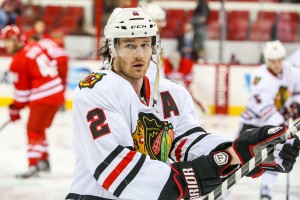 (Honorable Mention: Brent Seabrook)
Chicago's cerebral Canadian defenseman has turned in yet another excellent season. As a well-established top five defenseman league wide, Keith is an easy choice for this award (though the performances of Brent Seabrook and Niklas Hjalmarsson have been nothing to sneeze at).
As it stands right now, Keith ranks 6th amongst all NHL defenseman with at least 1000 even strength minutes in raw corsi for percentage, at 55.9%. In terms of scoring, Keith's 45 points place him 16th for defensemen in the entire league. Of the five defensemen ahead of him in CF%, none of them have produced more points than he has.
Keith's elite all-around performance this season should earn him some consideration for this year's Norris Trophy, though it isn't terribly likely that he wins it.
So there you have it. In my eyes, Patrick Kane is Chicago's most valuable player, while Corey Crawford has improved the most from last season, and Duncan Keith has been the most valuable player.
Agree with my choices? Disagree with them? Have any other thoughts on these matters? Feel free to let me know in the comments.