It's sometimes viewed as the kiss of death, the vote of confidence. That's something of an illusion and gains that perception because coaches and general managers only get a vote of confidence when things aren't going well already. Nonetheless, it's an acknowledgement by higher ups that things haven't gone as expected.
Such is the case in St. Paul where Minnesota Wild owner Craig Leipold has given General Manager Chuck Fletcher a vote of confidence, saying that he's their guy, even if the Wild fall to the Dallas Stars in the opening round of the playoffs.
"Listen, I should put this to bed right now," Leipold told the Star Tribune's Jim Souhan. "There is absolutely no way Chuck is not going to be here next year. He is our guy. I continue to have a high level of confidence in Chuck and his staff and we're already talking about next year."
The Wild won eight fewer games this season than last, were the eighth place wild card team and are looking at a first-round elimination at the hands of the Dallas Stars. They're down 3-1 in the series with Game 5 set for Friday in Dallas.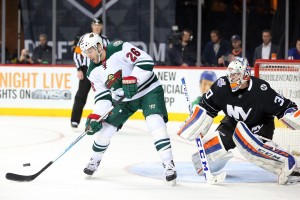 Fletcher's tenure has been a mixed bag. Trades like last year's acquisition of Chris Stewart — though Stewart played well for Minnesota — are viewed as a loss of draft picks for a team whose farm club has finished at the bottom of the AHL in three straight seasons. On the other end, he gave up little to acquire Devan Dubnyk, who single-handedly pushed the Wild into the postseason last year and has become the team's starting netminder.
The acquisition of veteran players like Martin Havlat, Thomas Vanek and Jason Pominville is frequently criticized, but the Wild probably aren't in the playoffs for the third straight season if they don't make moves to acquire Pominville, Zach Parise and Ryan Suter.
While there are many proponents of Mike Yeo and Todd Richards — both will be coaching for their country in international tournaments this year — Fletcher has taken a chance on two first-time NHL coaches, with not enough success to show for it.
Leipold's vote of confidence no doubt means that Fletcher will be back next year, but the fact that he has to give the vote of confidence means that Fletcher is at a critical juncture of his tenure. He'll need to make something happen soon and it won't be easy.
The team has just north of $63 million committed to 15 players for the 2016-17 season. That leaves around $11 million to spend on another eight players. Of those eight, Jason Zucker ($900,250 this year), Matt Dumba ($894,166) and Darcy Kuemper ($1.25 million) are RFAs likely to get a new deal. It's not an impossible situation, but it's certainly difficult.
But with any good general manager, this is the spot where they either prove that they're up to the task or that the team needs to move on. A difficult offseason is ahead with veteran players in decline, a youth movement that is in their prime and needs to perform, and a large class of Fletcher's next round of draft picks hitting the pro ranks. That latter group includes Alex Tuch, Mario Lucia, Chase Lang, Adam Gilmour, Nick Seeler and NCAA free agent signees Sam Anas and Alex Petan. There are also many that played their rookie season this year, including Gustav Olofsson, Christoph Bertschy, Grayson Downing, Dylan Labbe, Mike Reilly and Zach Palmquist.
In order to make the cap work some of these players — and maybe some others who are signed but haven't moved into the pro NA pro ranks yet like Joel Eriksson Ek — will need to be able to step into a role with the NHL roster.
Fletcher is likely to be back with the Wild, but he may have a stressful summer ahead of him, leading into a season where the team will have a lot to prove.
Dustin Nelson writes about news and the Minnesota Wild for The Hockey Writers.