The crowd of 45,000+ roared when the Flyers alumni took the ice, and then roared some more a few minutes later when 66-year-old Flyers legendary goaltender Bernie Parent made some saves right off the bat for the alumni team. The chants of "Bernie! Bernie!" followed.
Parent made 6 saves on 6 shots after around five minutes of playing time. Parent said today's experience was "just awesome," and revealed the plan was for him to play just a few minutes. The crowd gave Bernie an incredible ovation when he headed to the bench. "It never leaves you," Parent said. "I'm a competitor, even at 66. It's the same way."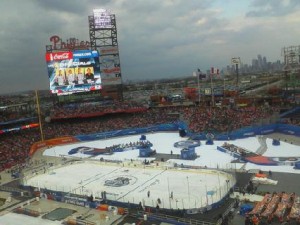 Eric Lindros and John LeClair started the scoring on the day. Eric was smiling as he skated in and found a familiar face in John LeClair in front of the net for a slam dunk goal to give the Flyers alumni a 1-0 lead. Seeing the joy on their faces was a sight the Philadelphia crowd fed into. Shjon Podein later scored to make it 2-0. Glenn Anderson scored for the Rangers alumni team to get them on the board, but it wasn't enough as the Flyers alumni pulled away with a 3-1 win.
Bernie Parent's ovation and seeing him play was a great moment, but no doubt the biggest storyline of the day was the return to Philadelphia of former Flyers captain Eric Lindros. Lindros had a rough departure from the team back in 2000, and fans have longed for a reconciliation to happen for many years now. Lindros took the ice in pre-game introductions to the loudest ovation of the day from the Flyers faithful. He had officially come full circle back into the hearts of the Flyers fans and into Flyers history.
"That was fun," Lindros said. "I had a good time. That was great." Lindros was all smiles to the media and everyone was happy to see this day come. It seems as though everyone has moved on and Lindros will again be a part of the Flyers family for years to come.
Lindros also commented on so many people's concern for the ice condition for the Winter Classic itself. He seemed pretty pleased. "The ice wasn't bad, either," Lindros said. "The ice got a little sloppy but I think it'll be great with the weather changing later tonight into tomorrow. I think the guys will have a terrific surface to play on."
As one might guess the press availability didn't drag on too long without someone asking Eric about being on the ice with Bob Clarke. "It was good," Lindros said. "We talked this morning and it was great."
The reporter followed up asking if they talked as in "Hi how are you?" or more in depth. Lindros jokingly brushed off the question, "We were discussing trainer tips. How's that for ya?"
Both Lindros and Clarke seemed to handle the situation great. There shouldn't be reporters out there trying to bring down a great weekend and a celebration of hockey with negative talk.
"It was real special. It truly was," Lindros stated. "Great fans here. All 45,000 and I know there was some that couldn't make it. It really was nice to walk into such a warm environment."
Before Lindros could leave Flyers forward Zac Rinaldo, who told the media before that he modeled his game growing up after Eric Lindros, stopped by to take a photo with Lindros and get an autograph. It was humbling seeing a current player meet their childhood idol.
Flyers legend Bob Clarke had some kind words for Eric Lindros, too.
"Eric Lindros is 38, he looks like he could still play," Clarke said. "[Brian Leetch] on their team looked like he could still play too. There's no chance a 62-year-old guy is going to keep up with these kind of guys."
Clarke is rarely a guy known to get mushy with his feelings so it was truly special to hear his comments about the Philadelphia crowd today. Clarke was visibly touched by the reaction of the Flyers faithful.
"It's the best National Hockey League City in the United States," Clarke said. "I don't even think in Canada they'd draw 45,000 people to an alumni game."
"It's an unbelievable feeling. I certainly haven't done anything in a lot of years to deserve any cheering so this is coming from the 70's. To still be cheered I don't know how to even describe that feeling you get. It gives you chills."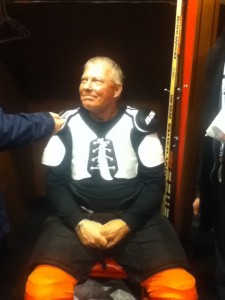 With all of the access and cameras in the locker room (and there was a lot), I asked Clarke how he feels a show like HBO's 24/7 would do in his era and if we would have been entertained by what we saw.
"You know I haven't seen it yet," Clarke said. "I know everybody is talking about how great it is. It's so different. I don't think anyone would have thought about doing something like that. When I first started women weren't even allowed in the locker room."
Today was a feel good day for all involved. The smiles of everyone on the ice to celebrate the game of hockey was priceless. Men from all different backgrounds and eras celebrated this sport outdoors together, with the Flyers faithful
To everyone in the Flyers organization, it has been almost a picture perfect weekend so far. And there's still practice tomorrow for the Flyers and Rangers and the Winter Classic game on Monday.
The celebration continues, and many of us have never seen anything in our life close to what we saw today. It showed us the youth in the hearts of Flyers fans and hockey fans alike. And the big winner on the day: the NHL. As if they didn't hit a home run with the Winter Classic already, they now have hit a long one with Alumni Game too.