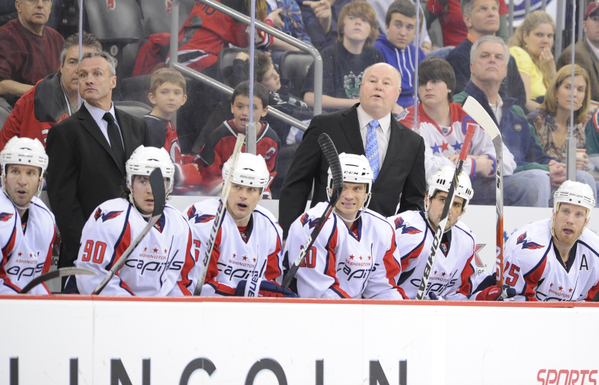 The Pittsburgh Penguins visited the Washington Capitals for a regular season game on December 23, 2010.
Just a week before the Winter Classic in Pittsburgh, I traveled to the Verizon Center that night to cover the game and get a sense for what was bringing down the Capitals.  They had gone most of December without a win and were struggling to score goals despite a roster loaded with talent.
I thought maybe a game with the Penguins would be just what they needed to snap out of their scoring funk.  And then I saw something I never expected to witness.
Alex Ovechkin standing still at the blueline, almost lifeless, with one hand on his stick.
The Capitals were trapping.
Few words in the hockey lexicon carry as much negativity as the word 'trap'.  The coaching style refers to a defensive strategy which limits offensive opportunities for the other team and squeezes the life out of a hockey game.  The New Jersey Devils of a decade ago mastered this strategy and won Stanley Cups as a result.  They also became one of the most boring NHL teams to watch.
That night in Washington, I asked a handful of Capitals reporters at the first intermission how long the team had been employing this trapping strategy.  Most had no idea, or hadn't even noticed a switch had been made.
I spent the rest of the game shaking my head, wondering how a head coach and a General Manager could spend years building a roster with electrifying talent and then adopt a system that stifles every ounce of creativity from its players.
Is this what happens when a team runs into a hot goaltender in the playoffs and then begins to question their identity?  Was there more to this story?
After the game I caught up with Capitals forward Brooks Laich.  I knew he would always give an honest answer and perhaps shed some light on this curious coaching switch.  Laich said the team had recently adopted the new system and expected the change to be permanent. He said the Capitals were sick of letting up six and seven goals a night:
"We know we can score and that's one thing.  It's a nice card to have.  But to really have the success we want to have, we had to change our mindset and be more defensive.  I think you're seeing our players make a conscious effort at being solid defensively.

We have such tremendous offensive players that are game-breakers.  In a tight game they can get THAT goal, but we have to make sure we're strong enough [defensively] not to give up THAT goal."
The Capitals had regular season success with the trap but were eventually bounced in the second round of the playoffs by the New York Rangers.
In the process, they lost their identity.
Alexander Semin became worthless.  Ovechkin stopped caring.  Mike Green went from "the next Bobby Orr" to an average player.
I've always felt that the Capitals would have won a Stanley Cup had they stuck to their high-scoring system.  For better or worse, the roster was built with that system in mind.
__________________________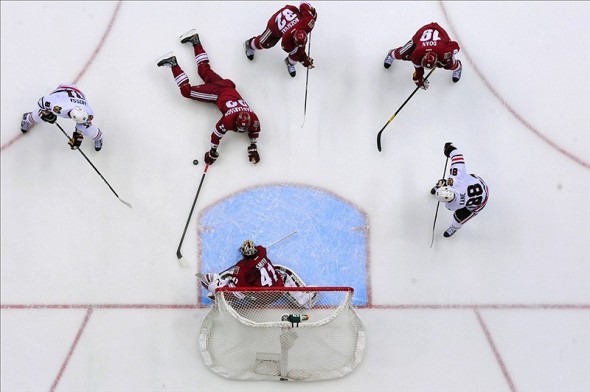 The Pittsburgh Penguins have been a 'run-and-gun' team under head coach Dan Bylsma.  Defensemen gather the puck, fire it up the boards to the wingers, who tip it into the offensive zone and go on the forecheck.  The puck often moves 180 feet in a matter of seconds.  Certain skills — such as skating and passing — are needed just to survive.
Pittsburgh has always been near the top of the league in scoring, but the void left by the departure of shutdown defensemen Hal Gill and Rob Scuderi was never filled.  The Penguins were letting up too many goals in 2010 and management decided they needed a change.  Yet unlike Boudreau and the Capitals, they didn't overhaul their system.  They went to the free agent market to find a player that could fix their problem and fit into their preferred style of play.
They signed Zbynek Michalek to a five-year, $20 million contract and seemed thrilled with the addition.  Michalek was one of the NHL's most underrated shutdown defensemen and was always among the league leaders in blocked shots.  He seemed like a decent fit in most respects.  Michalek could add the Gill-Scuderi shutdown element, he was good at making an accurate breakout pass, and he skated fairly well.
In training camp, Michalek even told me he was anxious to become more than just a one-dimensional shutdown guy.
"I know over the years in Phoenix I became more of a defensive defenseman," he said.  "That's the role they wanted me to play down there. Back in Juniors and when I was growing up I was more of an offensive guy, you know, I could score goals too.  So I believe I can get more involved and that's something we talked with the coaches about already.  They want me to get involved in the rush and help the forwards out and make some plays there."
But Michalek never worked out.  He had a stretch in his first season when he was one of the Penguins' best players, but it was short-lived.  On most nights he looked confused.  The harder he tried to fit into Bylsma's system, the more he struggled.  Mistakes shattered his confidence and only led to more mistakes.
After two seasons in Pittsburgh, Michalek was traded back to Phoenix, back to a situation where he knew he could thrive.  It left most Penguins fans wondering what went wrong.
I speculated that Michalek may have struggled to adapt to the Penguins as a European in a locker room dominated by North Americans.
Then I read this quote from Phoenix head coach Dave Tippett that changed my entire perspective:
"I'll give you an example.  We had a player that was supposed to be a great, shut-down defenseman. He was supposedly the be-all, end-all of defensemen. But when you did a 10-game analysis of him, you found out he was defending all the time because he can't move the puck.

Then we had another guy, who supposedly couldn't defend a lick. Well, he was defending only 20 percent of the time because he's making good plays out of our end. He may not be the strongest defender, but he's only doing it 20 percent of the time. So the equation works out better the other way. I ended up trading the other defenseman."
Tippett is mostly referring to a defenseman's ability to move the puck from the defensive zone to the offensive zone, but the lightbulb moment for me was his reference to a player doing the task that he's actually good at.
Bylsma's Penguins have always been good puck possession teams.  They spend as little time as possible in the defensive end of the ice.  Michalek was fine moving the puck up the ice and into the offensive end, but he never got a chance to do what he was good at.
The Penguins played mostly man-on-man coverage in the defensive zone.  Michalek was better in Phoenix's zone system.
Bylsma doesn't want his players sitting in front of their net, diving on the ice to block shots.  Bylsma doesn't want his players…doing exactly what Zbynek Michalek excels at.
It leads back to the question, which comes first: the system or the player?
Should the Penguins have adapted their style to fit the talents of Michalek?  Did they make a mistake in signing him in the first place?
A month ago the Penguins acquired 240-pound defenseman Douglas Murray from the San Jose Sharks.  Murray hits.  Murray is slow.  Murray blocks shots.
But Murray has worked.
This weekend, we'll go in-depth and find out why.
___________________________________________