The start of the 2013 – 2014 season for the Colorado Avalanche will be one that marks a change. The severity of the change, however, might be the thing that determines Colorado's success in future years as a franchise. This change has been set into motion by the firing of coach Joe Sacco who led the team for the past four seasons. A move that surprised nobody after three straight seasons out of the playoffs and two at the bottom of the league standings. The important question that must be answered soon for the Avalanche, and may determine fan support for the following season, is "Who will replace Joe Sacco?"
History Leaves Clues
The Colorado Avalanche have had five coaches since moving to Denver. Marc Crawford, Bob Hartley, Tony Granato, Joel Quenneville, Tony Granato again and Joe Sacco. Each of these guys have something in common, they were all in the Avalanche system as coaches before becoming a coach. Marc Crawford was the coach when the team arrived in Denver, so we'll forgive his AHL coaching outside of the team. Bob Hartley came up through the Avalanche affiliate at the time, the Hershey Bears. Granato was an assistant under Hartley. Joel Quenneville was an assistant to Marc Crawford before taking the head job in St. Louis. Joe Sacco spent two seasons as head coach of the Lake Erie Monsters. All of this leads us to two logical conclusions for Colorado's current situation.
The Avalanche could go with now assistant coach Tim Army, who replaced Adam Deadmarsh this season as an assistant coach. Army has been a head coach in the past for Providence College and the Portland Pirates (AHL). Prior to being on the bench with the Avalanche, Army was the video coach for the team.
The other option for Colorado, and seemingly more likely than Army, is current Lake Erie Monsters head coach, Dean Chynoweth. Chynoweth has a long career as both a player and a coach. As a player he was a bruising defenseman that spent a lot of time in the penalty box (667 penalty minutes in 241 NHL games). As a coach, he has been both an assistant and a head coach in several different areas. He has been an assistant with the New York Islanders and Utah Grizzlies, and has been head coach of the WHL's Seattle Thunderbirds and Swift Current Broncos. He also spent the past season as head coach in Lake Erie.
As a head coach, Chynoweth has seen some success, but not a lot. His teams have seen postseason action in only five of his ten years as a head coach. To go further with this, his teams have only finished over the .500 mark four times, including this season in Lake Erie. It's hard to say whether Chynoweth would be a good or bad choice as a new coach for the Avalanche.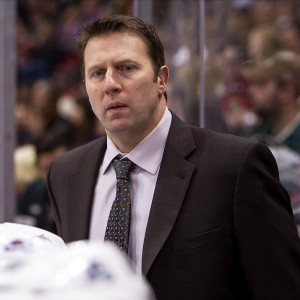 Why This Would Be a Mistake
The Avalanche have always stuck within their system, and things were always fine. The problem is that now things are very different with this franchise. It was fine to stick within the system back in the mid-1990's for the Avalanche because they always knew that they had their brilliant core of players in place. When you have Joe Sakic, Peter Forsberg, Rob Blake, Patrick Roy, etc. in place, the truth of it all is it really doesn't matter who your coach is. Those guys are always going to find a way to win because they were that brilliant. Well times have changed and right now we are currently being reminded about what the definition of insanity is. Doing the same thing over and over and expecting difference results.
The biggest issue now is that there are guys on the market, right now, that have an established NHL pedigree in coaching. Lindy Ruff was fired from the Buffalo Sabres earlier this year. Guy Boucher was fired from Tampa Bay earlier this season. There are rumblings that Alain Vigneault could be fired out of Vancouver if the Canucks are ousted in the first round, again. These are all guys who have had success as coaches at the NHL level. Would they work with the Avalanche? You can never really tell until they get in there and start working, but why wouldn't these guys be better options than somebody who has only had one year of head coaching experience in the AHL?
With names like this available, the Avalanche would be making a huge mistake to just "keep it in the family."
There Are Still Other Better Options
If the Avalanche remain determined to not go with a coach that has an established NHL coaching record, there are still better options than Army or Chynoweth. Patrick Roy, as a possible head coach, was an option before they hired Joe Sacco, why wouldn't he be a decent option now? Yes, he has only had head coaching experience in the QMJHL, but his track record of success as a head coach and GM shows he has a strong potential. Not to mention, if you look at the way the Avalanche responded after being called out by J.S. Giguere for their work ethic, Roy's fiery temperament might be exactly the thing this team needs to gain some consistency. Plus, Roy might satisfy Pierre Lacroix as being sufficiently "within the family."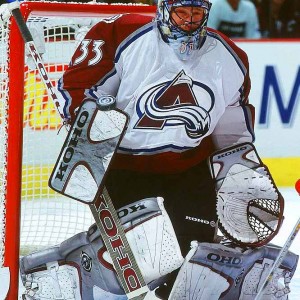 Another interesting name that might pay dividends could be a guy like Dallas Eakins, current head coach of the Toronto Marlies. He has had four years to prove himself as a head coach in the AHL, and he has shown himself to be a very good coach. The most telling thing about him as a coach is that every year he has been behind the Marlies' bench, the team has improved their standing in the AHL. Last season the Marlies fell just short of winning the Calder Cup, but are primed to be serious contenders again this season.
If you're wondering how he would be able to develop talent, all you need to do is look at the production of one Nazem Kadri in Toronto this year to see what kind of an impact his coaching can make. On a team that loves to remind their fan base how young they are, a talented teacher like Eakins could do wonders for the development of guys like Gabe Landeskog, Matt Duchene, Ryan O'Reilly and hopefully Seth Jones.
The most important part of both of these coaches, Roy and Eakins, is that they have established a track record of success as a head coach in their respective levels. Chynoweth and Army simply don't have that successful track record. Nothing against either of those men, but the products simply show that the Avalanche organization would be making a gigantic mistake by sticking within their system. The time has come for Pierre Lacroix and the rest of the Avalanche front office to realize that the times have changed and that their way of evaluating and hiring coaches is a thing of the past.
As Bob Dylan once wrote, "You'd better start swimming or you'll sink like a stone, for the times they are a-changin.'"
I'm a Denver native who has been a fan of the Avalanche since they came to town and a fan of the game before that. I started writing my own blog a couple years ago before moving to Bleacher Report and becoming a Featured Columnist there. You can also find me the Burgundy Brigade Podcast