The regular season is almost upon us, which means everybody has questions about the team. There's no doubt that there is still a lot left to figure out with this Colorado Avalanche team, so let's get right to the fan questions.
Who will be the biggest surprise this year for the Avs? Do the Avs make a trade for upgrades on defense?
There are a lot of potential surprises for the Avalanche this season, both good and bad. I think we'll be surprised by how much having a strong goalie coach is going to help Semyon Varlamov. With the exception of the preseason game he played in Dallas, he's had a strong preseason. If Francois Allaire can help him find some consistency in his mental preparation as well as his technique, Varlamov should be a surprise to the whole league. The other surprise will come from Steve Downie simply because he just hasn't been on the ice in so long. Of course the jury is not yet in on whether the surprise will be positive or negative. I feel it'll be much more positive now that he's finally healthy.
As far as trades are concerned it's far too early to tell. There's some new faces and younger guys pushing for spots that might shake up the defense a bit. Patrick Roy released his defensive pairings a couple days ago, and each pairing is different than the past. Before we can know what improvements can be made through trades, they have to play together for a while. I can definitely see a trade being made, but it probably won't be anything too huge.
Do you think the redesigned goal nets will increase scoring as purported by the NHL?
Not really. I think that it will help specific players more than causing a significant raise in goals being scored throughout the league. Guys like Paul Stastny will enjoy the extra room behind the net because that's where he makes some of his best plays. Stastny is a guy that likes being able to camp behind the net and make good passes to his teammates in front. Now he's got a little bit more room to stick handle, but in general it creates more room for defenders, too. Players like to use the net to cut a defenseman off, but now there is just that little extra space for them to maybe get their stick in and break up the play before anything happens.
In the end, I think the rule change that will affect scoring the most is the reduction of goalie's pads. There's going to be a period of adjustment for these goalies as they get used to the feel of the newer pads and also get to know what extra holes are now just that much more open.
Are the Avalanche really going to be going with 8 defensemen on the roster?
It used to be that we couldn't really trust anything that was coming out of the Pepsi Center, mostly because nothing was ever coming out of Pepsi Center. Now, Patrick Roy seems like he wants to share as much as he possibly can about the team with the public. I'd say his track record of truth has been pretty good so far. They said they were going to pass on Seth Jones for Nathan MacKinnon, they did. Roy announced his initial lines combinations. He released defensive pairings and has been up front about addressing changes when they happen. I don't see any reason to doubt him now when he's telling us that the roster will carry 8 defenseman and 13 forwards. It's going to make choosing those last couple of roster spots a little extra difficult for him.
Do the Avalanche extend Ryan O'Reilly or Paul Stastny, or both?
I say both, but a lot depends on how the year progresses.The Avalanche have what seems like a never-ending line of centers throughout the system, so it isn't like you'd have a hard time filling the roster spot. The difficult part is knowing whether to cut ties with one of these guys or not. In the past, any person who ever had any type of contract dispute with the Avalanche was gone, you just knew it was going to happen. With a new front office bringing in a new attitude, it seems like that mentality could be a thing of the past, but you just never know. I think Ryan O'Reilly is too important to let go unless you get the best possible deal in return. I think O'Reilly is the one that is more likely to sign an extension during the season.
As far as Stastny is concerned, his drop in statistics came exactly at the same time that things started to go wrong for the team as a whole. No coincidence, with Joe Sacco as coach. Even so, he still has only one season in the league where he hasn't been in the top three on the team in scoring, but since it isn't 80 points people are upset with his contract number. I can't imagine that an extension for Stastny will happen before the end of the season simply because his salary is almost certainly going to go down. I can't really recall the last time we heard of an extension being signed in which the player getting the extension was taking a significant pay cut.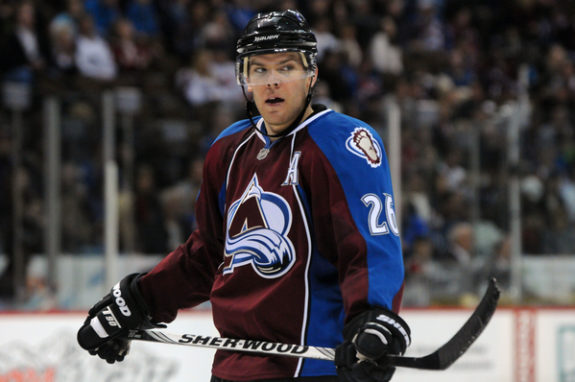 Duncan Siemens will start the year in Lake Erie. Just not enough room for him, or is there reason to be concerned?
I don't think there is any reason, whatsoever, to be concerned about Duncan Siemens. He looked great all through camp and probably could handle being put on this roster right now. This all smells like the Avalanche just making sure that he is developmentally ready. He has only played a handful of AHL games and is fresh out of Major Junior. You hear people talk about how much longer defensemen take to develop all the time and the last thing the Avalanche want to do is put him in before he's ready. I am a bit surprised they didn't give him more preseason action but, from a developmental standpoint, I'm more than okay with this move. Put Siemens in a location where he is going to get minutes, and a lot of them. I look for Duncan Siemens to be a huge part of the Lake Erie blue line this year. Depending on his play, he might even see a call up if the right situation presents itself.
Did the Avalanche do enough this offseason to address the shortcomings on defense this year?
In a word, no. I don't think that they did. I think there are still huge concerns, especially in regards to who plays with Erik Johnson. Andre Benoit has played well to this point, and has a lot of professional hockey experience, but not much NHL experience. I just don't know how he is going to be as a top-pairing defenseman, and that scares me.
I do think that this team was made worse by their coach, in recent history. Watching the team play in their own zone the last couple of seasons was like watching a blind seeing-eye dog, absolutely nobody knew where they were going or what was happening (enjoy that visual). Having a new coach who not only brings in a new system, but who is taking the time to explain and teach what players should be doing and why they should be doing it should help a great deal. It is also my hope that Patrick Roy doesn't fall in love with certain players and continue to throw them out in situations where they should never be on the ice.
So, in the end, there should be an improvement with this defense, but I'm just not convinced it will be a large enough improvement. At least, not yet.
I'm a Denver native who has been a fan of the Avalanche since they came to town and a fan of the game before that. I started writing my own blog a couple years ago before moving to Bleacher Report and becoming a Featured Columnist there. You can also find me the Burgundy Brigade Podcast