With training camp on the very near horizon, fans are looking to the new year for their teams. It's a time for renewed hope for the immediate future and a time when fans start to get reacquainted with the players in the system that they don't see every day. The Colorado Avalanche have a lot of prospects within their system that have some fantastic potential.
For the record, Nathan MacKinnon won't be included in this as he won't be considered a prospect for long. He's coming right into the lineup and will be there the whole season.
Duncan Siemens
Siemens was drafted in the same draft that saw the Avalanche take Gabriel Landeskog. The Avalanche ended up with St. Louis' first round pick after the Erik Johnson trade and selected Siemens. Siemens played on a pairing with current Avalanche defenseman Stefan Elliott in Saskatoon. They were a dominant pairing.
Siemens has drawn comparisons to guys like Scott Stevens with his physical play and serious mean streak. Siemens had an up and down season during this past year, but recovered nicely and played a very solid Memorial Cup. Strong enough to be part of the only defense capable of shutting down Nathan MacKinnon and the Halifax Mooseheads.
This is the first season that Siemens might have a chance to make the Avalanche roster, though it seems likely he will start the season in Lake Erie.
Calvin Pickard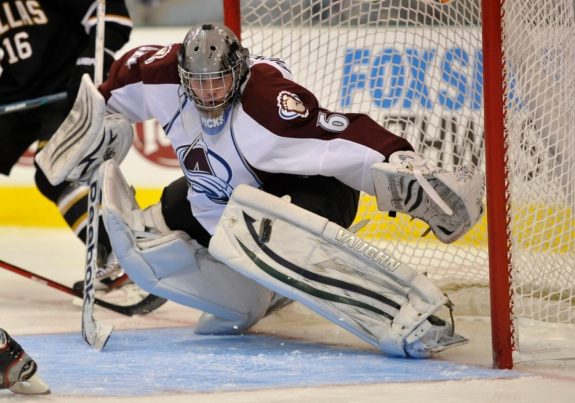 Pickard played his first full season as a professional last season with the Lake Erie Monsters, sharing time with Sami Aittokallio, who we'll talk about later. Pickard played his junior hockey with one of the worst teams in the WHL, the Seattle Thunderbirds, but was impressive. He even set a WHL record for most career saves during his time in Seattle.
The Avalanche have taken a long-term approach with Pickard, allowing him to play out all of his junior eligibility before bringing him up to Lake Erie. Goalies definitely can take a long time to get to the point where they are NHL ready, and rushing them along is a good way to ruin them.
Pickard's first season with the Monsters was pretty solid. He was 20-19-5 with a respectable 2.47 goal-against average in 47 appearances. His save percentage was .918, also very respectable. He was called up to the Avalanche a couple of times during the last season, but never saw any action. This year won't be the season that Pickard is up with the big team as he still needs action to gain experience at the professional level. He won't get that as a backup in the NHL, but continued progress will be expected as he moves forward.
Colin Smith
Colin Smith has made appearances in a few of my pieces lately, and with good reason. He's an under-the-radar guy who was drafted in the seventh round of the 2012 NHL Entry Draft, and who might end up being a steal. His progress in junior has been fantastic. His point totals have gone up every single year, and by huge leaps. Since 2009 – 2010, he tallied points totals of 26, 50, 85 and 106.
Smith will be coming into his first professional training camp this season thanks to last year's lockout, and will be very interesting to watch while he is here. I can easily state that Smith is the best prospect in the Avalanche system that nobody really knows about.
Michael Sgarbossa
Michael Sgargossa was drafted by the San Jose Sharks, but came over to the Avalanche in the same trade that brought Jamie McGinn to the Avalanche. This has been a great trade for the Avalanche in both the short an long term.
Sgarbossa played very well for the Lake Erie Monsters last season, scoring 44 points in 57 games. This effort was enough to earn him a spot in the AHL All-Star Game in his first season at the professional level. He played six games with the Avalanche early in the season, but tallied no points. He showed promise while he was there, but definitely seemed to be a bit too in his head and had trouble fighting through it.
I have no doubts that Sgarbossa will eventually be a very effective NHL player, but one more year in Lake Erie will likely do him some good, especially since the Avalanche continue to have the huge log jam at center. If Sgarbossa does come up, it's because the Avalanche are having injury issues again.
What I would love to see out of Sgarbossa this season, in the AHL, is another step in his scoring touch. He had great success in his rookie year, now it's time for him to step up and be a dominant force in the AHL. If he can take that step, some of the current centers on the Avalanche should start worrying about their jobs.
Sami Aittokallio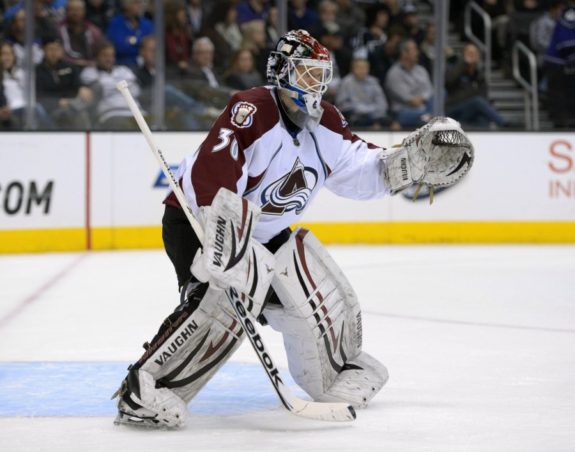 Sami Aittokallio is very similar to Semyon Varlamov in the sense that both goalies have some fantastic raw skills. I first saw Aittokallio a couple of seasons ago at the Avalanche Burgundy and White Game at the end of training camp. He was incredibly impressive and showed huge potential.
That potential is still there and he obviously has the eye of the Avalanche staff as he was given an opportunity to start a game last season against the Los Angeles Kings. The Avalanche lost this game, but Aittokallio showed an ability to battle through adversity and made some very impressive saves.
Aittokallio started 20 fewer games than Calvin Pickard, in the AHL, and had some slightly below average numbers. He was 14-12-1 with a 3.00 goals against average and a .899 save percentage. Room for improvement, but there is an incredibly high ceiling for this kid. Finally having a goalie coach to work with in Lake Erie should help his development as well as he and Pickard, once again, battle for the starting position in Lake Erie.
The biggest thing I want to see from Aittokallio is some very rudimentary improvements. For example, Aittokallio holds his glove hand very low, relying far too much on his quick reflexes to help save him. Just making a small improvement to that glove hand would go a long way towards improving his game as a whole.
Honorable Mention: Joey Hishon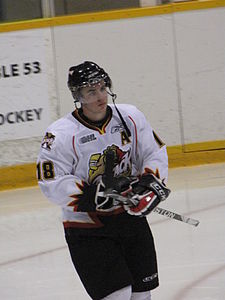 I hesitate to declare Joey Hishon one of the top prospects for the Avalanche anymore because he simply hasn't played enough hockey. He has had concussion issues and has played a grand total of nine games since sustaining a major concussion in 2011 at the Memorial Cup.
After the Avalanche drafted him in the first round of the 2010 NHL Entry Draft, he quickly made the Avalanche look brilliant by tallying 87 points in 50 games. That concussion at the Memorial Cup, however, has set him back a great deal in his development. All Avalanche fans, and really all fans of hockey, are hoping that he is able to bounce back from those injuries and have a successful career. In order for him to get back into the list of top prospects for the Avalanche, where he should be, he needs to have a healthy and productive season with Lake Erie.
I'm a Denver native who has been a fan of the Avalanche since they came to town and a fan of the game before that. I started writing my own blog a couple years ago before moving to Bleacher Report and becoming a Featured Columnist there. You can also find me the Burgundy Brigade Podcast