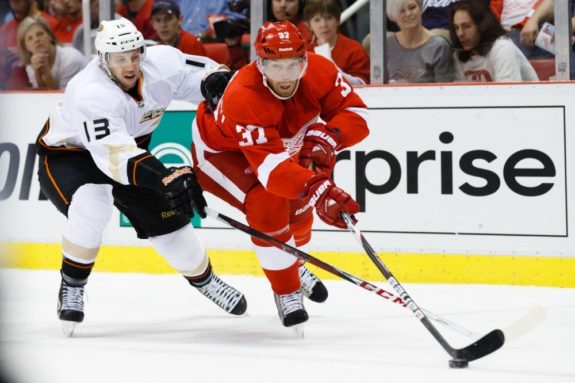 The last time Mikael Samuelsson played a full season for the Detroit Red Wings it was 2008-09, and he was 32 years young. That year the Red Wings lost in the Stanley Cup finals to the Pittsburgh Penguins, coming just short of capturing their second back-to-back Stanley Cup championship in twelve years. Samuelsson was an integral part of that team, as well as the championship team that had beaten the same Penguins the year before.
Fast forward six years later to today, and Samuelsson is one of the most scorned players on the Red Wings roster. Not because of his play – or lack thereof – but because of his contract.
The contempt began as soon as Samuelsson's two-year $6 million dollar contract was signed last summer. A contract that included a no-trade clause. It seemed like a bit of an overpayment for an aging forward – 35 at the time – that the team would be unable to trade away down the line, especially with young prospects like Nyquist, Tatar, and Andersson poised to make the jump to the big club.
Of course Samuelsson could have silenced his critiques and lived up to the contract, but he didn't get much of a chance at that last season. He played all of four regular season games with the Red Wings, forced to spend most of the year on injured reserve with a pectoral injury.
The NHL regular season schedule was released on Friday. Check out our partners at TiqIQ for the best deals on Detroit Red Wings tickets for all 2013-14 games.
The $3 million dollar cap hit that can't be traded, coupled with the fact that he basically didn't even play, only further intensified the distaste for him. Now fans are pulling their hair out, calling for Samuelsson's contract to be buried or somehow removed in anyway possible. However, that seems to be a bit of an overreaction over a player that hasn't even had a chance to prove himself yet. Most don't seem to realize that Samuelsson still has the potential to be a major contributor on this team.
Here's why.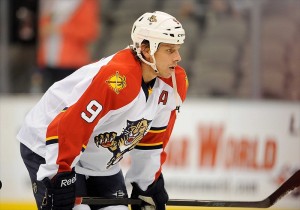 When he was signed last summer he was coming off a respectable 31 points in 54 games, split between the Vancouver Canucks and the Florida Panthers. More, he also has proven chemistry with Detroit's most potent scorers like Datsyuk, Zetterberg, and Franzen, as he played with them previously in Detroit from 2005 to 2009.
However, perhaps the most important player he may have chemistry with is newly acquired center Stephen Weiss. Samuelsson is the only player on the Red Wings roster to have played alongside Weiss at any given time, playing 48 games with Weiss in Florida during the 2011-12 season. Because of that, it wouldn't be surprising to see Samuelsson start the season on the second line alongside Weiss, starting over other top-six candidates like Bertuzzi, Nyquist, and Tatar.
We also can't forget his Swedish connection, a connection that seems to be forever present in Detroit.
Samuelsson brings plenty of other upsides to the ice other than chemistry with his teammates as well. For starters, at 6'2″ 218 lbs, he brings the size that compliments the play of Detroit's more skilled forwards. More, he adds another right-handed shot to the Red Wings roster, something the team has been in short supply of for a number of seasons.
Playing a 200ft game and being reliable in both zones is also something Samuelsson does quite well. The only flaw in his game is consistency in the offensive zone. Samuelsson has a reputation as one of the more streaky forwards in the NHL, and because of that he'll most likely float back and forth between the second and third lines, depending on whether he's heating up or going cold.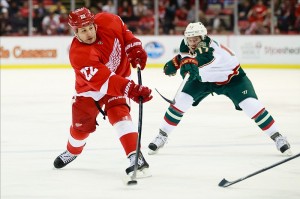 Regardless of his variable play, he's a player that can be consistently relied upon to produce around 40 – 50 points a season. While that may not exactly make him a first-ballot all-star, that type of production easily puts him in contention for a top-six spot on the Red Wings roster.
When it comes down to it, fan distaste for him is mostly contractual and not related to his on ice play. So I say give him a chance to prove he's worth the $3 million before throwing him under the bus and calling him a mistake. And despite whether you agree or not, with his no-trade clause and a 35+ contract, Samuelsson's not leaving Detroit anytime soon. The Red Wings will likely solve their cap and roster issues by trading or waiving the likes of Emmerton, Tootoo, or Eaves. And despite his contract, I think most fans agree that Samuelsson brings more to the ice then any of those three.
Quite simply, if Samuelsson stays healthy he has a very good chance of silencing the haters and proving that he can still be a crucial spoke in the winged wheel.
Detroit Red Wings writer for The Hockey Writers and Michigan State hockey writer for spartanavenue.com